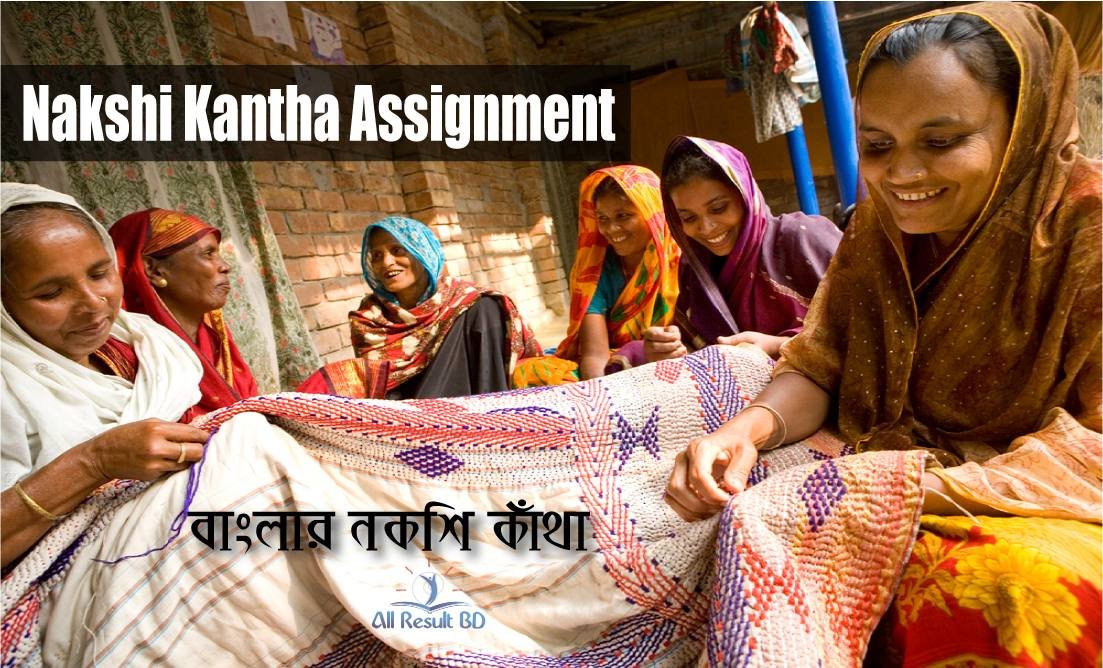 Nakshi Kantha assignment is basically for the class 8 students. Nakshi Kantha is a very popular embroidered quilt in our country. The authority of the directorate of secondary and higher secondary has taken some initiatives to teach all the students something new in this lockdown situation. As a part of those initiatives, the Nakshi Kantha assignment has been provided to class 8 students. In this article, you will come to know about all the details of this assignment.
About Nakshi Kantha
Nakshi Kantha is a very popular thing in our country since ancient times. This is popular not only in our country but also in some other countries in the world such as India, Pakistan, Nepal, etc. This is a kind of embroidered quilt. The name of Nakshi Kantha was taken from a Bengali word 'naksha'. Naksha means artistic patterns. This Nakshi Kantha is a traditional craft and it is used in almost every house in our country.
The naksha on the Nakshi Kantha displays the rural life of people. Most of the time, the village women make this Nakshi Kantha with a great interest and patience. The name got huge popularity after our popular poet Jasimuddin wrote a poem named 'Nakshi Kanthar Math' in 1929. This traditional Kantha can be made from used or new clothes and threads are used to make these quilts.
Recommended For You
Download Nakshi Kantha Assignment
If you want to download your Nakshi Kantha assignment, you can download that from the official website www.dshe.gov.bd 2022 assignment or on our website here. To download your assignment from our website, you have to click on the link here.
Why You like Nakshi Kantha?
Everyone likes Nakshi Kantha because of its artistic beauty and wonderful presentation of rural life living. Nakshi Kantha is used when we go to bed and want to cover our whole body with something. This not only covers the whole body but also reduces the cold feeling in the cold time. Many people cannot even sleep without placing a Nakshi Kantha on their bodies. So there are a lot of reasons for which people like Nakshi Kantha.
Do You Like Nakshi Kantha or Ordinary Kantha Why?
If anyone asks me do you like Nakshi Kantha, then my answer would be obviously yes. Even when the question is which one do you like Nakshi Kantha or ordinary Kantha, then my answer will also be the same. I like Nakshi Kantha a lot. We also know that you all like Nakshi Kantha as well.
Everyone likes this Kantha for a lot of reasons such as this Kantha represent our old tradition, we can highlight our everyday rural life living events on this Kantha, village women also can pass their time wonderfully and earn a good amount of money by making Nakshi Kantha, and so on. So there are a lot of reasons because of which we like Nakshi Kantha much.
 Paragraph Nakshi Kantha
If you look for writing a paragraph on Nakshi Kantha, you can easily write that taking information from this article. Rajshahi, Mymensingh, Jamalpur, Faridpur, Bogra, Jessore, and some other districts in our country are very famous for making Nakshi Kantha.
Nakshi Kantha Paragraph for all Class Students
This is such a craft that people of every place cannot make it. Over time Nakshi Kantha started to get produced commercially. Now it is very common that you can find different expensive and reasonable Nakshi Kantha in many handicraft shops in many cities.
Check also…

We have wonderfully presented everything about your Nakshi Kantha assignment. We have also provided the link for downloading your Nakshi Kantha assignment so that you can easily download it and start working on it. We wish that you do well with all of your assignments and learn a lot of helpful things.