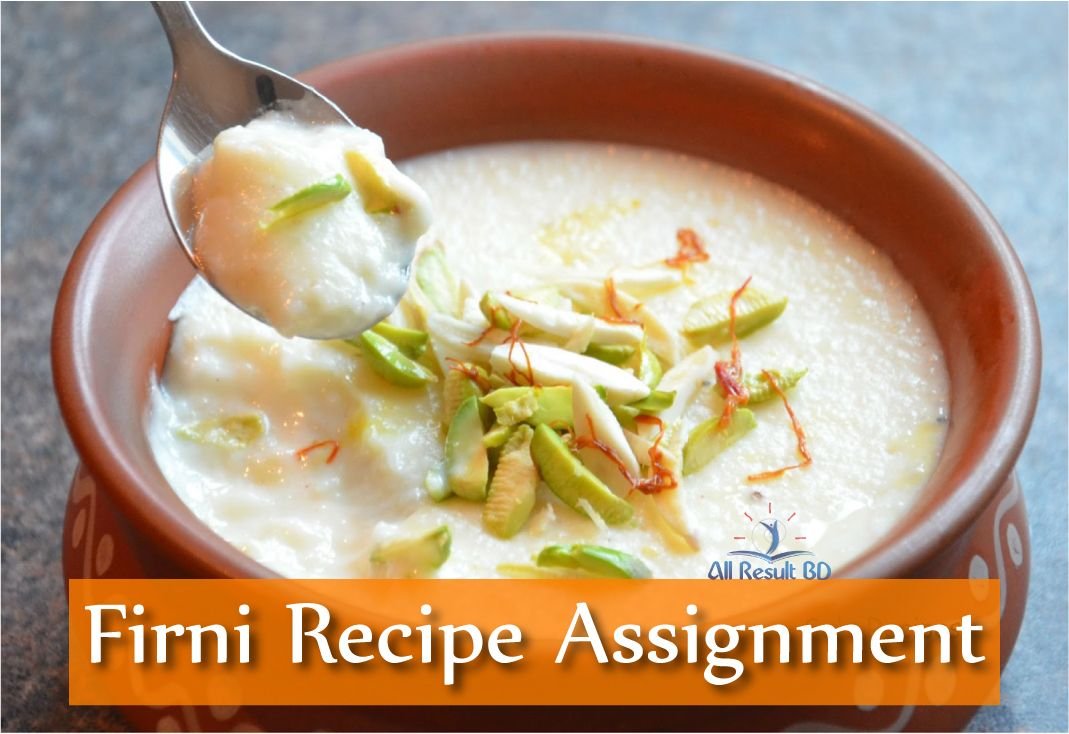 In the new normal life in the secondary and higher secondary education level, the way of providing teaching has been changed. As a part of continuing the study for secondary and higher secondary level students, the authority is trying to offer online classes and assignments. Firni recipe assignment is one of those endeavors and it is for the students of class 8. In this article, you will get to know everything about your firni recipe assignment.
Who is for Firni Recipe Assignment?
Firni recipe assignment is for the students of class 8. This assignment is undoubtedly a good idea for students to learn something out of the box. Generally, firni is a home-made food that most of us like it very much. After completing this assignment, students will be able to prepare firni on their own selves. And this lockdown situation in the education sector will let them have a lot of idle time and prepare this delicious dish anytime.
Think about a Delicious and Nutritious Food like Firni
We have already mentioned that the firni recipe assignment is a good idea for students. It is not only delicious food but also has a lot of nutrition value. So we all should think about a delicious and nutritious food like firni positively. No matter what other people say about this, we appreciate the variation in class assignments.
Check also: Pudding Recipe Assignment
How to Make Firni?
Most probably we all love to have firni occasionally. But if we can learn how to make firni, we can have this delicious dish more frequently. This is actually a delicious soft food that is being prepared with a mixture of various ingredients. It is equally popular not only in our country but also in many parts of the world. However, if you want to know how to make firni, you can follow the below steps carefully:
Ingredients you need:
Polao Rice                 1 cup
Raisins                       2 tablespoons
Milk                           2 liters
Condensed Milk       1 packet
Sugar                         Half cup
Pistachio Nuts           2 tablespoons
Cinnamon                 4 pieces
Cardamoms             2
Keora                      1 tablespoon
Saffron                    Half teaspoon
The Process (how to cook firni)
First of all, you need to take a bowl and soak the rice for 25 to 30 minutes.
After that, remove water from it and grind the rice to make it rice sooji.
Now, take a pan and heat the milk you have taken. During the boiling of milk, add the rice sooji to it and stir it well.
After that, add 1 cup of sugar to it and mix it well. Keep it on the heat for 10 to 15 minutes on the low flame.
Now, add cardamom powder and stir it well.
Finally, you need to add saffron and chopped dry fruits and now your delicious firni is ready.
Why Firni is a Healthy Food
Firni is a healthy food because of a lot of reasons. This delicious food is made of some healthy ingredients such as milk, nuts, polao rice, etc. The main ingredients of firni are milk and polao rice which are considered very healthy food in our country. Milk is especially considered one of the healthiest foods we have daily. So because of containing lots of healthy ingredients, firni is considered a healthy food.
Read more…

We hope that you have enjoyed reading the firni recipe assignment as we have described the firni making process in the easiest way. After reading this article, you all will be able to make firni easily and complete your home assignment without any difficulty. We wish you all the best with your assignments.