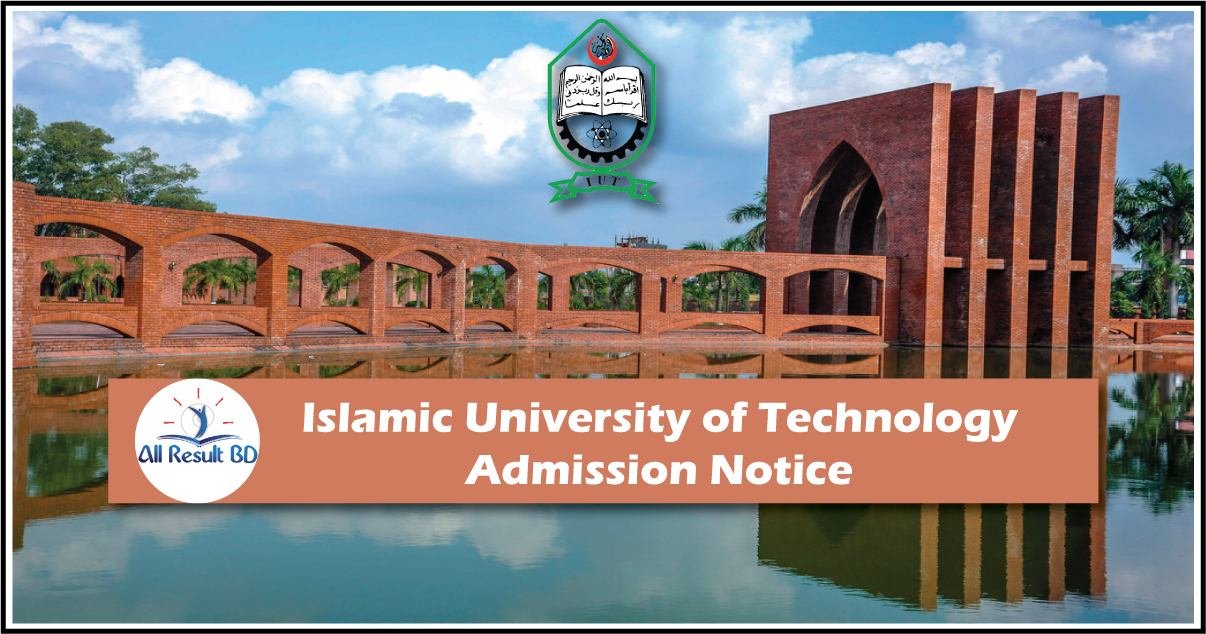 Islamic University of Technology (IUT) Admission Notice 2023. IUT Admission Circular 2023 has published. Islamic University of Technology Admission Test Date 2022-2023 is 28 September 2022.
IUT is a hub of multicultural diversity that ascertains a harmonious academic environment. It provides a platform for students from across 57 different countries of the OIC to share and disseminate knowledge that harbors uniqueness and versatility in academics. This also accentuates the richness and diversity of the academic and research environment at IUT.
IUT Admission Circular 2023
Islamic University of Technology (IUT) Admission Notice 2023. Islamic University of Technology (IUT) Admission Test 2022-2023 will be held on 26 May 2023. Admission Form Fill-up start from 21 March 2023 and application dateline is 9th April 2023.
The Islamic University of Technology is basically an educational and research organization. Islamic University of Technology (IUT) Admission Notice 2023 has announced. IUT is situated in Board Bazar, Gazipur. The primary objective of the University is to support sometimes in human resources development in associate countries of OIC, in numerous fields of Technology, Engineering & Technical Education.
Application Opens: 21st March 2023
Application Closes: 09 April 2023
Application fee: 1000 BDT (including taletalk service charge)
Islamic University of Technology (IUT) Admission
IUT Admission Requirements:
Candidates have options in four years Bachelor Program in the department of CSE, EEE, CEE, and MCE for admission
Candidates must have at least CGPA 4.50 in both S.S.C and H.S.C. or equivalent Exams for the above programs
Candidates who has passed O' level and A' level Exams must get minimum CGPA "B" in every subject (Physics, Chemistry, English and Mathematics for O' level and Mathematics, Physics and Chemistry for A' level)
Candidates must have passed H.S.C or equivalent exam in session 2021 or 2022.
Candidates must be male and Muslim.
Process of Apply Islamic University of Technology (IUT) Admission 2023:
For Bangladeshi Students:
Education Boards of Bangladesh: Candidates must apply through Teletalk SMS service from 21 March 2023 to 9 April 2023.
For O' level and A' level Students:
Candidates must apply through iut website from 21 March 2023 to 9 April 2023. Then pay the application fee through TeleTalk SMS within 10 April 2023. Instructions about how to apply through TeleTalk SMS will be available here on 10 April at 11 AM.
How to Apply IUT Admission Circular?
Prospective undergraduate students from all the OIC member states with an exception of the host country Bangladesh, can apply following standard procedures (filling up an application form) through the nominating authorities officially appointed by the respective countries.
It is to be noted that candidates may also apply directly through IUT web portals (www.iutoic-dhaka.edu/admission), however, preference will be given to the nominated candidates.
List of Eligible Candidates of IUT Admission Test
Admission test of IUT for the academic year 2022-2023 will be held on 26th May, 2023.
Admission Test
26 May 2023, Friday, 10:30 AM – 12:30 AM
MCQ Type: Math, Phy, Chem, and English
Medium of Test: English
সকল বিশ্ববিদ্যালয়ের ভর্তি তথ্য জানতে আমাদের গ্রুপে জয়েন করুন
গ্রুপ লিঙ্কঃ https://www.facebook.com/groups/resultbd/
Islamic University of Technology Admission 2018 Information
After completing one program at IUT, a student may be permitted to pursue a 2nd program, if he has minimum obligatory grade and he is selected by the Admission Committee for the same. Nobody is allowed to follow more than two programs continuously. All are required to return to their respective countries immediately after completing the program at the University.
IUT Admission Medical Requirement
Applicants having cardiac problem or contagious and communicable diseases such as tuberculosis, venereal diseases, AIDS, HIV positive, hepatitis B etc. are ineligible for admission.
Each nomination should be accompanied with Application in the prescribed form, available in the office of the Nominating Authority and Focal Points or can be downloaded from the links below in the section Application Forms, duly filled in, along with attested copies of academic certificates, mark-sheets/transcript, character certificate, English proficiency certificate or TOEFL/IELTS score certificate.
Report from an authorized Medical Practitioner on
eye-sight, hearing and general fitness for prolonged mental and physical exertion
blood and urine
chest X-ray
contagious & communicable diseases, such as tuberculosis, venereal diseases, AIDS, HIV positive, hepatitis B etc. and also on cardiac problem.
A letter from the nominating authority/guardian assuring that a return air-ticket will be sent for the nominating candidate to the University by first week of September of his graduating year.
IUT Admission Result 2023
The final merit list selection of the students are going to be complete by the Admission Committee of University on receiving of nominations from Nominating Authorities and taking in thought of their academic act, age, merit, past conduct & geographical allocation.
If, the number of suitable candidates is not fulfilling for a particular program or specialization, it will not be offered by University. Names of the provisionally selected candidates are going to be published in the admission section of the University website.
The University currently offers around 10 undergraduate programs covering a wide ken of engineering and technical fields, as well as business studies, creating a sound bridge between technology studies and the entrepreneurship skills needed to utilize these knowledge globally. These programs offer the knowledge and skill for the students to remain abreast of the latest technological advancements and respond to the technological needs of the Muslim Ummah and also have the technical know-how of anticipating the industrial and market dynamics of technology for its efficient implementation.
You will get more details about Islamic University of Technology (IUT) Admission Notice 2023 at this website. All important admission notices and information will be available at AllResultBD.com.