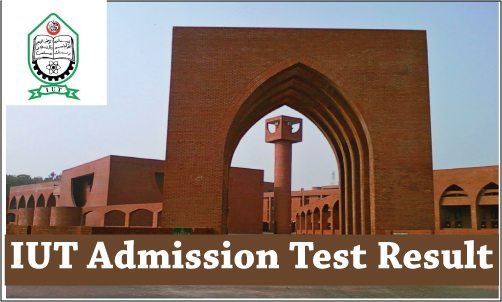 IUT admission Test Result 2015 – 2016 | www.iutoic-dhaka.edu. IUT admission Test Result 2015 – 206 has been published today. Islamic University of Technology in Short IUT is an international university situated in Gazipur just beside National University (NU). Only male Muslim students were eligible for applying in admission Test.
IUT admission Test Result
Islamic University of Technology Admission test held on 20th November 2015. Each candidate of the merit and eligibility list will receive a password through TeleTalk Mobile operator SMS by 09 Oct 2015 (06:00 PM). Using the password candidates must choices department within 22 Nov (9:00 PM) – 24 Nov 2015. Candidates, who will fail to submit their department choices in time, they will be removed from the merit and eligibility list.
Conditions of Merit List:
Merit List for Admission Test:
First 2000 candidates will be elected based on marks (X) obtained in SSC and HSC out of 100 for Admission Test. Marks (X) will be calculated from CGPA as following system-
X= Selected subjects CGPA of HSC * 12 + Selected subjects GPA of SSC * 8
Selected subjects for HSC CGPA: Mathematics, Physics, Chemistry, English (fourth subject)
Selected subjects for SSC CGPA: All Subjects without fourth subject
IUT Final Merit List:
Final merit list on 200 marks with 100 marks from Admission Test (Y) and 100 marks calculated from elected subjects GPA (X)
Process for Nomination and Selection:
Nominations of qualified candidates for the programs are to be sent to IUT in order of merit on the basis of tests arranged by the University and mannered by the Nominating Authority and Focal Points of the Member Countries of the OIC, for candidates coming from foreign Students (outside of Bangladesh). They need to download the application form from the following link and apply through right channel. Contagious Applicants & infectious diseases, Like- tuberculosis, hepatitis B, AIDS, HIV positive, Venereal diseases etc are ineligible for admission. Each nomination must be-
        I.            Application of the nominee in the prescribed form, available in the office of the Nomination Authority and Focal Points, correctly filled-up besides with all attested copies of academic mark sheets or transcripts, certificates, character certificate etc.
      II.            Collect report from an authorized Doctor following tests Eye-sight, hearing and general fitness for prolonged mental and physical exertion, Blood and urine Chest X-ray, Contagious & communicable diseases. Like- Tuberculosis, AIDS, HIV Positive, Venereal Diseases, Hepatitis B etc.
    III.            A letter from the nominating authority guardian assess that come back air-ticket of the graduating student are going to be sent to the University by first week of September of his graduating year.