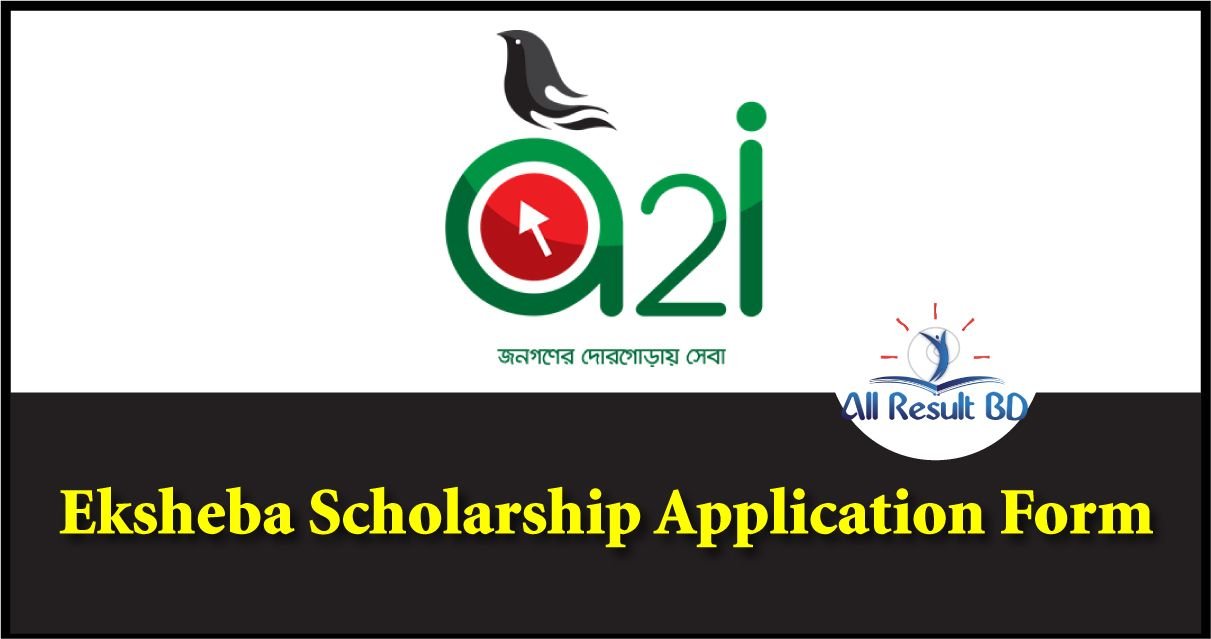 Every year the Government of the Peoples' Republic of Bangladesh issues Eksheba Scholarship programs. This Scholarship program offers scholarships for the academic session of 2021-2022 from class 6 to Bachelor degree in Bangladesh. There are many meritorious students who cannot continue their education because of the vicious circle of poverty. All the students from class 6 to Honor's and equivalent level can apply for the scholarship within 15th March.
eksheba gov bd Scholarship 2021
On the 28th of February, the official website for the Eksheba Scholarship program (www.eksheba.gov.bd) published that this year the application process will be held online. Due to COVID-19 a lot of changes took place especially in the education and education-related sector.
Eksheba উপবৃত্তি রেজিস্ট্রেশন
The authority has recently organized the committee considering the situation of every student and teacher. The online application process is not that complicated. Although in this article we will talk about the process with a brief description so that you find this easier and apply it without much trouble.
In this article, we will be familiar with the Eksheba Scholarship. Here we will explain about the application process, important dates, and other significant aspects of the scholarship program. We will highlight all the information which will be helpful for the students who are very much eager to apply for this financial aid program.
eksheba gov bd scholarship Summary
Eksheba Scholarship is a big opportunity for students who are in great need of financial aid. Students who are in class 6 can apply for the Eksheba Scholarship program. This financial aid is available for students from class 6 to students who are completing their undergraduate degree. Not only students but also teachers who are working under MPO registered Educational Institutions can apply for the Scholarship Program as well.
Apply Deadline
:
15th March 2021
Scholarship Amount
:
10000/- Per student according to the budget
Eligible Class
:
Class six, seven, eight, nine, ten, eleven, twelve,
Honors/Degree/Undergraduate Level
Every year a lot of students and teachers have been benefited from this financial aid program. The government has allocated more than 10000 takas for the budget and the selected candidate will receive that amount of money.
Recomand for you
Eksheba Scholarship Program 2022 Login
Every year the government organizes an Eksheba Scholarship program so that students and teachers can apply and get benefited. This scholarship is given to the student based on some criteria. People with physical or mental disabilities, students from poor family backgrounds, meritorious students, also students from ethnic minorities will get top preference.
However, in order to apply for the Eksheba scholarship program, one needs to gather some important documents. They need to have their college recommendation letter, scholarship information from previous scholarships, and other important documents as well. As many of you are willing to apply for the Eksheba Scholarship, you might have questions about this scholarship program.
Allocated Money for the Scholarship Program
Although the allocated money is more than 10000 takas per student, not everyone who applies for the program will receive the same amount of money. Different amounts of money have been allocated for different categories. The Secondary and Higher Secondary Education Board under the Education Ministry has allocated different amounts for different personnel. They have allocated 20% of the whole budget to the institutions as well as 10% and 70% for the teachers and students.
Additionally, a maximum of 100000 takas has been allocated for each educational institution where a maximum of 30,000 taka has been allocated for each teacher. Moreover, for secondary level students, a maximum of 8000 takas has been allocated including 9000 takas for higher secondary students and 10000 takas for undergraduate level has been allocated according to the approved budget.
Amount allocation for students:
Class 6 to Class 8: 35%
Class 9 to Class 10: 25%
Class 11 to Class 12: 20%
Bachelor Degree: 20%
Amount allocation for Institution:
Private School and College/ Higher Secondary level/ Degree College: 30%
Junior Secondary level/ Equivalent Institution: 10%
Secondary level/ Equivalent Institution: 60%
eksheba gov bd scholarship Apply Form
Application Process for Eksheba Scholarship Program:
Because of COVID-19, all the application processes this year will be held online. You have to visit the official website to apply for the scholarship program. Here are the steps that you can follow to apply.
Firstly you have to register with your mobile number on the official website which is www.eksheba.gov.bd.
After registering with your mobile number a Pin Code will be sent to your number via SMS.
Then you have to log in using that pin number on the official website (http://www.eksheba.gov.bd)
Fill up all the important fields with correct information.
After that upload your color picture
At last press the submit button and finish your application.
Lastly, following this process you can finish your application. You can always check for new notice using your verification number as well as can make changes. We hope that this article has been helpful enough for you to complete your application. Please visit our website for more and new updates.