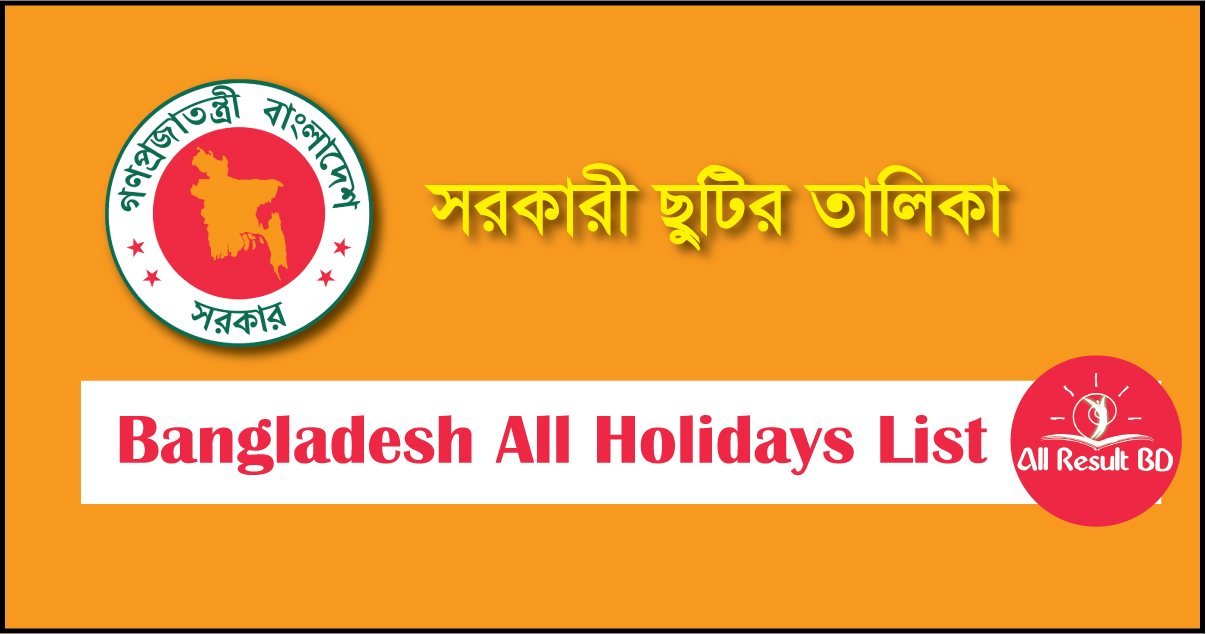 BD Govt Holidays List 2019, Bank holidays and Public National Holidays. We are human being. Now a day we are too much busy about work. Day by day we are becoming mechanical. So we really need to BD Govt Holidays in 2019. The holidays carry a lot of happiness & peace toward our busy lives. We all obviously want to take pleasure in our holidays. But getting holiday is very tough.
Particularly, who are working in private companies, they get Public holidays on the odd occasion. However, there are some required holidays from the government, which are to be pursued by all the public and private companies. There are many people in our country who do not have enough ideas regarding Public Holiday.
BD Govt Holidays List 2019
On 29th October (Monday) 2018, the cabinet of Bangladesh has been approved the list of holidays for the year of 2019. In the next year 2019, there will be total 22 days of holidays, including holidays in the general and executive order like this year 2018. From them, it has been three days in the weekly holiday on Friday and Saturday.
At the Prime Minister's Office, 2019 year's holidays are approved in the Cabinet meeting on Monday October 29th, 2018. This meeting is held by Prime Minister Sheikh Hasina. After the meeting, the Cabinet Secretary Mohammad Shafiul Alam told the press briefing at the secretariat office.
The cabinet secretary said that, "National Day and the important religious days of different communities will have 14 days in normal holidays. Weekly holidays (Friday and Saturday) are in 3 days in normal holidays. Apart from this, there are six days in the executive order of the Bengali New Year and on various important religious days. These BD Govt Holidays will not are on Friday and Saturday.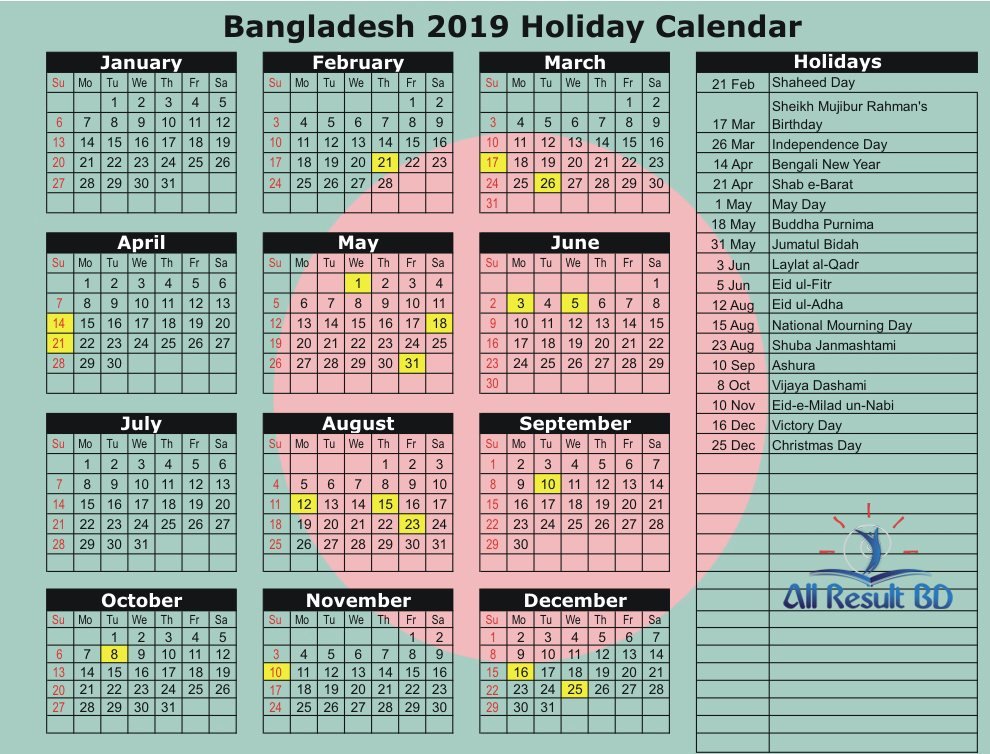 Apart from this, there have also been optional holidays for different religious ceremonies and small ethnic groups.
On 21st February, Shahid Day and International Mother Language Day,
On 17th March, the birthday of Father of the Nation Bangabandhu Sheikh Mujibur Rahman,
On 26th March Independence and National Day, Day of May 1,
On 18th May Buddha Purnima,
On 31st May Jumatul Bida,
On 5th June Eid-ul-Fitr,
On 12th August Eid-ul-Azha,
On 15th August National Mourning Day
On 23rd August Happy Janmashtami,
On 8th October Durga Puja (Bijoya Doshomi),
On 10th November, EID-e-Milladunnabi (peace be upon him)
On 16th December Victory Day of and
On 25th December Jesus Christ's birthday (Christmas)
Vacation Holiday 2019 by executive order:
Date
Day
Name of the Holiday  
Total Holiday
14th April
Sunday
Bengali New Year
01
21st April
Sunday
Shab-E-Borat
01
2nd June
Sunday
Shab E Kodor
01
4th and 6th June
Tuesday & Thursday
The days before and after the Eid-Ul-Fitr
02
11th and 13th August
Sunday & Tuesday
The days before and after the Eid-Ul-Azha
02
10th September
Tuesday
Ashura
01
Total
08
Muslim Festival Holiday 2019
Date
Day
Name of the Holiday  
Total Holiday
4th April
Thursday
Shab-E-Meraz
01
7th June
Friday
The Second day of Eid Ul Fitr
01
14th August
Wednesday
The Second Day of Eid Ul Azha
01
23rd October
Wednesday
Akheri Chahar Somba
01
9th December
Monday
Fateha-e-Yazdahm
01
Total
05
Note:
All Muslim additional holidays are dependent on seeing the moon.
A Muslim employee can choose maximum of 3 days additional holidays.
Hindu Festival Holidays In Bangladesh
Date
Day
Name of the Holiday  
Total Holiday
10th February
Sunday
Sri Sri Saraswati Puja
01
4th March
Monday
Sri Sri Shibratri Broto
01
21st March
Thursday
Shuvo Dolzatra
01
3rd April
Wednesday
Arrival Day of Sri Sri Harichand Tagore
01
28th September
Saturday
Shuvo Mohaloya
01
7th October
Monday
Sri Sri Durga Puja (Nobomi)
01
13th October
Sunday
Sri Sri Laxmi Puja
01
27th October
Sunday
Sri Sri Shema Puja
01
Total
08
Christian Festival Holidays 2019
Date
Day
Name of the Holiday  
Total Holiday
1st January
Tuesday
English New Year
01
6th March
Wednesday
Ash Wednesday
01
18th April
Thursday
Glory on Thursday
01
19th April
Friday
Glory On Friday,
01
20th April
Saturday
Glory On Saturday
01
21st April
Sunday
Easter Sunday
01
24th & 26th December
Tuesday & Thursday
the birth anniversary of Jesus Christ (before and after Christmas)
02
Total
08
Buddhist Festival Holidays 2019
Date
Day
Name of the Holiday  
Total Holiday
19th February
Tuesday
Maghi Purnima
01
13th April
Saturday
Chaitroshongkranti
01
16th July
Tuesday
Ashari Purnima
01
13th September
Friday
Modhu Purnima
01
13th October
Sunday
Probarona Purnima
01
Total
05
Optional leave (for the employees of the minority community in the Chittagong Hill Tracts area and beyond): On 12th and 15th April, Baisabi and other small ethnic groups of the Chittagong Hill Tracts are similar social festivals.
Bangladesh Government Holiday Calendar 2019 PDF
There were 22 days also of official leaves in this running year 2018; from them, seven days have passed on the weekly holiday. So in the next year 2019, the government officers and employees can enjoy the BD Govt Holidays 2019 for a long time, said by Shafiul Alam.
Note that in the year 2018, there were total 22 days leave for holidays with the general and executive order. There had been 7 days including Friday and Saturday.
If you have any question about BD Govt Holidays List 2019, Bank holidays and Public National Holidays then comment bellow or message us through our facebook Page. We will reply as soon as possible.