muktopaath gov bd login detials here. Muktopaath is the name of an open-source Bengali online education platform. Anyone who wants to can take online courses to learn professional skills and knowledge in a variety of fields at any time and from anywhere. MuktoPaath works to make sure that every citizen has access to facilities, information, and skill-based training. It also helps the national economy in a big way.
What is MuktoPaath?
MuktoPaath is a distinctive e-learning platform in Bangla for the advancement of professionals and skill sets in a variety of fields. The initiative's main goal is to assist those thinking about time, cost, & visits and to broaden the learning environment considerably.
As a response to the changes in the world brought on by the fourth industrial revolution, the government of Bangladesh has started a lot of education-based programs. With an emphasis on digitization, the honourable prime minister introduced the e-learning portal MuktoPaath on February 1, 2016.
One of the major e-learning platforms in Bangladesh, MuktoPaath aims to provide low-cost online, offline and blended learning opportunities for professionals, policymakers, and academics. It makes the learning resources available to everyone, user-friendly, and spontaneous, while also making such courses economical.
Read more: Muktopaath Certificate Download
What Muktopaath Hopes to Accomplish?
The MuktoPaath e-learning platform intends to provide seamless operational operations for online training and course delivery. In partnership with government and non-government partnering organizations, MuktoPaath launched more than 200 online courses for people who love to learn new skills.
Anyone who is interested can obtain the online courses from the MuktoPaath app as well as the website. An online certificate could be downloaded right from the site by enrolling, finishing the assigned lessons, attending the live sessions, and actively participating in the planned exams.
With the intention of offering affordable learning options, Everyone, including the underserved in all prospects, has access to MuktoPaath. The organization's main goals are to improve the development of knowledge and skills in line with the Fourth Industrial Revolution (4IR) while utilizing e-learning and artificial intelligence to create job possibilities, stimulate self-employment, and foster entrepreneurship while making a positive impact on the national economy.
Check here: Muktopaath Online Course Details
Aiming to achieve Sustainable Development Goal (SDG) 3, MuktoPaath Training for Health Professionals During the COVID-19 Pandemic (Good Health and Wellbeing). MuktoPaath, an online learning platform, also intends to achieve SDGs 4 (Quality Education) and 8 (Reducing Inequalities) (Decent work and economic growth)
People can access online training using MuktoPaath whenever they choose, from any location. To present, the platform has provided training to more than 1.6 million students throughout Bangladesh.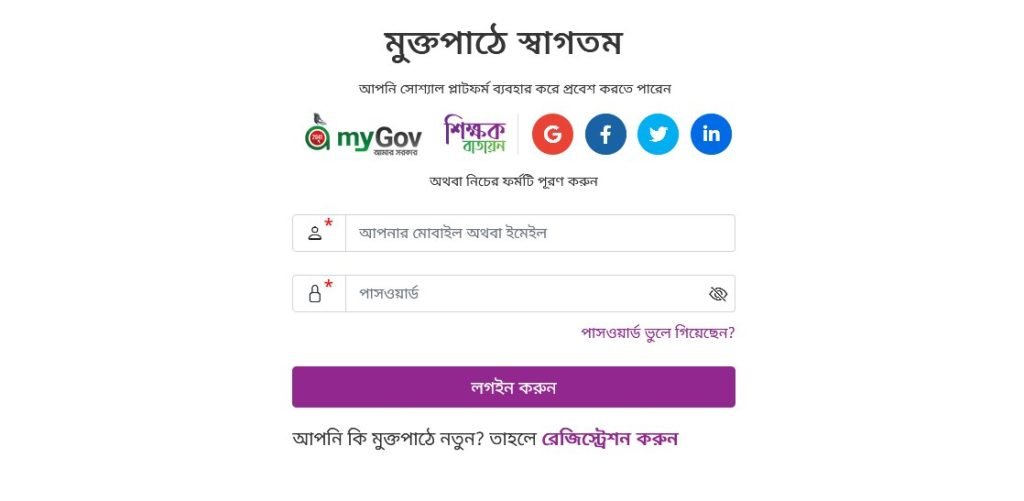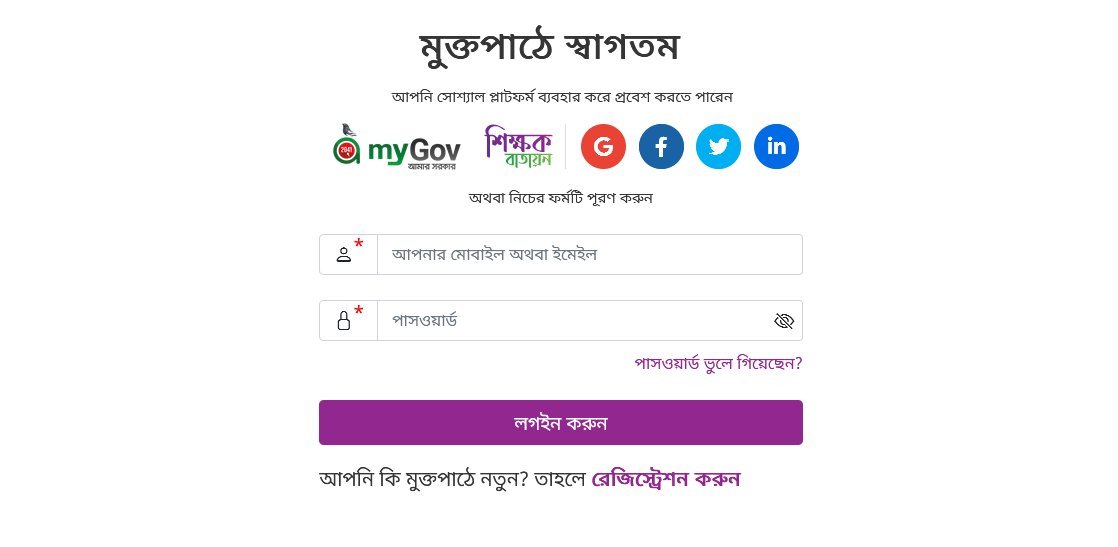 www.muktopath.gov.bd Login
Logging into the Muktopaath website is extremely easy. Thanks to the easy user interface, you should have no trouble logging in and start learning right away. Let's go over a step-by-step guide on how to log into your account that you can follow easily.
First, open your favorite web browser and go to https://muktopaath.gov.bd/.
Once you're on the website, look at the top menu bar, search for the option "Login", and click on it.
That should take you to a brand new page where you need to put your login credentials. Simply put your mobile number/email address and password in the required field.
Make sure that these are correct and click on the login button below. That should immediately log you into your account.
বাংলায় পড়ুনঃ মুক্তপাঠে রেজিষ্ট্রেশন / লগইন করবো কিভাবে?
What Kinds of Courses Muktopaath Offers?
The ICT section supports MuktoPaath's survival because it is a government platform under a2i. Bangladesh will place an equal amount of emphasis on traditional learning methods and e-learning, ensuring MuktoPaath's participation in future education and training procedures. The courses listed below are those that Muktopaath is currently providing.
Information Technology
Education
Skill Development
Health
Freelancing
Self- employment
Personal Development
Training
Journalism
Foreign Employment
Civic Education
Conclusion
Since its establishment, MuktoPaath's main goal has been the development of professionals and their abilities in a variety of fields, taking into account knowledge, work prospects, and awareness.
There are many different kinds of courses that can assist one in obtaining the numerous education required in daily life. This platform was primarily developed using Bengali as its primary language.