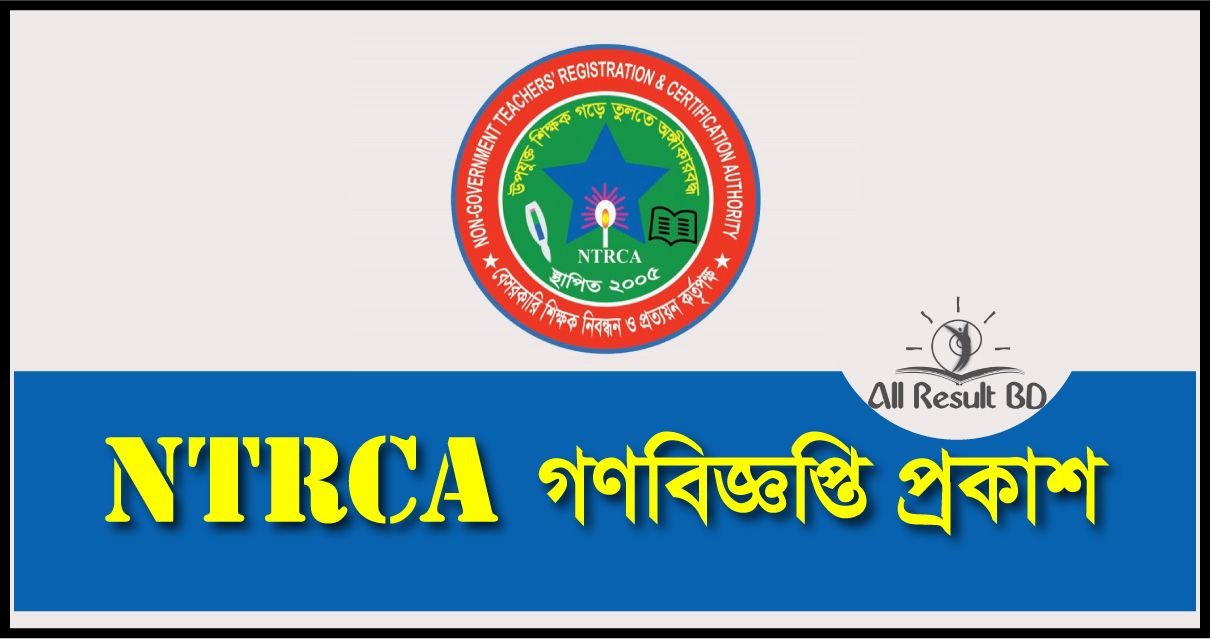 Many of you were eagerly waiting for the NTRCA Gono Biggopti 2024 for a long time. We are glad to inform you that the NTRCA 4th Public notice 2024 has been published on 21 January 2024. The authority of Non-Government Teacher's Registration & Certification is requesting candidates to apply within the exact deadline. In this article, we are going to discuss everything about this NTRCA Gono Biggopti elaborately.
Recommend for you
NTRCA Public Notice 2024

In the NTRCA public notice, we see that there are huge numbers of vacant positions so that a large number of candidates can apply. The application fee for NTRCA Gono Biggopti is very less and all the candidates can apply through Teletalk website as per the government instructions. Some of the key points of the NTRCA Gono Biggopti are mentioned below so that you can have a lot of ideas at a glance:
Application Start Date: 29 December 2023
Application Deadline: 29 January 2024
Number of Vacant Positions: 68000+
Application Fee: 100 Taka
Application Website: www.ntrca.gov.bd and http://ngi.teletalk.com.bd
Application Type: e-application
৬৮ হাজার শিক্ষক নিয়োগে চতুর্থ গণবিজ্ঞপ্তি প্রকাশ করেছে বেসরকারি শিক্ষক নিবন্ধন ও প্রত্যয়ন কর্তৃপক্ষ (এনটিআরসিএ)।
The Details of NTRCA Gono Biggopti
If we see in the detailed announcement of the NTRCA Gono Biggopti, we see that the form fill up process and application fee submission will start from of 8th February 2024 at 11:59 pm. So those who are planning to apply for different positions need to apply from that day.
The deadline for the application will be the 22nd of February 2024. If you do not want to miss the deadline, you have to apply within this date. In the table below, we are going to show you some more details of this NTRCA notice 2024.
NTRCA Gono Biggopti 2024
Type of Education Institution
Type of Positions
Total
MPO
NON-MPO
School and College
31508
36882
68390
Madrasah, Technical and Business Management
Reserved
Total
68390
NTRCA 5th Gono Biggopti
NTRCA 5th Gono Biggopti has been published by the authority recently. If you are looking for all the details of this notice, you should read this article from the starting to end carefully. The age of the candidates should not be more than 35 years. The age limit will be considerable to only a few candidates for the special case. The age limit will be counted till the date of 1st of January 2024. So those who are eligible to apply should apply to this post without any delay.
How to Apply for NTRCA Gono Biggopti
Applying to NTRCA gono biggopti 2024 is easy for everyone as the authority has provided the detailed instructions in the notice on how to apply easily. In this part, we have clearly mentioned the step by step process so that everyone can apply to this circular without any difficulty. The application process is mentioned below:
First of all, candidates need to visit the official website www.ntrca.gov.bd or this link ngi.teletalk.com.bd/ntrca/app/.
Secondly, you have to click on the recruitment button.
After that, you need to follow the next step so that you can apply online.
After you apply for the post, you need to complete your payment.
Now, you have to choose your school, college, or Ebtedayee Madrasah.
Finally, you are done with your application process.
We have described everything about the NTRCA Gono Biggopti 2024 in such a way that everyone can understand every part of this article. Since there are huge vacant positions in this circular, you all should apply for this post and try your luck. If any of you get the chance, you can change your life and upgrade your life. We wish you all the best in your future life.