NTRCA E-Requisition Circular 2023 has been announced on 21th December 2022 yesterday night. NTRCA E-Application time is already started. Today on 29th December (Thursday) 2022 e-Application is beginning. NTRCA E-Requisition Circular & E-Application form 2021 ngi.teletalk.com.bd related all information will be found in http://ngi.teletalk.com.bd, http://ngiappcycle04.teletalk.com.bd:8182/index.php as well as in our website at AllResultBD.com.
Almost 54000 vacant posts are in this circular. Total 54 thousands & 304 Hundreds seats are available in here. Interested candidates will able to apply NTRCA E-Requisition Circular E-Application within 1st February (Wednesday) 2022.
NTRCA e-Requisition Circular 2023
NTRCA E-Requisition Circular Publish Date: 21th December 2022
Starting date of E-Application: 29th December 2022
Finishing date of E-Application: 01st February 2023
No. of Seats: 68,390
Age limit: maximum 35 years old
NTRCA Gono Biggopti 2023
How to apply in NTRCA e-Application 2023?
INSTRUCTIONS FOR APPLICANTS
Before filling up the form, you should get ready with the following materials/information
Check and update your browser when page not seen properly and we prefer internet explorer & google chrome.
Photo (300X300 pixel) & Signature (300×80 pixel) jpeg format.
Signature (300×80 pixel) jpeg format.
Applicants information like exam Batch,Roll number,Level,Post,Subject etc.
Applicants passed in ( NTRCA 1st exam to 7th exam) must submit information according to their passed records
Applicants passed in ( NTRCA 8th exam to 14th exam) will automatically be shown in the application form.
NTRCA e-Application Form Process
Interested candidates have to apply in here by online process. When completing the e-application form, other information including spelling of the name should be similar to the information provided at the time of completing the registration examination form.
Fill up the application form correctly by online and submit it. After the submission of the forms, the SMS will be sent to the candidates' mobile and the next instruction will be provided to them with the deposit.
NTRCA will not take any responsibility for the name if the name is misrepresented or if there is a problem in computer processing.
Payment Process NTRCA e-Application
Concerned candidate must pay BDT. 180 for the designation,
This money is non-refundable.
This money must be send by mobile SMS,
After completing online application, then candidate send the money.
চাকরী বিষয়ক সকল তথ্য জানতে আমাদের গ্রুপে জয়েন করুন
গ্রুপ লিঙ্কঃ https://www.facebook.com/groups/govjobcircular
Applicants who received Application ID and must submit their application fee by SMS as it is instructed in applicants copy.
1st SMS: NGI <Space> Application ID and Send it to 16222
For Example: NGI  R1234 and Send it to 16222
In return SMS you will get Application Post Name & PIN Number.
2nd SMS: NGI  <Space> YES <Space> PIN and Send it to 16222
For Example: NGI  YES  R12345678 and Send it to 16222
NTRCA has been published a public declaration for appointing about 54,000 vacancies in the country's private school-college, madrasa and technical institutes. On June 12, those aged are 35 or less than 35 and it is mentioned in the notification that only those who can fulfill their requirements according to the Manpower Structure & MPO policy.
According to the government's final decision, only female candidates can apply for female Athletics Teacher positions. All received applications will be recommended by the national meritocracy on the basis of rules, in order to finalize the recommendation for the appointment of a person, and the recommendation will be sent to the concerned educational institution authority by NTRCA. Then the information will be given to the selected candidates on the mobile phone via the message.
Individuals with indexes in the private educational institution will also be able to apply for online recruitment. However, their recruitment applications will be sorted out on the basis of national merit list, like other candidates.
NTRCA e-Requisition Apply Instruction 2023
Before that, The High Court has been issued a rule to seeking to know why the maximum age limit is 35 years old was not illegal of NTRCA certificate holder for appointment of Non-Government Teacher Registration and Certification Authority (NTRC).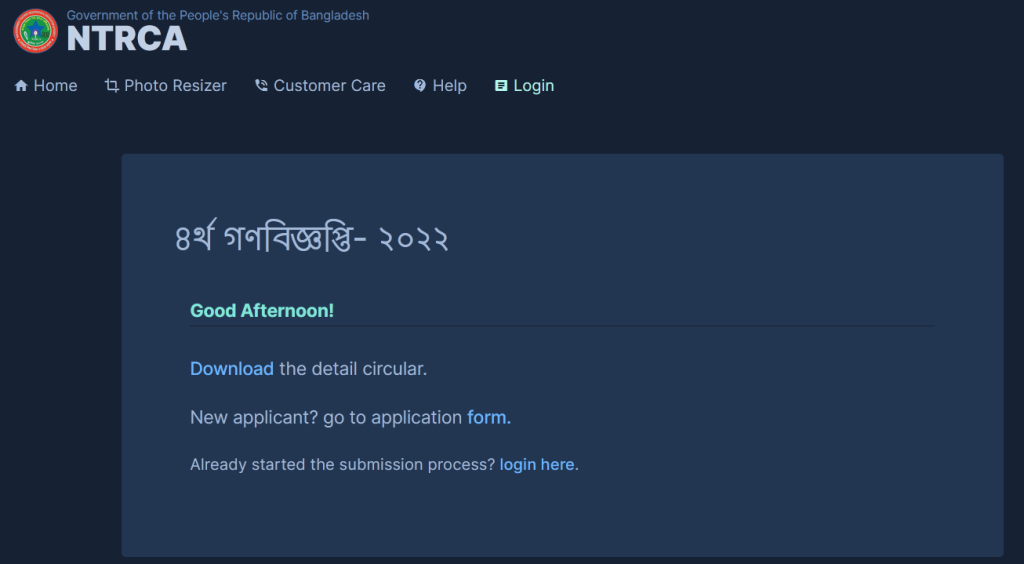 The bench of the High Court, comprising Justice Sheikh Hasan Arif and Rajik Al Jalil issued the rule on 18th December (Tuesday) 2022.
On 30th November (Friday) 2021, 15th Teacher Registration Examination, 2021 has been published by the Non-government Teacher Registration and Certification Authority (NTRCA).
Interested candidates who want to participate in the 15th Teacher Registration preliminary examination was able to fill up the application form and submitted the fee from 5th December (Wednesday) 2022 at 3 pm. The application has to be submitted within 26th December (Wednesday) 2022 at 6pm.
Check Vacant Posts 2023 in Institutes
We will publish all update information about NTRCA E-Requisition Circular & E-Application Instruction 2022 ngi.teletalk.com.bd in our website. We always declared all update news regarding NTRCA. You can get all news from our fb page too. So keep visiting & keep getting more and more updates from here.