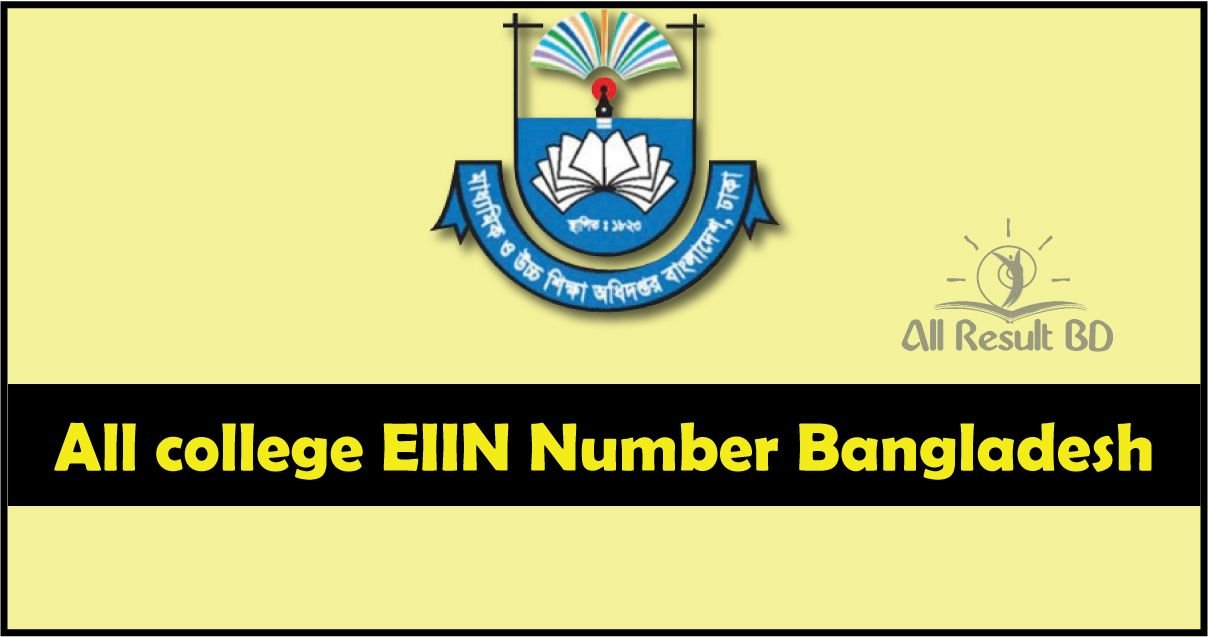 College EIIN Number of Dhaka and All college EIIN code Bangladesh. You need College EIIN Number when you apply for the HSC admission 2023. We published top College EIIN Number of Dhaka and Also All college EIIN code in Bangladesh.
Download College EIIN Number of Dhaka and your expectable college EIIN code Bangladesh from our website easily. We provide you top College EIIN Number in Dhaka board. You know guys, every college has a unique EIIN Number and this "EIIN" full meaning Educational Institute Identification Number. The College EIIN Number is provided by Bangladesh Ministry of Education.
When HSC Admission start then students are searching all college EIIN number in Bangladesh. SSC result 2023 was published 28th July 2023. This year Dhaka's Rajuk Uttara Model College has topped in Bangladesh, its interesting matter that last year its students' performance was awesome in the SSC Exam.
Ideal School and College is now in the 2nd position at the preset year. Dhaka's Milestone College has 4th position this year in this race. Dhaka's Milestone College established in 2002, has improved its performance rapidly. Rajuk Uttara Model College was founded in 1994, Ideal Model College in 1965 and Viqarunnisa College in 1952. The most oldest schools is Chittagong Collegiate School which established in 1836.
You can check form here How to Apply HSC Admission 2023? We will be best to provide your all college EIIN Number.
Download College EIIN Number of Dhaka Board
EIIN Number of Rajuk uttara Model College: 108573
EIIN Number of BAF Shaheen College: 107858
EIIN Number of Adamjee Cantonment College: 107855
EIIN Number of Notre Dame College: 108274
EIIN Number of Dhaka Residential Model College: 108258
EIIN Number of Mirzapur Cadet College: 133861
EIIN Number of Dhaka City College: 107975
EIIN Number of National Ideal College: 132078
EIIN Number of SOS Hermann Gmeiner College: 108215
EIIN Number of Motijheel Ideal School & College: 108277
EIIN Number of Holycross College: 130757
EIIN Number of Cambrian College: 132140
EIIN Number of Dhaka College EIIN Number: 107977
EIIN Number of Mirzapur Cadet College: 133861
EIIN Number of Viqarunnisa Noon College:108357
All Colleges' EIIN Number of Dhaka Education Board
Alamgir Monsur Memorial College EIIN No: 111918
Alfadanga College EIIN NO: 108618
Agriculture University College, Mymensingh EIIN No: 111913
Advanced Residential Model College, Mymensingh EIIN No: 131936
Adamjee Cantonment College, Dhaka Cantonment EIIN No: 107855
Abu Abbas College EIIN No: 113195
A K Memorial Degree College EIIN No: 109776
Baf Shaheen College, Kormitola EIIN No: 107859
Begum Badrunnessa Govt. Girls' College EIIN No: 108155
Bir Shreshtha Noor Mohammad Public College EIIN No: 108161
Bikrampur K. B. College EIIN No: 111200
B. K. Nagar Bangabandhu College EIIN No: 113675
Bikrampur Tangibari Degree College EIIN NO: 111255
B. A. F Shaheen College, Tejgaon EIIN No: 107858
B C I C College EIIN No: 108222
B. N. College, Dhaka Cantt. EIIN No: 107854
Bicrompur Adorshaw College EIIN NO: 111201
Birsreshtha Munshi Abdulr Rouf Rifles College EIIN No: 108162
Bir Srestha Abdur Rauf College, Kamarkhali EIIN No: 108854
Cambrian College EIIN NO: 132140
Chandrakon College EIIN NO: 113771
Central Women's College EIIN No: 108512
Cantonment Public School And College, Momenshahi EIIN No: 111925
College Of Development Alternative EIIN No: 134168
Dhaka Cant. Girls Public School College EIIN No: 132090
Dr. Abdul Mannan Mohila College EIIN No: 110433
Dr. Abdul Hossain College EIIN No: 113489
Dhaka College EIIN No: 107977
Dhaka City College EIIN No: 107975
Dhaka Imperial College EIIN No: 107974
Dhaka State College EIIN No: 107981
Dohar Nababganj College EIIN No: 108318
Daffodil International College EIIN No: 134564
Dr. Maleka College EIIN No: 107972
Dr. Mahbubur Rahman Molla College EIIN No: 133965
Demra College EIIN NO: 107908
Dania College EIIN NO: 107909
Dhaka Commerce College EIIN NO: 108207
Fulbaria College EIIN NO: 111516
Faridpur Muslim Mission College EIIN No: 108800
Faridpur Mohabidyalay EIIN No: 108796
Fulpur Mohila College EIIN No: 112184
Fazlul Haque Mohila College EIIN NO: 108511
Govt. Sherpur Mohila College EIIN NO: 113914
Govt. Gouripur College EIIN NO: 111722
Govt. Sheikh Mojibur Rahman College EIIN NO: 109678
Govt. Netrokona College EIIN NO: 113194
Govt. Shahid Samriti College EIIN NO: 111999
Govt. Gurudayal College EIIN NO: 110496
Govt. Shahid Sohrwardi College EIIN No: 108508
Govt. Sheikh Fazilatunnessa Mohila College EIIN No: 109483
Govt. Sheikh Lutfar Rahman Adarsha College EIIN No: 109591
Govt. Shibpur Shahid Asad College EIIN No: 112881
Govt. Sadarpur College EIIN No: 108933
Govt. Rajendra College EIIN No: 108797
Govt. Madarganj A. H. Z. College EIIN No: 110076
Govt. Maulana Mohammad Ali College EIIN No: 114744
Govt. Muminunessa Mohila College EIIN No: 111915
Govt. Naria College EIIN No: 113608
Govt. Nazimuddin College EIIN No: 110785
Govt. Netrokona Mohela College EIIN No: 113192
Govt. Rajbari College EIIN No: 113488
Govt. Tolaram College EIIN No: 112478
Govt. Tongi College EIIN No: 109061
Govt. Yasin College EIIN No: 108795
Govt. Kumudini College EIIN No: 114743
Govt. Bangabandhu College EIIN No: 109481
Govt. Zaheda Safir Mohila College EIIN No: 109994
Govt. Sofar Ali College EIIN NO: 112327
Govt. Bhawal Badre Alam College EIIN NO: 109031
Geor Govt College EIIN NO: 110930
Govt Commercial Institute, Bogra EIIN NO: 132124
Govt. Commercial Institute, Dinajpur EIIN No: 133785
Govt. Commercial Institute, Foridpur EIIN No: 132785
Govt. Adamjeenagar M. W. College, Narayanganj EIIN No: 112477
Govt. Commercial Institute, Pabna EIIN No: 133812
Govt. Commercial Institute, Mymensingh EIIN No: 133777
Govt. Ain Uddin College EIIN No: 108853
Govt. Ananda Mohon College EIIN No: 111911
Govt Commarcial Institute, Feni EIIN No: 134589
Govt. Kabi Nazrul College EIIN No: 108507
Govt. Haraganga College EIIN No: 111160
Govt. Dhamrai College EIIN No: 107953
Govt. Debendra College EIIN No: 111000
Govt. Boalmari College EIIN No: 108708
Govt. Barhamganj College EIIN No: 110880
Govt. Bangla College EIIN No: 108210
Govt. Ashek Mahmaud College EIIN No: 109996
GBG College EIIN NO: 114197
Gazipur Govt. Mohila College EIIN No: 109030
Goforgaon Govt. College EIIN NO: 111663
Gazipur Cantonment College EIIN No: 109033
Gazipur City College EIIN No: 131978
Gopalpur College EIIN No: 114273
Gulshan Commerce College EIIN No: 131904
Holy Cross College EIIN No: 131962
Hazi Misir Ali College EIIN No: 112482
Habez Uddin Sarkar College EIIN No: 134178
Habibullah Bahar College EIIN No: 108351
Hafez Ziaur Rahman College (Shyamganj) EIIN No: 113251
Hatimara Uchcha Madhyamik Vidyalaya EIIN No: 109028
Hazi Ashat College EIIN No: 110290
Hazi Jal Mamud College EIIN NO: 113770
Ideal College EIIN No: 107971
Ibraham Khan College EIIN No: 114064
Ideal School And College, Motijheel EIIN No: 108277
Iahwarganj College EIIN No: 111821
Jatir pita Bangu Bandhu College EIIN No: 109112
Jajira College EIIN NO: 113676
Jaitka Khaqja Rahmat Ali College EIIN No: 110947
Kadirdi College EIIN No: 108710
Kaliakoir College EIIN No: 109110
Kalkini Syed Abul Hossain College EIIN No: 110716
Konabari College, Gazipur EIIN No: 109037
Kapasia College EIIN No: 109323
Kendua College EIIN No: 113076
Khalilur Rahaman College EIIN No: 114524
Khilgaon Model College EIIN No: 108385
Katiadi College EIIN No: 110434
Kazi Shirajul Islam Mohila College EIIN No: 108709
Karimganj College EIIN No: 110382
Kalihati College EIIN No: 114351
K M College EIIN NO: 108659
Kazi Azim Uddin College EIIN NO: 109032
Jaatir Jonak BSMR College EIIN NO: 136579
Louhajang College EIIN NO: 111127
Lalmatia Mohila College EIIN No: 108251
Lal Mia City College EIIN No: 109482
Mirpur Girls' Ideal Laboratory Institute EIIN NO: 108221
Madabdi College EIIN NO: 112715
Mirpur College EIIN NO: 108206
Motijheel Model School And College EIIN No: 130865
Mirza Abbas Mohila College EIIN No: 108275
Mirkadim Hazi Amjad Ali College EIIN No: 132058
Merazabad Rana Shafiullah College EIIN No: 131938
Milestone College EIIN No: 108572
M. A. Khaleque College EIIN No: 109538
Manikganj Govt. Mohila College EIIN No: 110996
Major General Mohmudul Hasan Adarsha College EIIN No: 114107
Madhupur College EIIN No: 114455
M. H. Khan College EIIN No: 109485
Mirzapur College EIIN No: 114525
Model Girls' Institute, Sherpur EIIN No: 113918
Mohakhali Girls School & College EIIN No: 111923
Mohammadpur Cantral College EIIN No: 108254
Muksudpur College EIIN No: 109654
Muktagachha College EIIN No: 111998
Muktijodda Ideal College, Nikli EIIN No: 110544
Mymensingh Girls Cadet College EIIN No: 111926
Muslim Girls' High School & College EIIN No: 111921
Mirza Golam Hafiz College EIIN No: 108450
Narsingdi Govt. College EIIN No: 112719
Narayanganj College EIIN No: 112480
Narayanganj Govt. Mohila College EIIN No: 112479
Narsingdi Govt.Mohila College EIIN No: 112718
Narsinghdi Presidency College EIIN No: 134181
National Ideal College EIIN No: 132078
Nurul Amin College, Shibchar EIIN No: 110882
Notre Dame College EIIN No: 108274
N A C T A R, Bogra EIIN No: 133208
Nandina Shaikh Anwar Hossain College EIIN No: 109991
New Model Degree College EIIN NO: 108250
Northen College Bangladesh EIIN NO: 134571
National College EIIN NO: 131945
Paura Mohila College EIIN NO: 110493
Purbadhala College EIIN NO: 113250
Palash Shilpanchal College EIIN No: 112758
Pangsha College EIIN No: 113416
Pear Ali College EIIN No: 109422
Pubali Adarsha College EIIN No: 109036
Queen Mary College EIIN No: 134219
Rajuk Uttara Model College EIIN NO: 108573
Razabari College EIIN NO: 114528
Residential Laboratory College EIIN NO: 133736
Raypura College EIIN No: 112817
Residential Model College EIIN No: 108258
Royal Media College EIIN No: 131944
Rajpat College EIIN No: 109535
Rampal College EIIN No: 111161
Rajbari Govt. Adarsha Mohila College EIIN No: 113490
Rafiqul Islam Mohila College EIIN No: 110288
Rajoir College EIIN No: 110818
Savar College EIIN No: 108453
Samsul Haque Khan School & College EIIN NO: 107915
Shaheed Police Shreeti College EIIN NO: 132127
Shobaloy sadaruddin Degree College EIIN NO: 111054
Singair College EIIN NO: 111084
Stamford College, Dhaka EIIN No: 107973
Salimullah College EIIN NO: 108510
Shaheed Bir uttam LT Anwara Girls College EIIN NO: 132143
Sreebardi Govt. College EIIN NO: 113973
SOS Hermann Gmeiner College EIIN NO: 108215
Shomsher Fakir Degree College EIIN NO: 114063
Syed Abul Hossain College EIIN NO: 110787
Sreenagar Govt. College EIIN NO: 111231
Saint Joseph Uccha Madhyamik Biddyalaya EIIN NO: 108259
Shahabubbin College (ASIM) EIIN NO: 111517
Susang College EIIN NO: 112975
Savar Contonment Public School & College EIIN No: 108459
Savar Laboratory College EIIN No: 131845
Shafiuddin Sarkar Academy And College EIIN No: 109063
Shahajuddin Sarker Model Higher Secondary School EIIN No: 109051
Shaheed Ramizuddin Cantonment College EIIN No: 107857
Shaheed Shrity Mohabiddaloy, Shosikor EIIN No: 110717
Shaheed Tajuddin Ahmed Degree College EIIN No: 109321
Shahid Smriti Adarsha College, Nandail EIIN No: 112070
Sherpur Govt. College EIIN No: 113915
Shaturia Sayed Kalusha Degree College EIIN No: 111027
Shariatpur Govt. College EIIN No: 113647
Shaikh Borhanuddin College EIIN No: 108137
Shekh Fazilatunnesa Mujib Mohila Mohabiddalay EIIN No: 114742
Shamsur Rahman College, Idilpur EIIN No: 113575
Shahid Syed Nazrul Islam College EIIN No: 111910
Savar Model College EIIN NO: 108451
Siddheswari Girls' College EIIN NO: 108352
Tejgaon College EIIN NO: 108533
Trust College EIIN NO: 134221
Uttara Town College EIIN NO: 108564
Uttata High School & College EIIN NO: 108538
Vashantec Govt Mohabiddaloy EIIN NO: 136841
Valuka College EIIN NO: 111354
Viquarunnasa Noon College EIIN NO: 108538
Wali Newaz Khan College EIIN NO: 110495
Zillur Rahman Mohila College EIIN NO: 110289
Download College EIIN Number of Dhaka Board
All Colleges' EIIN Number under Chittagong Education Board
Bangladesh Mohila Samiti Girls High School And College EIIN NO: 104534
Dr. Fazlul Hazera College EIIN NO: 104687
RangamatiGovt. Mohila College EIIN NO: 107819
Bijoy Smarani College EIIN NO: 105113
Hazera-Taju Degree College EIIN NO: 104237
Agrabad Mohila College EIIN NO: 104303
Hathazari College EIIN NO: 104464
Bsac Degree College, Chittagong EIIN NO: 104261
Coxbazar Govt Girls College EIIN NO: 106316
Rangunia College EIIN NO: 104844
Baraiahat College EIIN NO: 104659
Nazampur College EIIN NO: 104662
Nazirhat College EIIN NO: 104466
Mirsarai College EIIN NO: 104661
Fatiksharai College EIIN NO: 104389
Chittagong College EIIN NO: 104532
Saraipaua City Corp. College EIIN NO: 104690
Kulgaon City Corp. College EIIN NO: 104053
Pahartali College EIIN NO: 104537
Anwara College, Chittagong EIIN NO: 104038
Coxbazar City College EIIN NO: 106315
Raojan College, Chittagong EIIN NO: 104931
North Kattaly Al-Haz Mustafa Hakum College EIIN NO: 104688
Kuaish Burishchar Sheikh Mohammad City Corp. College EIIN NO: 104465
Patia Govt. College EIIN NO: 104778
Islamia Degree College EIIN NO: 104299
Ispahani Public School & College EIIN NO: 104711
Sitakundu Degree College EIIN NO: 105112
Chittagong Model School & College EIIN NO: 133998
Chittagong Govt. Girls' College EIIN NO: 104710
Cox'sbazar Govt. College EIIN NO: 105061
Mohila College Chittagong EIIN NO: 104528
Rangamati Govt. College College EIIN NO: 107818
Govt. Hazi Muhammad Mohsin College EIIN NO: 104527
Gachhbaria Govt. College College EIIN NO:104200
Govt. City College, Chittagong EIIN NO: 104301
Omargani M. E. S. College EIIN NO: 104300
Govt Commarce College Chittagong EIIN NO: 104302
Sir A. T. Govt. College EIIN NO: 104152
EIIN Number of Chittagong Board all Colleges
All Colleges' EIIN Number under Rajshahi Education Board
N. S. Govt. College, Nator EIIN No: 124235
Digha Potia M.K. College EIIN No: 124236
Shahid Nurul Hossain College, Kashinath Pur EIIN No: 125744
Abdulpur Govt. College EIIN No: 124115
Rajshahi Govt. Women's College EIIN No: 126487
Varengra College, Rajshahi EIIN No: 126488
Nazipur Govt. College EIIN No: 123645
Govt. M. R. Women's College, Bogra EIIN No: 119250
Govt. Shah Sultan College, Bogra EIIN No: 119248
Manda Momin Sahana College EIIN No: 123317
Gabtali Govt. College EIIN No: 119546
Shahid Bul Bul Govt. College, Pabna EIIN No: 125664
Syed Ahmmed College, Sukhanpukur EIIN No: 119548
Sariakandi College EIIN No: 119713
Mahasthan Mahiswar College EIIN No: 119908
Joypur Hat Govt. Women's College EIIN No: 121895
Joypur Hat Shahid Zia College EIIN No: 121896
Dupchanchia J. K. College EIIN No: 119471
Pabna Uslamia College EIIN No: 125660
Hazi Jamal Uddin College,Bhangura EIIN No: 125371
Shah Neamatullah College, Nawabganj EIIN No: 124592
Naogaon Astan Mollah College EIIN No: 123489
Hazi Wahed Mariam College EIIN No: 128276
Ishurdi Govt. College EIIN No: 125552
Rajshahi University School EIIN No: 126773
Hazi Korap Ali Memorial College Jamtoil EIIN No:128113
Islamia College EIIN No: 126482
Niamatpur College EIIN No: 123564
Jahangirpur Govt. College EIIN No: 123407
Chowdury Chand Mohammad Women's College, Naogaon EIIN No: 123827
Qadirabad Cantonment Sapper College EIIN No: 123887
Singra Damdama Pilot School & College EIIN No: 124317
Sherpur Town Club Public Library Mohila College EIIN No: 119807
Sherpur College EIIN No: 119808
Nawabganj Govt. College EIIN No: 124593
Rajab Ali Memorial Science College EIIN No: 128454
B. C. S. S. College, Gurudaspur EIIN No: 124028
Joypur Hat Govt. College EIIN No: 121897
Rajshahi College EIIN No: 126490
Ishwardi Women's College EIIN No: 125553
Govt. B.M.C Women's College, Naogaon EIIN No: 123487
Rani Bhawani Govt. Women's College EIIN No: 124237
Rohanpur Yusuf Ali College EIIN No: 124418
Govt. A. H. College, Bogra EIIN No: 119246
Naogaon Govt College EIIN No: 123488
Chatmohar College EIIN No: 125454
Balkuchi College EIIN No: 128028
Shahzadpur Govt. College EIIN No: 128355
Sirajganj Govt. College EIIN No: 128461
Rashidazzoha Govt. Women's College, Sirajganj EIIN No: 128463
Islamia Govt. College, Sirajganj EIIN No: 128464
Ullapara Govt. Science College EIIN No: 128674
Akbar Ali Govt. College, Ullapara EIIN No: 128676
Belkuchu Bahumukhi Women's College EIIN No: 128025
Bogra Cantonment Public School & College EIIN No: 119251
Akkelpur M. R. College EIIN No: 121801
Salanga College EIIN No: 128275
Monjur Kader Women's College, Bera EIIN No: 125330
Khamar Gram College EIIN No: 128076
Badalgachhi Govt. College EIIN No: 123138
Mohipur Govt. Hazi Muhasin College, Panch Bibi EIIN No: 122068
Ataikula M. A. Khatun College EIIN No: 125745
Pabna College EIIN No: 125661
Dashuria College EIIN No: 125554
Pabna Govt Women's College EIIN No: 125665
Rajshahi Govt. City College EIIN No: 126489
New Govt. Degree College, Rajshahi EIIN No: 127038
EIIN Number of Rajshahi Board All Colleges
All Colleges' EIIN Number under Sylhet Education Board
Nabiganj College EIIN No: 129524
Langla Adhunik College EIIN No: 129684
Suja Memorial College EIIN No: 129616
Kamalganj College EIIN No: 129615
Nari Shikka Academy EIIN No: 129581
Syed Said Uddin College EIIN No: 129493
Moulavibazar Govt. College EIIN No: 129730
Moulavibazar Govt. Women's College EIIN No: 129729
Sreemangal Govt. College EIIN No: 129783
Syed Shah Mostafa College EIIN No: 129731
Baralekha Degree College EIIN No: 129580
Biswanath College EIIN No: 130217
Noor Jahan Memorial Women's College EIIN No: 130456
Sylhet Govt Women's College EIIN No: 130453
Taibunessa Khanam Academy College EIIN No: 129582
Shahjalal College EIIN No: 129492
Dharmaghar College EIIN No: 129494
Kanaighat College EIIN No: 130389
Sylhet M. C. College EIIN No: 130457
Madan Mohan College EIIN No: 130452
Derai College EIIN No: 129887
Shaha Khurram College EIIN No: 130455
Sylhet Govt. College EIIN No: 130450
Zakiganj Govt. College EIIN No: 130542
Govt. Agragami Girls High School & College EIIN No: 130299
Latifa- Shafi Choudhury Womens College EIIN No:1350500
Jawabazar College EIIN No: 129858
Ismati College EIIN No: 130543
Alif Subhan Chowdhury College EIIN No: 129342
Goainghat College EIIN No: 130335
Dakshin Surma College EIIN No: 130499
Habigang Govt. Mohila College EIIN No: 129449
Brindaban Govt. College EIIN No: 129447
Chunarufhat Govt. College EIIN No: 129412
Shachindra College EIIN No: 129373
Sunamganj Govt. College EIIN No: 130051
Sunamganj Govt. Womens College EIIN No: 130050
Digendra Barman College EIIN No: 129802
Jamalganj College EIIN No: 129996
Tajpur College EIIN No: 130125
Beanibazar Adarsha Mohila College EIIN No: 130174
Bianibazar Govt. College EIIN No: 130172
Jagannatpur College EIIN No: 129978
Janab Ali College EIIN No: 129372
EIIN Number of Sylhet Board All Colleges
All Colleges' EIIN Number under Comilla Education Board
Dollai Nowabpur College EIIN NO: 105403
SaikatCollege EIIN NO: 107662
Dr. Khandakar Mosarraf Hossain College EIIN NO: 105577
SonaimuriCollege EIIN NO: 107413
NimsarJunabAliCollege EIIN NO:105332
DebidwarGovt.S.A. College EIIN NO:105666
Comilla Ajitguha College EIIN NO: 105020
Comilla Govt. Women's College EIIN NO: 105821
Choumuhani Govt. S. A. College EIIN NO:107253
Comilla Govt. College EIIN NO: 105824
Chhengarchar College EIIN NO: 103940
Govt. Mujib College EIIN NO:107359
Babiul Alam College EIIN NO: 106068
Dalal Bazar College EIIN NO: 106996
Zillur Rahim College EIIN NO: 106994
A. S. M. Abdur Rob Govt. College EIIN NO:107176
Noakhali Govt. Girls' College EIIN NO: 107658
Abdul Hadee College EIIN NO: 107177
Char Matua College EIIN NO: 107665
Bamoni College EIIN NO: 107358
Khalilur Rahman Degree College EIIN NO: 107414
Jalal Uddin College EIIN NO: 107254
Bhabanigonj College EIIN NO: 107000
Comilla Victora Govt. College EIIN NO:105822
Chatkhil Women's College EIIN NO: 107309
Banderhat Abdul Maleque College EIIN NO: 107660
Sonar Bangla College EIIN NO: 105330
Maizdee Public College EIIN NO: 107661
Hatia Dwip Govt. College EIIN NO: 107464
Chaprashirhat Ismail College EIIN NO: 107656
Baliakandi College EIIN NO: 107518
Joyag College EIIN NO: 107416
Noakhali Govt. College EIIN NO: 107659
Sonapur College EIIN NO: 107657
Haziganj Model College EIIN NO: 103758
Shuhilpur Al-Haz Harun- Al- Rashid College EIIN NO: 103293
Brahmanbaria Govt. Mohila College EIIN NO: 103191
Kazi Mohammad Shafiqul Islam College EIIN NO: 103290
Brahmanbaria Govt. College EIIN NO: 103294
Nawab Fayzunnesa Govt. College EIIN NO: 105955
Chowddangram Govt. College EIIN NO: 105513
Munshi Fazlur Rahman Govt. College EIIN NO: 105579
Adhyapak Abdul Mozid College EIIN NO: 106061
Champakngar H/ S & College EIIN NO: 103302
Barhamanbaria Poura College EIIN NO: 103292
A. Monem Mohabidhalaya EIIN NO: 103296
Firoz Mia College EIIN NO: 103295
Kasba T. Ali College EIIN NO: 103381
Syedabid Adarsha College EIIN NO: 103382
Chargachh N. I. Bauiyan College EIIN NO: 103378
Mia Abdullah Wazed Girls College EIIN NO: 103380
Nabinagar Mohila College EIIN NO: 103437
Salimganj College EIIN NO: 103440
Alimuddin Zobeda College EIIN NO: 103439
Chinair Bangabandhu Sheikh Mojib Degree College EIIN NO: 134243
Feni Govt. College EIIN NO: 106642
Kasba Mohila College EIIN NO: 103379
Bayek Alhaj Shahalam College EIIN NO: 103384
Gopinathp Al- Haj Shah Alam College, Kasba, Brah EIIN NO: 103384
Haimchar College EIIN NO: 103701
Gallak Adarsha College EIIN NO: 103675
Farakkabad College EIIN NO: 103572
Beacon Model College EIIN NO: 136527
Sonagazi Govt. College EIIN NO: 103748
Rampur Nasir Memorial College, Feni EIIN NO: 106640
Feni South East College EIIN NO: 106639
Fulgazi Mohila College EIIN NO: 106670
Mvi. ShamsulKarimCollege EIIN NO: 106500
HydergonjModelCollege EIIN NO: 134350
RaipurGovt. College EIIN NO: 107047
Joynal Hazari College EIIN NO: 106641
Al- Amin Acadamy EIIN NO: 103574
Chandpur Puran Bazar College EIIN NO: 103569
Feni City College EIIN NO: 135399
Narayanpur College EIIN NO: 103884
Gridkalindia Hazria Hasmot Degree College EIIN NO: 103673
Suchpara College EIIN NO: 103998
Chandra Imam Ali High School And College EIIN NO: 103586
Sachar College EIIN NO: 103835
Palakhal Rustam Ali College EIIN NO: 103834
Sheikh Mujibur Rahman College EIIN NO: 103838
Kachua Bangabandhu Degree College EIIN NO: 103837
Chitoshi College EIIN NO: 104001
Nasirkot Shahid Smriti College EIIN NO: 103755
Meher College EIIN NO: 104000
Balakhal Mokbul Ahmad College EIIN NO: 103756
Chandpur Govt. Girls' College EIIN NO: 103570
Hazirhat Upakul College EIIN NO: 107175
Jafarganj Mir Abdul Gafur College EIIN NO: 105660
Kalikapur Abdul Mastin Khashru College, Burichong EIIN NO: 131985
Munshirhat College, Chowddagram, Comilla EIIN NO: 105514
Mudaffarganj A. N. High School & College, Laksam EIIN NO: 105964
Nangalkot hasan Memorial College EIIN NO: 106161
Adda College EIIN NO: 105192
Shah sharif College EIIN NO: 105959
Chata Sarifpur College EIIN NO: 105958
Bhadshamia Adarsha H/ S & College EIIN NO: 106165
Poyalgachha Degree College EIIN NO: 105191
Raja Maher Engineer M.A. Munshi Adarsha College EIIN NO: 105663
Chandpur Mohila College, Chandpur, Comilla EIIN NO: 105404
Kazi noman Ahmad College EIIN NO: 106067
Shashidal Alhaj Md. Abu Taher College EIIN NO: 105247
Mosharrof Hossain Khan Chowdhury Degree College EIIN NO: 105254
Hasanpur S. N. Govt. College EIIN NO: 105580
Sreekali College EIIN NO: 106069
Alekjan Memorial High School And College EIIN NO: 105828
Mia Bazar College EIIN NO: 105519
Gunabati College EIIN NO: 105509
Shahebabad Degree College EIIN NO: 105248
Barsalghar Adarsha College EIIN NO: 105667
Chandpur Redowan Ahmad College EIIN NO: 105402
Chouara Adarsha College EIIN NO: 105745
Paruara Abdul Matin Khasru College EIIN NO: 105335
Gazipur Khan High School & College EIIN NO: 105582
Chapitala Farid Uddin Sarker College EIIN NO: 106065
Manikar Char Bangabandhu College EIIN NO: 105976
Madhaiya Moktijoddha Smriti College EIIN NO: 105400
Sursamrat Alauddin Khan College EIIN NO: 103441
Sarali College EIIN NO: 103488
Abbas Uddin Khan Shohagpur Model College EIIN NO: 131980
Sharahat Ali College EIIN NO: 103203
Al- Haj Nur Mia College, Chowddagram, Comilla EIIN NO: 105508
Ramkrishnapur College EIIN NO: 105696
Ibne Taimia High School & College EIIN NO: 105751
Homina College EIIN NO: 105698
Motlab Degree College EIIN NO: 103887
Govt. Zia Mohila College EIIN NO: 106643
Kabirhat Govt. College EIIN NO:107655
Senbagh Govt. College EIIN NO: 107516
Burichang Ershad College EIIN NO: 105331
Iqbal Memorial College EIIN NO: 106553
M. A. Hasmot College EIIN NO: 107256
Nabinagar Govt. College EIIN NO: 103438
Faridganj Bangabandhu Degree College EIIN NO: 103674
Chhagalnaiya Govt. College EIIN NO: 106499
Baktar Munshi Sheikh Shahidul Islam College EIIN NO: 106747
Barura Shahid Smrity Govt. College EIIN NO: 105190
Ramganj Model College EIIN NO: 107107
Baburhat H/ S & College EIIN NO: 103573
Chatkhil Panchgaon Mahbub Govt. College EIIN NO: 107308
Dr. Mosharrof Foundation College EIIN NO: 131913
Kafil Uddin Degree College EIIN NO: 106993
Laxmipur Govt. College EIIN NO: 106998
Haziganj Degree College EIIN NO:103757
Debidwar Alhaj Jobeda Khatun Girls' College EIIN NO: 105665
Akhaura Shahid Smrity College EIIN NO: 103169
Nather Perua College EIIN NO: 105953
Laxmipur Govt. Girls' College EIIN NO: 106997
Ramganj Govt. College EIIN NO: 107108
Comilla Shikkha Board Model College EIIN NO: 132092
Chandpur Govt. College EIIN NO: 103568
Nasirnagar College EIIN NO: 103464
Banchharampur College EIIN NO: 103200
EIIN Number of Comilla Board All Colleges
All Colleges' EIIN Number under Dinajpur Education Board
Majida Adarsha College EIIN No: 122332
Pirgachha College EIIN No: 127769
Dinajpur Govt. Women's College EIIN No: 120822
Bara Khata College EIIN No: 122826
Thakurgaon Road College EIIN No: 129309
Thakurgaon Govt. Women's College EIIN No: 129308
Nek Marad Bangabandhu College EIIN No: 129072
Shahid Akbar Ali Science & Technology College EIIN No: 128770
Goreya College EIIN No: 129310
Nakaihat College EIIN No: 121344
Baulli College EIIN No: 129311
Salandar College EIIN No: 129307
Gaibandha Adarsha College EIIN No: 121185
Doi Khawa Adarsha College EIIN No: 122827
Shathibari College EIIN No: 127665
Shibganj College EIIN No: 129313
Govt. Begum Rokeya College, Rangpur EIIN No: 127485
Mithapukur College EIIN No: 127664
Gangachara College EIIN No: 127298
Mir Ismail Hossain College, Rajarhat EIIN No: 122534
Birampur Women's College EIIN No: 120022
Shahid Smrity Adarsha College, Fulbari EIIN No: 120450
Bhajanpur College EIIN No: 126192
Jagdal College EIIN No: 126151
Bhaulaganj College, Panchagarh EIIN No: 126048
Hakimpur College EIIN No: 120538
Carmichael College EIIN No: 127489
Parbatipur Adarsha College EIIN No: 121059
Barrister Jamiruddin Sircar Colliagiate Institute EIIN No: 132011
Dinajpur K. B. M. College EIIN No: 120816
Patgram Women's College EIIN No: 123028
Sakoa College EIIN No: 125974
Gabindaganj College EIIN No: 121347
Shahid Ziaur Rahman College, Tunirhat EIIN No: 126149
Kurigram Government College EIIN No: 122331
Fulchhari College EIIN No: 121099
Dr. Abeda Hafiz Girls' High School & College EIIN No: 126153
Ulipur Maharani Sarnamoyi Hogh School & College EIIN No: 122712
Cantonment Public School And College, Rangpur EIIN No: 127500
Nilphamari Govt. College EIIN No: 125189
Domar Women's College, Nilphamari EIIN No: 124896
Nilphamari Govt. Women's College EIIN No: 125188
Boda Women's College EIIN No: 125976
Debiganj College EIIN No: 126047
Panchagarh Govt Women's College EIIN No: 126148
Bhurungamari College EIIN No: 122122
Samir Uddin Smrity College, Baliadangi EIIN No: 128768
Lahiri College, Thakurgaon EIIN No: 128769
Rani Sankail College EIIN No: 129071
Police Lines School & College, Rangpur EIIN No:127501
Rangpur Govt. College EIIN No: 127484
Babarganj Women's College EIIN No: 127234
Kurigram Government Women's College EIIN No: 122330
Sundarganj D. W. College EIIN No: 121755
Palashbari Govt. College EIIN No: 121426
Gobindaganj Women's College EIIN No: 121349
Gaibandha Govt. College EIIN No: 121184
Alimuddin College, Hatibandha EIIN No: 122829
Bagum Kamrun Nessa College, Lalmonirhat EIIN No: 122987
Panch Pir College EIIN No: 122709
Shahid Abul Kashem College, Panga EIIN No: 122991
Kaunia College EIIN No: 127357
Haragachh College EIIN No: 127356
Pirganj Govt. College EIIN No: 128965
Thakurgaon Govt. College EIIN No: 129305
Parbatpur College EIIN No: 121058
Jaldhaka College EIIN No: 124977
Moshiur Rahman College EIIN No: 125190
Dinajpur Adarsha College EIIN No: 120820
Dinajpur Govt. College EIIN No: 120818
Fulbari Govt. College EIIN No: 120451
Lalmonirhat Adarsha College EIIN No: 122990
Saidpur Govt. Technical College EIIN No: 125242
Dimla Islamia College EIIN No: 124824
Haji Osman Gani College, Dariapur, Gaibandha EIIN No: 121186
Gaibandha Women's College EIIN No: 121183
Bhawanipur College EIIN No: 121061
Cant. Public School & College, Sahid Mahbub Senani EIIN No: 121064
Ranochandi High School & College EIIN No: 125057
Setabganj College EIIN No: 120267
Birganj College EIIN No: 120127
Ulipur Women's College EIIN No: 122708
Mirza Golam Hafiz College, Atoary EIIN No: 125864
Pathraj College EIIN No: 125973
Atowari Adarsha Women's College EIIN No: 125865
Pathgram Adarsha College EIIN No: 123026
Mokbular Rahman Govt. College, Panchagarh EIIN No: 126147
Majida Khatun Govt. Women's College EIIN No: 122989
Birampur College EIIN No: 120021
Kholahati College EIIN No: 121056
Collectorate School And College EIIN No: 127503
Janata College, Dimla EIIN No: 124825
EIIN Number of Dinajpur Board All Colleges
All Colleges' EIIN Number under Jessore Education Board
Chuadanga Government College EIIN No: 115383
Satkhira Government Mohela College EIIN No: 118910
Alamdanga College EIIN No: 115330
Government M. M. College, Jessore EIIN No: 116101
Govt. B. L. College, Khulna EIIN No:116954
Azam Khan Government Commerce College EIIN No: 117165
Jessore Shikka Board Model School & College EIIN No: 133834
Daulatpur Day & Night College EIIN No: 116953
Government P. C. College EIIN No: 114830
Government Mohela College, Jessore EIIN No: 116107
Raicharan Tarini Charan College EIIN No: 116553
Hamidpur Al Hera College EIIN No: 116102
Lohagara Adarsha College EIIN No: 118437
Hazi Mohammad Muhsin College EIIN No: 117109
Magura Govt. Mohila College,Magura EIIN No: 118004
Khan Saheb Kumaruddin College EIIN No: 118283
Government H. S. S. College, Magura EIIN No: 118003
Government Girls College EIIN No: 117107
Kushtia Government Girls' College EIIN No: 117810
B.A.F Shaheen College, Jessore EIIN No: 116115
A. Rouf College EIIN No: 116556
Satkhara Government College EIIN No: 118906
Kushtia Islamia College EIIN No: 117809
Govt. Sundarban Adarsha College, Khulna EIIN No: 117167
Dr. Abdur Razzak Municipal College EIIN No: 116104
M. S. Zoha Mohavidyalaya EIIN No: 115329
Meherpur Govt. Mohela College EIIN No: 118343
Jhenaidah College EIIN No: 116551
Jibannagar College EIIN No: 115461
Bheramara College EIIN No: 117497
Govt. Adarsha Mohila College EIIN No: 115384
Government Pioneer Girls College EIIN No: 117166
Khan Jahan Ali Ideal College EIIN No: 117128
Cantonment College, Jessore EIIN No: 116109
Abdul Wadud Shah College EIIN No: 115429
Police Line School And College EIIN No: 117818
Meherpur Pauro Degree College EIIN No: 118339
Govt. M. M. College, Khulna EIIN No: 117170
Dr. Afil Uddin Degree College, Baganchra EIIN No: 116382
Government K. C. College, Jhenidah EIIN No: 116552
Kazi Nazrul Islam College EIIN No: 116100
Govt.. K. M. H. College EIIN No: 116676
Kaliganj M. U. College EIIN No: 116633
Kumarkhali College EIIN No: 117729
Darshana Government College EIIN No: 115428
Khulna Government College EIIN No: 117808
Chuadanga Paura Degree College EIIN No: 115382
Govt. Nurunnahar Mohila College EIIN No: 116550
Government Victoria College, Narial EIIN No: 118527
Badarganj College EIIN No: 115381
Adil Uddin College EIIN No: 116827
Mollahat Khalilur Rahman College EIIN No: 330003
EIIN Number of Jessore Board All Colleges
All Colleges' EIIN Number under Barisal Education Board:
Akthar Hossain Choudhury Memorial Degree College EIIN NO: 102473
A. Jabbar College, Borhanuddin EIIN NO: 101294
Amtali Degree College EIIN NO: 100112
Aftabuddin College EIIN NO: 102954
Alhaz B. N. Khan Degree College EIIN NO: 101099
A. Rashid Tulukder College EIIN NO: 102164
Arif Mahamood College EIIN NO: 101017
A. K. M. College (Day & Night) EIIN NO: 102594
Agasrpur College EIIN NO: 100440
Amritalal Dey College, Barisal EIIN NO: 100874
Bakerganj Islamia Mohila College EIIN NO: 100597
Barisal Islamia College EIIN NO: 100868
Bhandari Govt. College EIIN NO: 102683
Bhola Ideal College EIIN NO: 101205
Barisal Government Women's College EIIN NO: 100877
Barisal Govt. College EIIN NO: 100867
Barguna Government College EIIN NO: 100241
Borguna Government Mohila College EIIN NO: 100242
Barisal Model School And College EIIN NO: 132091
Bakerganj Government College EIIN NO: 100591
Begum Tofazzal Hassain Manik Mia Mahila College EIIN NO: 100873
Banaripara Degree College EIIN NO: 100657
Bamna College EIIN NO: 100143
Babuganj College EIIN NO: 100441
Bakulnessa Mohilla College EIIN NO: 100113
Barthi College EIIN NO: 100705
Bangla Bazar Fatema Khanam College EIIN NO: 101204
Chandkhali Mosharrof Hossain College EIIN NO: 100295
Charfasson Govt. College EIIN NO: 101439
Dhamura Degree College EIIN NO: 101098
Daulatkhan Abu Abdullah College EIIN NO:101486
Dr. Yakub Sharif College EIIN NO: 102110
Fazila Rahman Mahila College EIIN NO: 103080
Guthia Ideal College EIIN NO: 101096
Govt. Sohawardy College EIIN NO: 102955
Government Fozilanatunnasa Mohila College EIIN NO: 101708
Government Syed Hatem Ale College EIIN NO: 100876
Government Gournadi College EIIN NO: 100703
Galachipa Degree College EIIN NO: 102331
Helaluddin College EIIN NO: 100594
Hijla College EIIN NO: 100736
Idris Molla Mahavidyalaya EIIN NO: 102105
Janata College, Dumki, Patuakhali EIIN NO: 102216
Jhalakhathi Government College EIIN NO: 101709
Kaukhali College EIIN NO: 102721
Kachhipara Md. Abdur Roshid Mia College EIIN NO: 102113
Mahilara Degree College EIIN NO: 100706
Majida Bagum Mahila College EIIN NO: 102684
Mozaharuddin Biswas College EIIN NO: 102402
Muladi College EIIN NO: 101013
Mathbaria Govt. College EIIN NO: 102819
Matibhanga Degree College College EIIN NO: 102889
Naziur Rahaman College EIIN NO: 101208
Nalchiti College EIIN NO: 101867
Nazirpur Shahid Zia College EIIN NO: 102892
Patharghata College EIIN NO: 100346
Patarhat R. C. College EIIN NO: 100949
Patuakhaki Government College EIIN NO: 102596
Porojpur Government Girls' College EIIN NO: 102956
Patuakhali Government Mohela College EIIN NO: 102593
Rajapur Degree College EIIN NO: 100296
Subidkhali College EIIN NO: 102471
Shaheed Abdul Rob Serniabad Degree College EIIN NO: 100382
Sharupkathi Government College EIIN NO: 103082
Sher-E-Bangla Degree College, Shikarpur EIIN NO: 101101
Safa College EIIN NO: 102821
Sher-E-Bangla Fazlul Haque College EIIN NO: 101710
Syed Afsar Ali College EIIN NO: 100589
Shahid Smrity College EIIN NO: 103081
Syed Azizul Haqur College, Habibpur EIIN NO: 101097
Syed fazlul Haque Mahavidyalya EIIN NO:100344
Subidkhali Mohila College EIIN NO: 102472
Tofazzol Hossain Manik Mia College EIIN NO: 101783
Zianagar Degree College EIIN NO: 102986
EIIN Number of Barisal Board All Colleges
All School and College EIIN Number In Bangladesh
All Intermediate Colleges EIIN Number In Bangladesh