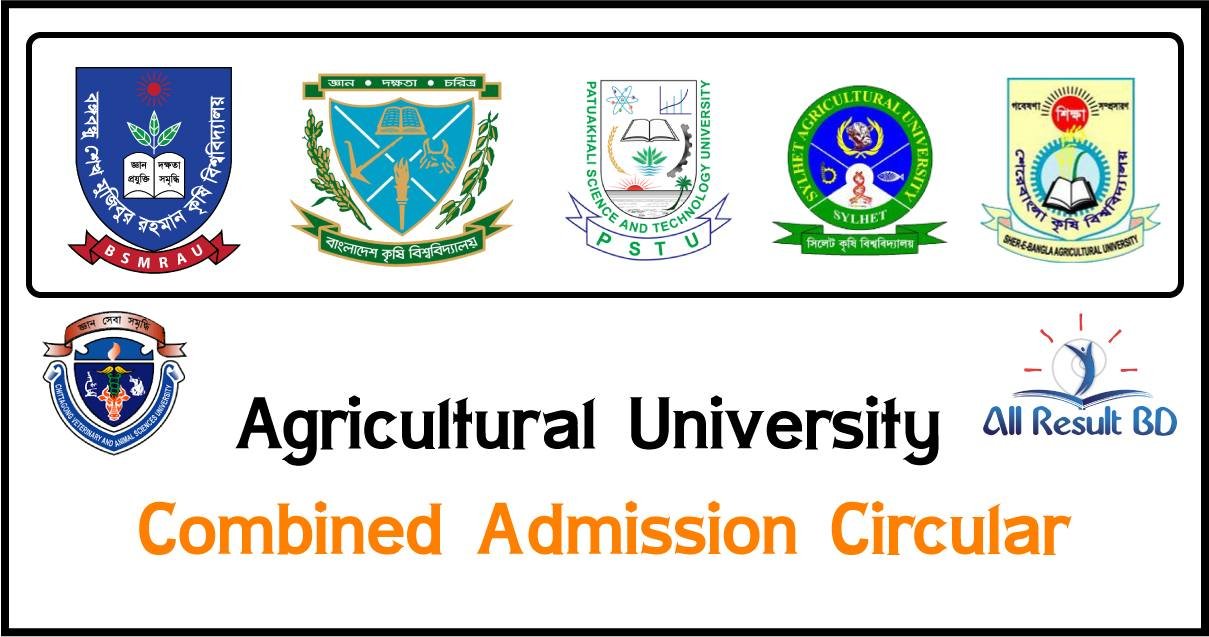 All Agricultural University Admission Circular 2022 has been published in a bunch of schools in seven public universities during the 2021- 22 academic years. Notice of admission to the bunch of graduating classes in the academic year of 2021-2022, by applying the admission test in the cluster of the following universities offering agro-science.
You must know that this is the first time that the University of Agriculture's integrated admission test is 2021-22. So let's learn all about this integrated admission test, such as number system and admission test seat plan for admission test.
Cluster System Admission in Agricultural Sciences
The application for Agricultural University admission will start from 17 July 2022. Admission will be available by 16 August 2022. The application fee has been fixed at Tk 1,000.
In addition, Khulna Agricultural University will be conducting admission test in a bunch of 6 universities. Agro-science admission committee published a bunch of notification from seven universities.
Agricultural University Admission Circular
Importants dates and schedule
Application Starts from: 17th July 2022
Application Finished : 16 August 2022
Admission Test Dates: 10th September 2022 (11.30 To 12.30)
Quota related payment and documents submission:
Result Published date:
Official website: acas.edu.bd
Admission Test Fee: 1200 Taka Only.
All Agricultural Universities and seats
There are seven public university in this combine agri university admission test.
All Agricultural University Admission Circular 2022
All Agricultural University Admission Circular 2021
Education Qualification for applying in Agri admission
SSC / equivalence passed in 2022/2022 and HSC / equivalence examination passed in 2021/2022 from science group.
In both the SSC / equivalence and HSC / equivalence examinations,Candidate must have to acquire at least GPA of 3.00 in each and at least 7.00 in total excluding the fourth subject. In the case of GCE 0 Level and A Level Passed candidates, there should be a minimum B grade in 5 subjects in 0 level examination and a minimum B grade in each of the Physics, Chemistry, Mathematics and Biology subjects in A level examination. Note that in the case of 0 level and A level students, 1 point will be considered for A grade, 1 for B grade, 5 for C grade and 5 points for D grade. On the basis of merit from the applicants, five (ten) multiples of matte seats will be given the opportunity to participate in the admission test.
Both SSC / equivalent and HSC / equivalent examinations should be separate subjects in biology, chemistry, physics and mathematics.
Agricultural University Admission Application system
Candidates find out necessary information of the admission from their official website (https://www.admission-agri.org/). The form must be filled in accordance with the given instruction on the website. Then submit the filled up form. After submission generated ID number need for the payment by Rocket or SureCash mobile banking.
Admit Card Download
Applicants can download their admit card on their official website www.admission-agri.org. They get their admit card within August 2022 – 05 September 2022 on the website. Using the ID No thy have to print the admit card.
'A' level and 'O' level candidates have to collect their form register office.The question paper generally provide on Bangla format who wants English format they have to mention it during online application.
Do you have more question about Agricultural University Admission Circular? Feel Free to ask us through Comment Section. We will update everything here.