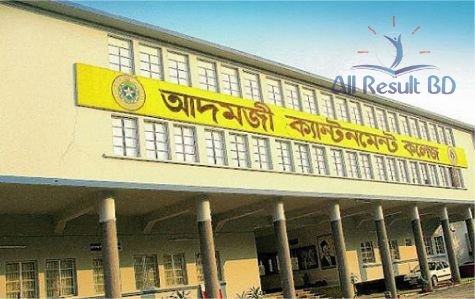 Adamjee Cantonment College HSC Admission Notice 2019. Adamjee Cantonment College HSC Admission circular 2019-20 announced today. ACC HSC admission process has started both ENGLISH and BANGLA version according to Dhaka Education Board academic session 2019-2020.
Adamjee Cantonment College HSC Admission Notice 2019-2020 is for all group's students who are interested to admit Adamjee Cantonment Collegein Bengali version & English version. But for admit here there are some rules and conditions. Students should maintain the rules and conditions. Total 800 Students can admit in Science group, 480 Students can admit in Business Studies group, 240 Students can admit in Arts group in session 2019-2020
Adamjee Cantonment College HSC Admission 2019
Admission conditions are given below:
Application start from:  12th May 2019
Application Last Date:  23th May 2019
ACC HSC Admission Result: 10th June 2019
Admission Start: 27, 28 & 30th June 2019
Adamjee Cantonment College EIIN Number: 107855
Adamjee Cantonment College Application Requirements:
Department

General & Quotas

Working and Retired    military members children

   Numbers   Of Seats
Science (English & Bangla  Medium)

5.00

4.50

950 ( Bangla Version )

95 ( English Version )

Business Studies

 4.50

4.00

 525

Arts

3.72

3.44

230
Adamjee Cantonment College Application Admission Process:
From this year application need to be done in online or direct to Dhaka board through Teletalk Sim in massage.
How to apply HSC Admission 2019 by Online:
Applicants have to go on Website (www.xiclassadmission.gov.bd) and click on Apply Online. After clicking applicant have type necessary information. Then a mobile number have to give. This mobile number will use to send information about admission of applicants. After successful submission of application form Application ID and Password will be given through SMS. Admission form fee have to pay by Teletalk sim. Type "CAD <space> WEB <space> Application ID" and send to 16222 this number. 150tk will be deducing in return massage for Application ID, College Number, Fee and PIN number will be given. Then again in massage option applicants have to type "CAD <space> YES <space> PIN" and send 1622 number.
Adamjee Cantonment HSC Admission Circular 2018 Download
SMS Application System:
After going Prepaid Teletalk mobile's massage option type "CAD<space>107855<space>SC/BS/HU (SC is for science, BS is for business studies and HU is for Arts)<space>DHA/BAR/RAJ/DIN/COM/SYL/CHI (first three letters of SSC passed board)<space>SSC Roll Number<space>SSC passing Year<space>Shift/N(for not having shift the have to type "N") <space>B/N (for Bangla medium type "B" and English medium type "E")<space>FQ/SQ/EQ (Quota's name, Those don't have quota doesn't need type anything) and send it to 16222 number. Applicant will be informed what to do next through return massage. Individual massages have to send for every college and for each time fee will 10tk.
Example: CAD 107855 SC DHA 123456 2018 N B SQ
College Choice List: Applicants have to select Adamjee Cantonment College as number 1 in college choice list on online form.
Adamjee Cantonment College HSC Admission Result 2019
Adamjee Cantonment College HSC Admission Result 2019 will be published on 16th June 2018. You can check your Adamjee Cantonment College admission result 2019 from Dhaka Education Board admission Officila website at www.xiclassadmission.gov.bd and also our website.
Admission Start: Adamjee Cantonment College HSC Admission 2019 will start from 26th May 2019.
Successful candidates have to submit a print copy of online admission form, one copy passport size photo, Academic Transcript (main copy and attested photocopy), Testimonial attested photocopy on admission day.
If you have any question about Adamjee Cantonment College HSC Admission Notice 2019 then comment below or message us through our Facebook Page. We will reply as soon as possible.