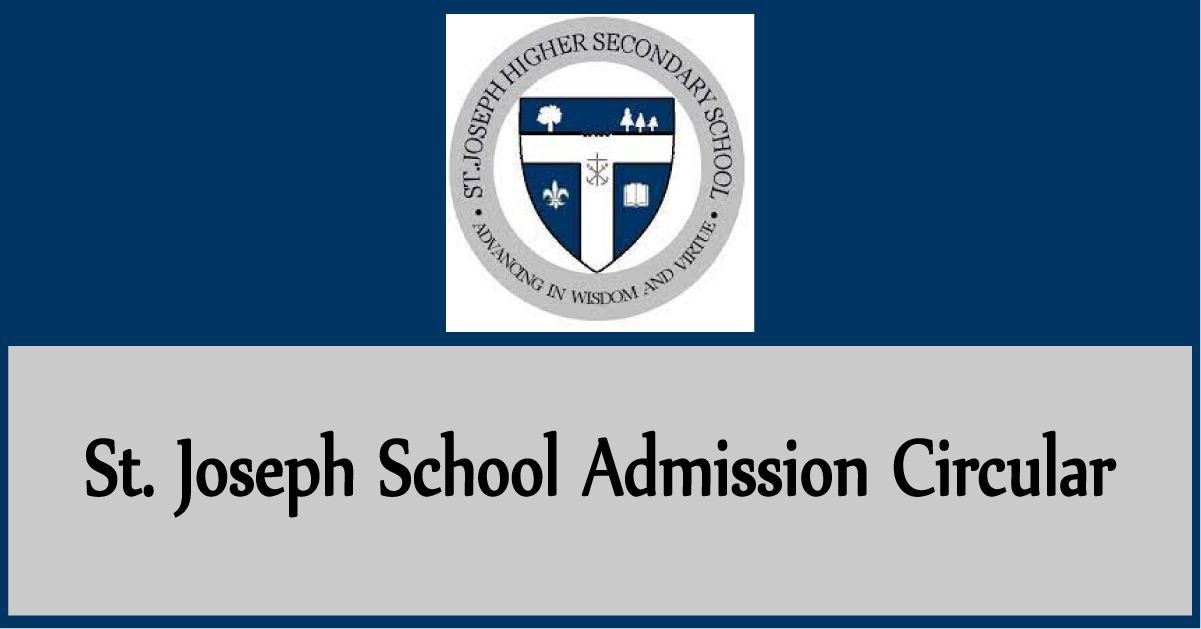 Welcome to the discussion regarding St. Joseph School Admission Circular 2023 where we will provide you all the necessary information about St. Joseph Higher Secondary School admission 2023. If you are interested to get your daughter admitted into St. Joseph School in class 3 for the academic year 2023, our step-by-step guideline will save a lot of your time and hassle.
We suggest you read the complete guideline and act as stated. But before that, please take a look at the highlights of the St. Joseph School admission 2023 circular.
St. Joseph School Admission Circular 2023
Admission forms for class 3 in St. Joseph Higher Secondary School will be available on 15 – 17 October, 2022 from 09:00 am to 1:00 pm in school office. Only one parent should come to collect the form. Only one form will be alloted for one student. Gate will be closed at 12 noon.
Admission forms collection Date: November 16, 2022 to December 06, 2022
Who are eligible to apply for class 3?
Students completing class 2 in 2022, aged between 7.5 to 8.5 years on 01 January 2023 are eligible to apply.
Students of Cambridge curriculum (July-June session) can be the current students of 2 or 3 in 2023.
How will you collect form from the counter?
Pay tk. 500/ (non-refundable) and,
Show report card or tuition fees receipt of class two 2022 at the counter.
How will you submit your application form on the day of INTERVIEW?
Student must come to submit the form and face the interview on the DATE and TIME specified in the form with the followings:
properly filled up form and two current pp size photos pasted on right place of the form;
report card or fee receipt – 2022 of class two
pencil
St. Joseph School Admission Circular 2023 PDF
St. Joseph School Admission Admit card
Admit cards will be given to the eligible candidates.
ST Joseph School Admission Test Date
Date of Admission Test: 11 and 12, November 2022, (Friday and Saturday).
Subjects: Bengali, English, Mathematics; Duration: 1.5 hours; Time: 08:30 am
Stay connected with www.sjs.edu.bd and be informed about the updated info regarding admission matter.
St. Joseph Higher Secondary School does not have any association with any coaching center or admission coaching nor does it run any. Any request or recommendation for admission proves students' ineligibility to get admission at St. Joseph and can be subject to cancellation of admission process.
⇓ আমাদের Group-এ Join করুনঃ ভর্তির সকল গুরুত্বপূর্ন খবর পেতে ⇓

St. Joseph School Admission Result 2023
St. Joseph School Admission test Result will be published on December 2023.
St. Joseph Higher Secondary School Address
97 Asad Avenue, Mohammedpur
Dhaka 1207, Bangladesh
Telephone: 880-2-222241966
Email: sjhss.bd@gmail.com
EIIN: 108259, Codes: 1204 (S), 1899 (C)
If you Have any question about St. Joseph School Admission Circular then comment bellow or message us thorough our facebook page. We will reply as soon as possible.