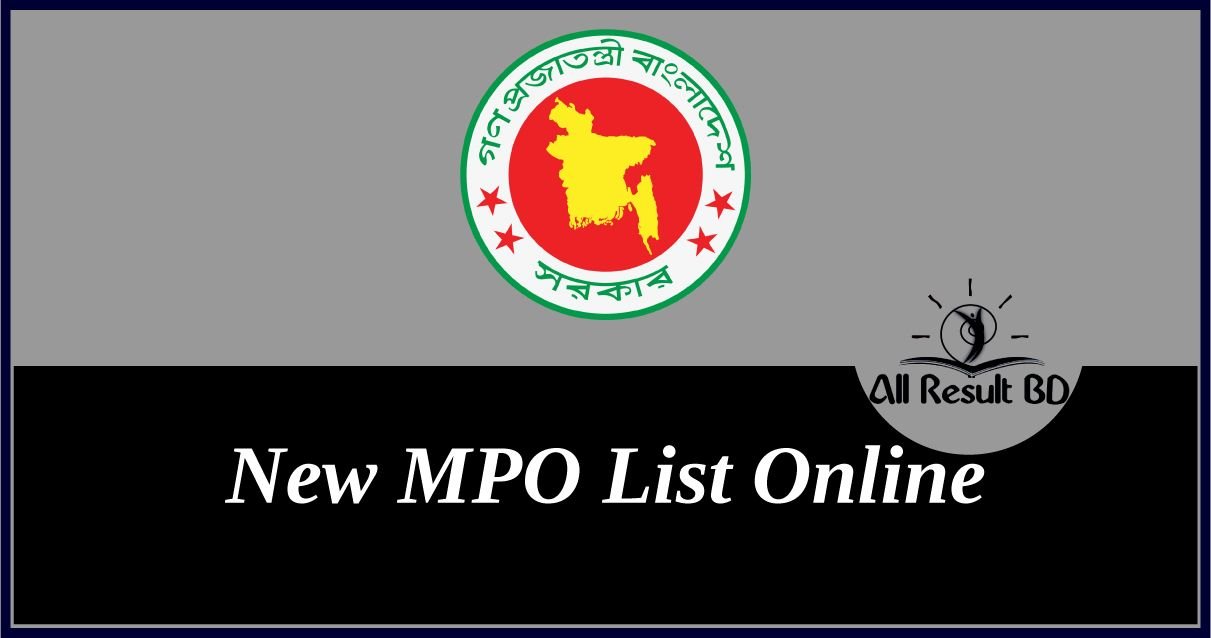 The Directorate of Secondary and Higher Secondary Education has issued a new list of Monthly Pay Orders or MPOs. Finally, teachers who have been waiting for this can download the list from this page. The DSHE official website has been updated with a new MPO List. But the list may be unavailable on the website if there is high web traffic. So, we gathered the list and attached it here as a PDF and an image. As a result, you can easily download it from this page.
MPO List 2022
Lists of schools, colleges, and madrasas that are eligible to receive MPO from the government have been published by the Directorate of Secondary and Higher Secondary Education. No school, college, or madrasa MPO can be admitted without the approval of the Department of Education, therefore this list is very important.
The government currently pays a monthly salary to predetermined educational institutions for each teacher. According to the Ministry of Education, the total monthly salary will become effective this year in July 2022. This year a total of 567 madrasas and 512 technical-vocational institutes will be funded by the government.

Teacher MPO List 2022 PDF
995 secondary schools (VI-X),93 colleges (XI-XII), 68 higher secondary schools, 439 junior secondary schools (Class VI-VIII), and 56 degree colleges are listed in the MPO notification released by the Directorate of Secondary and Higher Secondary Education (XIII-XV). This year's MPO notice includes 557 madrasahs alongside the usual educational institutions like schools and colleges.
There are 357 Dhakil madrasah, 29 Kamil madrasah, 42 Fazil madrasah, and 128 Alim madrasah among the enlisted madrasah.Among the newly-enlisted, 522 technical and vocational institutes are 62 agriculture institutes, 48 vocational (independent) institutes, 129 vocational (affiliated) institutes, 175 BM (independent) institutes, and 108 BM (affiliated) institutes.
MPO Salary and Bonus 2022
The MPO list 2022 PDF can be found from the official website of DSHE by following the link given here. You will be able to download them from our website by clicking the link shown here. A list of MPO salary and bonuses are given below.
এমপিও সিট / টপ সিট / পেমেন্ট ভাউচার রিপোর্ট
MPO Salary April 2021
MPO Salary March 2021
MPO Salary January 2021
MPO List Download Online
The MPO list 2022 and PDF files for 2022 are also available online. Anyone can view the MPO list online at any time by clicking on the link below. Simply click on the link below to be taken to a new page that lists MPO schools, colleges, and madrasas.
 http://dshe.portal.gov.bd/MPO 2022
The MPO List 2022 from the DSHE will be available on their website. Education must be of much higher quality for those secondary and higher secondary institutions that are eligible for MPO. If an educational institution is deemed unworthy, it may be removed from MPOs. The Bangladesh Secondary and Intermediate Board Authority has released the April MPO notice 2022 online.
The cheque for the government-mandated salaries of teachers or employees of non-government educational institutions for the month of April 2022 has been transferred, according to the MPO March 2022 note. Sonali, Janata, Rupali, andAgrani Bank are the banks that are authorized to be able to pay the teachers their March salaries in June 2022.
MPO List FAQ
Online MPO – অনলাইন এমপিও কী?
Online MPO হলো এমপিও ভুক্তির ডিজিটাল ভার্সন। কোন শিক্ষক যখন এমপিওভুক্ত প্রতিষ্ঠানে নিয়োগ পান, তখন তাঁর বেতন-ভাতা প্রাপ্তির লক্ষ্যে অনলাইনে আবেদনই হলো Online MPO । আগে যেখানে বেতন-ভাতা প্রাপ্তির লক্ষ্যে, মাধ্যমিক ও উচ্চ শিক্ষা অধিদপ্তরে স্বশরীরে , প্রয়োজনীয় কাগজ-পত্র জামা দিয়ে আবেদন করতে হতো, এখন তা নিজ প্রতিষ্ঠান থেকে অনলাইনে করা যায়।
2. MPO Notice কী?
MPO Notice হলো বেসরকারী শিক্ষক কর্মচারী গণের বেতন ভাতার আদেশের অফিসিয়াল নোটিশ বা বিজ্ঞপ্তি।
3. Teacher MPO Update কেন হয়?
কোন প্রতিষ্ঠানের নতুন শিক্ষক অন্তর্ভূক্তি, টাইমস্কেল, সিনিয়র স্কেল, নাম-বয়স ইত্যাদি যুক্ত ও সংশোধনের কারণে Teacher MPO Update করা হয়। দেশে প্রতিনিয়ত বেসরকারী স্কুল, কলেজ, মাদ্রাসা ও কারিগরি শিক্ষা প্রতিষ্ঠানে শিক্ষক-কর্মচারীর নিয়োগ হচ্ছে। শূন্য ও সৃষ্ট পদে নিয়োগকৃত শিক্ষকগণ যখন বেতন-ভাতা প্রাপ্ত হন, তখন উক্ত প্রতিষ্ঠানের এমপিও তালিকা আপডেট করা হয়।
The MPO list is a boon to teachers because they will receive a monthly salary from the government. It is a significant step taken by the current Bangladeshi government because it is a clear solution that will satisfy the teachers who have been remonstrating for MPO for several months. We hope you found the MPO list you were looking for.