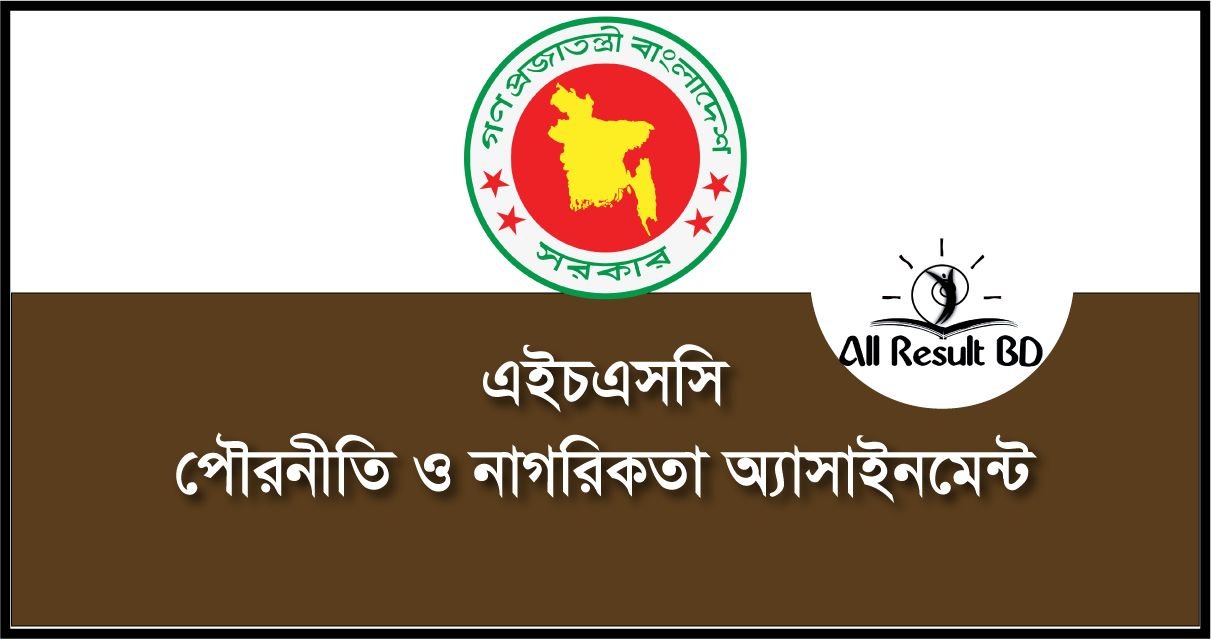 HSC Pouroniti Assignment 2021 Answer and Question. If You are in Humanities Group and Looking For HSC Civics Assignment Answer 2021 for The HSC Exam 2021, They here you are. According to the latest notice of the Directorate of Secondary and Higher Education, HSC students need to continue performing in the assignment series as the HSC exam is coming closer. In this short time, it isn't possible to cover the whole syllabus and take the exam in the classic format for the ministry of education.
So, the authority has published a series of assignments for three weeks that students need to complete within the deadline. We will discuss everything related to the HSC civics and good governance assignment question and answer in this write-up. Be with us. Just Remember that 2021 HSC Exam Will be Start from 1st Week of November 2021.
Check also: HSC Assignment 2021 PDF | 1st, 2nd & 3rd Week
HSC Pouroniti Assignment 2021
Students have a lot to learn from the HSC 2nd week Pouroniti Assignment. Awareness will be created among a student about family and the role of family in society. Learn about the advantages and disadvantages of different types of families. He will also be able to explain what an ideal family should look like and what the functions of that family will be like. The family can explain the concept of society, state and government. Also be able to analyze family, society, state and government. So there is a lot to learn about family, state, society from the 2nd week Civics assignment.
HSC Assignment 2021 Cover Page Download PDF
এসাইনমেন্ট নিয়ে সকল তথ্য পেতে আমাদের গ্রুপে জয়েন করুন
গ্রুপ লিঙ্কঃ https://www.facebook.com/groups/eassignment
Pouroniti Assignment HSC 2021
If the HSC Civics Assignment 1st week, 2nd-week assignment solution of the assignment has been complete. Then the assignment has to be submitted to the College authority. Now we are given HSC Pouroniti Assignment Answer 2021 should be submitted to the College authorities. As per the instructions or to the teacher assigned for the specific subject.
Check also: HSC History Assignment 2021 Answer PDF
সিলেবাস: এইচএসসি পরীক্ষা ২০২১, বিভাগ: মানবিক, বিষয়ঃ পৌরনীতি ও সুশাসন, পত্র: প্রথম, বিষয় কোড-২৬৯, অ্যাসাইনমেন্ট নং-১
অধ্যায়ের শিরোনাম ও নম্বরঃ প্রথম অধ্যায়: পৌরনীতি ও সুশাসন পরিচিতি;
অ্যাসাইনমেন্টঃ "নাগরিকতার সাথে জড়িত সকল প্রশ্ন সম্পর্কে যে শাস্র আলােচনা করে তাই পৌরনীতি" ই. এম. হােয়াইটের এই সংজ্ঞার আলােকে পৌরনীতি ও সুশাসনের বিষয়বস্তু ও পরিধির ক্রমবিকাশ সম্পর্কে একটি নিবন্ধ রচনা কর।
নির্দেশনা (সংকেত/ধাপ/পরিধি)
১. পৌরনীতি ও সুশাসনের ধারণা ও পরিধি;
২. সুশাসনের বৈশিষ্ট্য;
৩. পৌরনীতি ও সুশাসনের ক্রমবিকাশ;
HSC Civics Assignment Answer 2021
HSC Civics Assignment Answer 2021 has been published on My website. Today I will share with you the assignment of the participants in the HSC exam of 2021 and its questions. Which was given by the Directorate of Secondary and Higher Education www.dshe.gov.bd.
HSC 2021 Pouroniti Assignment Answer PDF
From the HSC Civics Assignment of HSC you can learn various information about the economic system. This is also a topic of a humanities group, which I will update when my HSC assignment is answered.
HSC Pouroniti Assignment 1 Answer PDF
HSC Candidates new wee assignment question of Civics and Good Governance students of arts group they download her poruniti assignment question ans.
How to solve HSC 2nd week Civics Assignment?
Several guidelines have been provided for answering or resolving the HSC Pouroniti 2nd week assignment. Assignment should be solved by following the instructions. There are a number of issues that need to be addressed when writing solutions for citizenship and citizenship assignments. It is necessary to mention the types of families that exist in the existing family system in Bangladesh. It is also necessary to explain why joint families are declining and single families are increasing in the country.