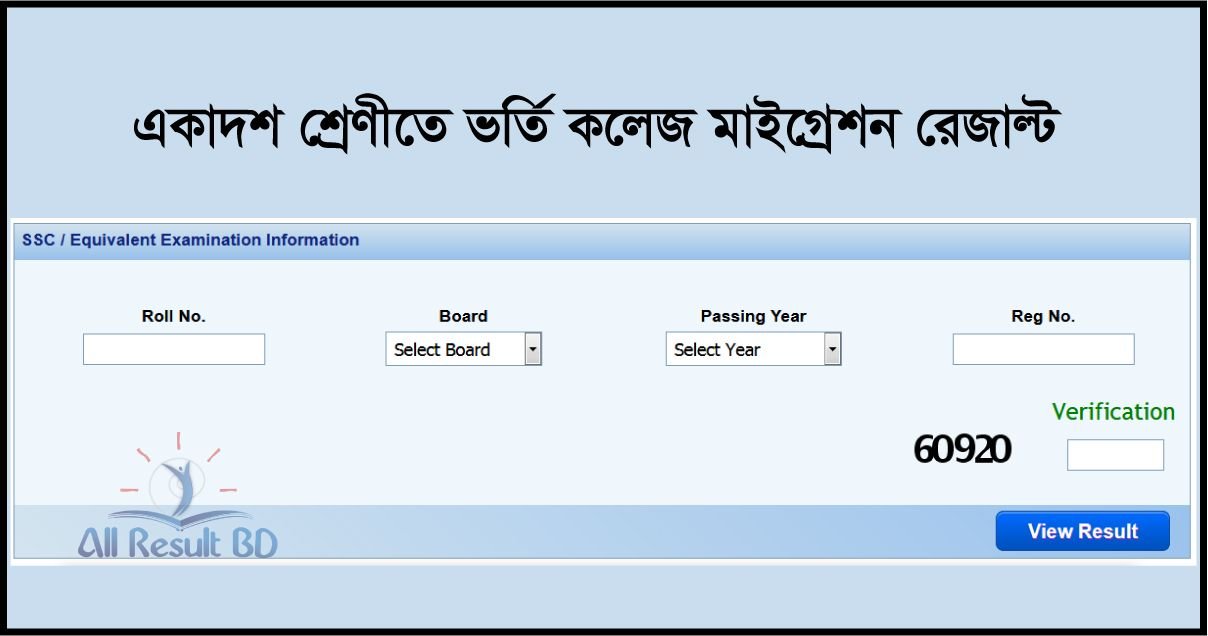 HSC College Migration Result 2019 | XI Class Migration Application. Xi Class admission result published on June 10,2019. Then Student got 8 days to get admit himself in the desired college of Bangladesh. From June 11, 2019 to June 18 student will be able to get admit himself. After that migration will start. College First Migration result will published on June 21, 2019.
HSC College Migration Result 2019
XI Class Result Processing will be done by total 3 steps. Subject to primary confirmation, highest 2 times migration process done automatically. Auto-migration will be done in every step by students' own choice. Migration will always go upwards in order of choice. After the First Migration, the second waiting list results in wil published on June 21, 2019. Similarly, the 3rd Migration waiting list result will be published on June 25, 2019. Full College admission result will published on June 27, 2019.
HSC Migration Application:
After Confirm the Selection Student can give their Migration Option. There are auto migration will be open. If Student do not closed or Change the migration option it will be migrate on the top of preference list. Students can change their choice preference for migration by login with their Roll, Registration Number and PIN Number.
Many students lost her Security code or Pin number they can recovery her Code number. Security needs must be college admission. All of students can apply HSC Admission by SMS too. For this you must be need Teletalk mobile SIM. SMS fee 120 tk per college. All Students know her HSC Admission Migration 2019 very simple.
2nd Phase application will be started from 19 June 2019 and it will be end on 20 June 2019. Students who are not confirm their Primary Selection from 1st Merit list and who do not apply yet, they can Apply in Second Phase. If someone do not confirm their primary selection by paying 185 taka, they can apply again in Second phase without any cost. But if someone do not apply in Primarily in First phase, they need to pay the Application fees 150 taka like First phase application. Second Phase Application procedure are same as First Phase. For apply instruction follow the apply instruction from above.
HSC Admission 1st Migration Result 2019

First Migration and Second Phase application result will be Published at 21 June 2019, 8 PM. After Published the Result students can confirm their Selection by Pay 195 taka like First Phase Confirmation. If someone do not confirm his/ her Selection it will be canceled and they can apply for 3rd Phase.
Note for Migration: After Published HSC Admission Second Merit Result Students can found only one college and students is not satisfied her college they can Migration and College Priority can be change. Students found 4 number college if students want change her College they can migration for 3, 2, 1 College. If any college seat are available students can found college as her SSC GPA.
If you have any question about HSC College Migration Result 2019 | XI Class Migration Application then comment bellow or message us through our Facebook Page. We will reply as soon as possible.