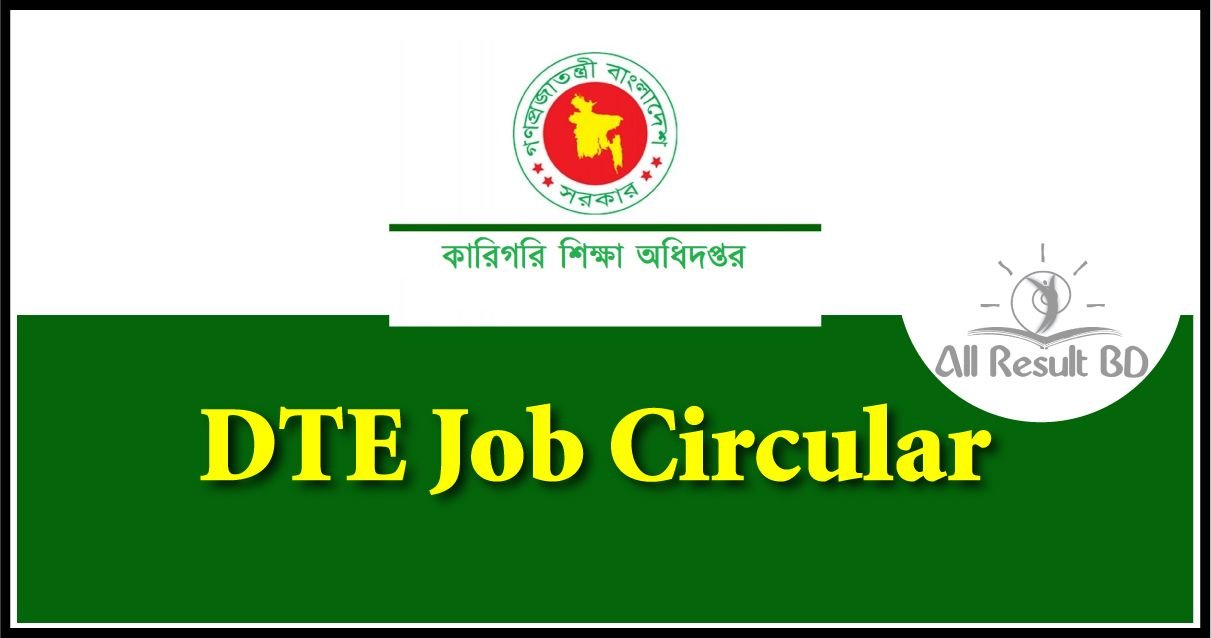 The authority of the directorate of technical education or DTE has published DTE job circular recently at the starting of this month. This is undoubtedly good news for all the job seekers across the country. This is a government job with some wonderful benefits. If you want to apply for any of the job posts the authority has published recently, you have to know all the details. So we have come up with this article where you will get to know everything about this job circular.
 DTE Job Circular Published Date
The DTE job circular publishes date is the 3rd of March 2023. The authority has published the job circular with a view to fulfill the vacant posts by recruiting eligible candidates. There are a total of 309 posts available for this post under a total of 13 categories. If you follow this article properly, you will get all the detailed information of the education qualification, eligibility, and other criteria so that you can understand whether or not you can apply for the job posts.
Important Information about the DTE Job Circular
Online Application Start Date: 7th March 2022 (10.00 AM)
Online Application Last Date: 27th March 2022 (6.00 PM)
Application Fee: 112/- and 56/- Taka
Vacancies: 309
Application Process: Online
Application Link: dtev.teletalk.com.bd
Number of Vacant Positions in DTE Job Circular
There are 13 different categories where the authority will recruit new employees. The number of vacant positions in different categories is different. If you look at the below part of this article, you will get to know everything about the vacant position in different categories.
Post Name and Number of Vacancies
Librarian- 50
Accountant- 22
Plumber/ Pump Operator-1
Driver- 3
Assistant cum Store Keeper- 4
V.A. cum Store Keeper- 2
Electrician cum Pump Operator- 1
Driver cum Mechanics- 2
Electrician/Project Operator- 1
Caretaker- 56
Office Assistant cum Store Keeper- 42
Office Assistant/ Gardener- 8
Office Assistant- 117
Eligibility to Apply for DTE Job Circular
Age: All the candidates must between 18 to 30 years of old to apply for all the posts mentioned in the dtev.teletalk.com.bd job circular 2023. The age will count till on 25th March 2023. However, the maximum age limit for son/daughter of freedom fighters and physically challenged candidates is 32 years.
Educational Qualifications: Depending on different posts, the educational qualifications will vary. You can check the educational qualifications from the DTE job circular before applying.
Directorate of Technical Education Job Circular 2022 (03.10.2021) PDF Download Link
How to Apply for DTE Job Circular?
Applying for different posts in the DTE job circular is very easy. We have clearly provided all the instructions below so that you can easily apply to any of the posts mentioned above. To apply to the DTE job circular, you have to follow the instructions given below:
The application procedure as per the dtev.teletalk.com.bd job circular 2023 is described below step by step:
First of all, you have to visit this link dtev.teletalk.com.bd.
Then, you need to tap on the "Application Form" option.
After that, you will see a list of different posts that will appear on your computer or mobile screen.
In this step, you have to select the post for which you wish to apply.
Then you need to click on the "Next" button.
After that, you will be able to see your desired application form on the browser.
Now fill up the application form providing the required information and also upload your photo.
Then you have to click on the submit button.
Finally, your application will be completed.
Application Fee Payment Procedure for DTE Job Circular
Candidates will get an Applicant's Copy with a User ID after completing the application. This User ID will be required to pay the application fee. You can pay the fee using your Teletalk pre-paid SIM.
SMS Sending Procedure:
First SMS: Type DTEV <space> User ID and sent it to 16222 number.
After sending the first SMS, you will get a PIN number that you will need to use in the second SMS.
Second SMS: Type DTEV <space> Yes <space> PIN and send it to 16222 number.
After correctly sending the second SMS, you will get a password in the return SMS. You must save this password along with the User ID. You will need these User ID and Password to download the admit card later.
Final Words
We have described everything in detail about your DTE job circular. If you follow our instructions properly, you will be able to apply for any of the posts perfectly.