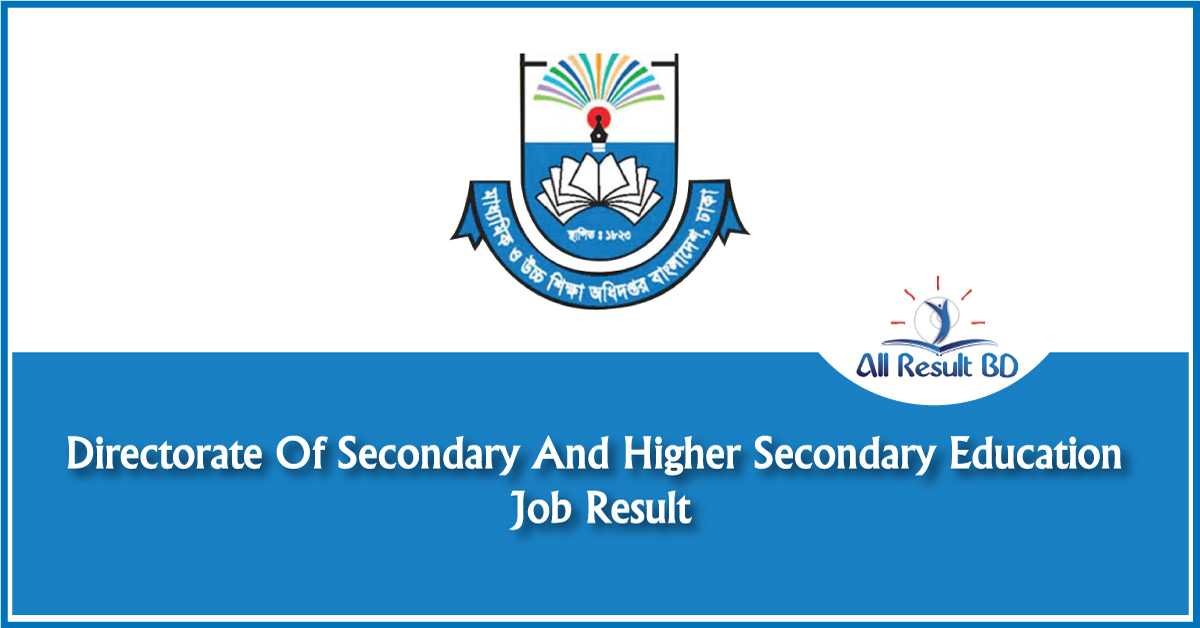 Directorate of Secondary and Higher Secondary Education Job Exam Result 2021. DSHE Job Result 2021 will available here. You can get this job exam result from our website. Exam Result will be published on DSHE official website at dshe.gov.bd. Applicant can be downloaded the result from notice board.
DSHE Result 2021
Many of you have participated in the recent exam of office shohayak post published by the authority of the directorate of secondary and higher secondary education. Now all of you are looking for the DSHE result. The good news is that the authority of DSHE has recently published the result you are eagerly waiting for so many days. In this article, we are going to discuss everything about how you can check your result and other information.
DSHE Job Exam Summary
Origination Name: Directorate of Secondary and Higher Education (DSHE).
Ministry: Ministry of Education.
Job Position: Different posts.
Job Circular Publish Date: 23rd October (Friday) 2020.
Application Time Start: 1st November (Sunday) 2020 at 10:00 am.
Application time limit: 30th November (Monday) 2020 at 05:00 pm.
DSHE Job Exam Date: 24th September (Friday) 2021.
DSHE Job Primary Selection Result Publish Date: October 2021.
Directorate of Secondary and Higher Education (DSHE) Job Circular
DSHE Job Exam Admit Card  Download
How to Check DSHE Result?
You all can check your DSHE result easily by following our instructions below. The noticeable thing is that all the instructions are very easy to follow and no one of you needs to have any additional skill to check the result. Another important thing is that all the information we have provided here is reliable. This is because we have collected them from reliable and official sources. We have also explained everything clearly. Below are the instructions to check your result:
First of all, you have to visit the official website of DSHE that is www.dshe.gov.bd.
After that, you need to check the notice board section.
Now, you have to click on the result option.
In this step, you will get the download option to download it.
Now, you need to click on the download button.
Finally, you can check your DSHE result with the help of your roll number.
Where to Get Your Result Quickly?
We always collect all your results from the official sources and publish them on our website here. So if you visit our website and follow our instructions described here, you can easily and quickly get your result. This is one of the best and easiest ways for you to check your result.
Another good option to check your result is to follow the official website of the DSHE. By visiting the official website, you can also get your result. But the problem is that sometimes the site gets down because of the huge search query at a single time. So if you follow our site then it will be better for you to check the result without any difficulty.
DSHE Result 2021 PDF
We have also provided the PDF version of your DSHE result so that you can download it and check your result any time even if you have no internet later. By clicking the link we have given here, you can get your DSHE result PDF. After downloading the PDF file of your result, you can check your one by using your roll number. So when you are about to check your result, then you should not forget to get your roll number ready.
Final Words
We have described all the information about your DSHE result in a very clear manner. We hope that you all were able to check your result by following our instructions without having any difficulty. If you are selected for the vacant post, then you should gather all the information that you need for later use.