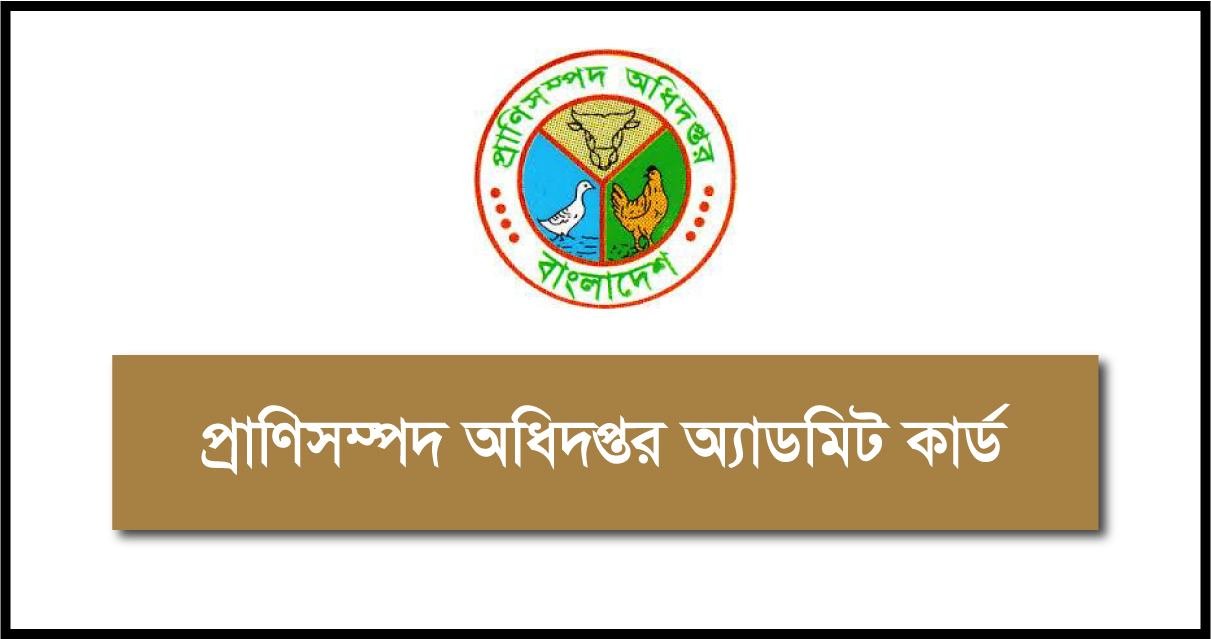 DLS Admit Card 2023 is available here. To check job.dls.gov.bd Admit Card you need to visit "job.dls.gov.bd" and Enter your Roll Number then Download admit card PDF. Department of Livestock Services (DLS) exam will be held on 12th March 2023.
The Department of Livestock Services (DLS) is a government organization in Bangladesh that is responsible for ensuring the health and well-being of livestock animals in the country. Every year, DLS conducts job exams for various positions in the organization, and candidates are required to obtain an admit card to appear for the exam. The DLS admit card is a crucial document that contains important information about the exam date, time.
DLS Admit Card Download
If you are referring to the admit card for the Department of Livestock Services (DLS) job exam in Bangladesh, you can follow these steps to download your admit card:
Go to the official website of DLS at http://dls.gov.bd/ or http://www.job.dls.gov.bd/.
Click on the "Admit Card" option on the homepage.
Enter your User ID and Password that you received during the online application process.
Click on the "Login" button.
Once you have successfully logged in, you should be able to see and download your admit card.
Save and take a printout of the admit card.
If you face any issues while downloading your admit card, you can contact the DLS authority for further assistance.
About Department of Livestock Services (DLS)
The Department of Livestock Services (DLS) is a government organization that works to promote the development and sustainability of the livestock sector in a country. The DLS is responsible for ensuring the health and welfare of livestock, as well as the quality and safety of animal products.
To achieve its goals, the DLS performs various functions and services, including:
Animal Health Services: The DLS provides animal health services such as vaccination, disease control, and treatment of sick animals. It also conducts disease surveillance and monitoring to prevent the spread of contagious diseases.
Livestock Production and Management: The DLS provides technical support and advisory services to farmers and livestock producers to enhance their production and management practices. This includes providing training on animal husbandry, nutrition, breeding, and marketing.
Animal Product Quality Control: The DLS is responsible for ensuring that animal products such as meat, milk, and eggs are safe for human consumption. It conducts regular inspections of slaughterhouses, milk processing plants, and other animal product processing facilities to ensure compliance with standards and regulations.
Research and Development: The DLS conducts research and development activities to improve the livestock sector. This includes developing new technologies, improving breeding and genetics, and enhancing animal nutrition and health.
Overall, the Department of Livestock Services works to ensure the sustainable development of the livestock sector, which is an important contributor to the economy and food security of a country.
DLS Exam Marks Distributions and Process
The Department of Livestock Services (DLS) conduct various types of exams, including written exams, practical exams and viva voce (oral) exams.
The written exam may consist of multiple-choice questions, short-answer questions, or essay questions related to the relevant subject matter, such as animal husbandry, animal health, and livestock production management. The practical exam may test the candidate's ability to perform specific tasks related to livestock farming, such as vaccination, feeding, and breeding. The viva voce exam may involve an oral interview with a panel of examiners to assess the candidate's knowledge, skills, and communication abilities.
To be eligible to take the DLS exam, candidates may need to meet certain educational and other requirements, such as possessing relevant degrees or diplomas, having prior work experience in the livestock sector, and meeting age and nationality criteria.
Last Word
Candidates must need collect DLS Admit Card before the exam. So first you have to go to the website of the authority through online. Then Next login with your user ID and password. Now you must submit & collect the admit card online and print.