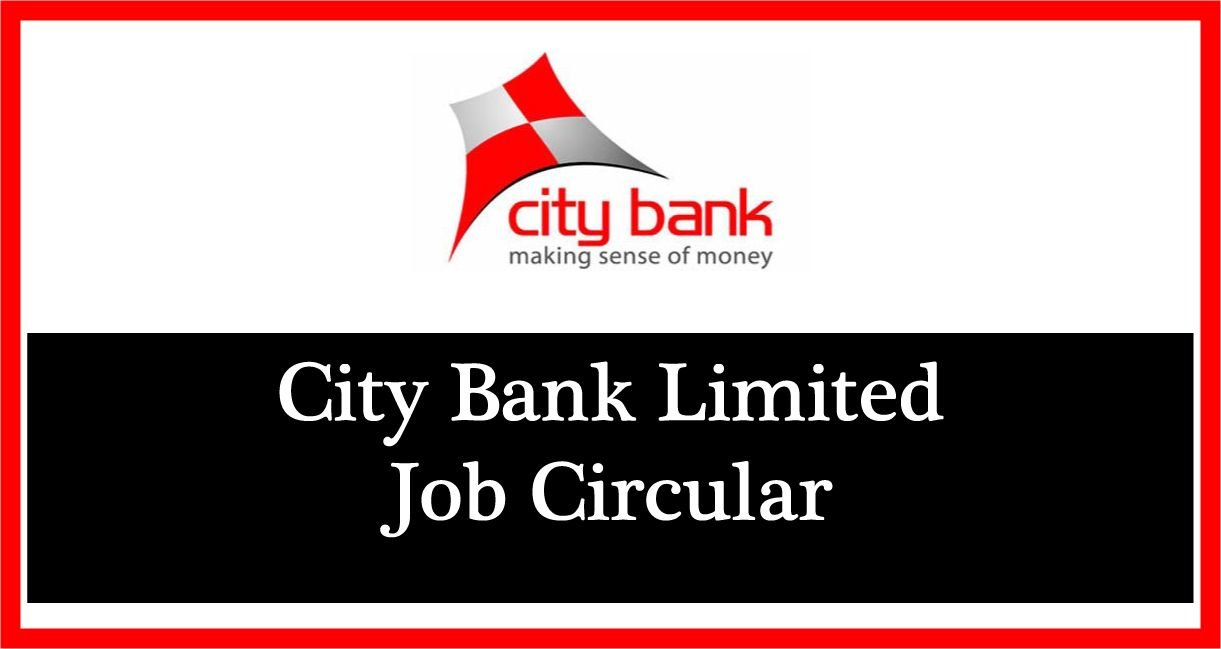 City Bank Job Circular 2023. City Bank Limited Management Trainee Job Circular 2023 has declared. The City Bank Limited has Announced Management Trainee job Circular. Fresher's candidates can apply, but experiences are preferred on related field in banking sector.
The City Bank Job Circular is more than just a routine employment announcement; it is a gateway to a world of possibilities. In this article, we delve into the intricate details of this coveted circular, exploring what it signifies for the bank's mission, its prospective employees, and the broader financial landscape. Whether you're a seasoned banking professional seeking new horizons or a fresh graduate aspiring to make your mark in the financial realm, the City Bank Job Circular beckons with a promise of a rewarding journey.
City Bank Limited Job Circular
In a world of ever-evolving financial landscapes, few institutions possess the power to shape the future as decisively as banks. Among them, City Bank stands out as a trailblazer, not only for its distinguished history but also for its unwavering commitment to excellence and innovation. As the global financial ecosystem continues to transform, City Bank remains at the forefront, catalyzing growth and fostering talent through its recurrent Job Circular—a beacon of opportunity for aspiring professionals.
City Bank Limited Management Trainee Job Circular 2023. The City Bank Ltd Management Trainee officer job circular deadline is 13th December 2023. City Bank ltd is welcomes Application from female candidates and an equal Opportunity Employer.
Conditions for City Bank Limited Management Trainee Job Circular 2023:
Educational Requirements: 4 years Graduation or Post Graduation in Business/ Economic discipline with minimum CGPA 3.00 or 1st Class.
Vacancies: N/A
Job Nature: Full Time
Required Skill: Leadership, Analytical & problem solving skills, Interpersonal skills, Listening & communication skills & Drive for result
Job Responsibilities:
The Management Trainee program plays a vital role in the development & strengthening of City Bank Limited's Talent channel. Management trainee gains knowledge and experience mandatory for movement to management positions under the direction of experienced personnel during cross functional attachments.
Achieve functional and business awareness during attachments with all the divisions of CBL.
Work on diverse projects of the bank to gain in-depth knowledge of the area.
Make self development in both functional & leadership obverse.
Apply Process:
Interested & eligible candidates are requested to view the detail of the job and apply to City Bank career page at https://career.thecitybank.com. If you have signed-up before then login and apply to the post. If do not have account then Create a new account and apply there. Its very easy.
Why Choose City Bank ?
Recognized Brand
People Management Philosophy
Robust and Transparent Process
Dynamic & Growing Organization
Winning Culture
Socially Responsible Organization
Career Prospect at CBL
CBL is among the very few local banks which do not follow the traditional, decentralized, geographically managed, branch based business or profit model. Instead the bank manages its business and operation vertically from the head office mainly through 5 segments:
Business
Branch Banking
Risk
Operations
Support
City Bank Career
Address: City Bank Limited, House: CEN (C) 11, Avenue 136 (Level 4), Gulshan-2, Dhaka.
Website: www.thecitybank.com
How to Apply
You can register yourself anytime at our system by filling our Online Application Form. For future reference, use your E-mail address as your user ID. We discourage hardcopy of resume and promote online application system. One of the highlights of our online application system is that you can track the status of your resume in our selection process.
For more information, please contact – recruitment@thecitybank.com
FAQs about City Bank Job
What types of job opportunities does City Bank offer?
City Bank offers a wide range of job opportunities, including positions in retail banking, corporate banking, risk management, IT, customer service, and various support functions. They often have openings for entry-level positions as well as roles for experienced professionals.
What qualifications are required to work at City Bank?
The qualifications required vary depending on the specific job role. Generally, a bachelor's degree in a relevant field is preferred. Experience, skills, and certifications may also be necessary, depending on the position. Detailed requirements are typically listed in the job postings.
Are there opportunities for fresh graduates at City Bank?
Yes, City Bank often provides opportunities for fresh graduates through their entry-level programs and trainee positions. These programs are designed to groom young talents and provide them with valuable experience in the banking industry.
What is the recruitment process like at City Bank?
The recruitment process at City Bank typically involves submitting an online application, followed by a screening process, interviews, and assessments. The specific steps may vary depending on the position and department.
Does City Bank offer internships or summer programs?
Yes, City Bank often offers internship programs and summer training programs for students. These programs provide students with hands-on experience and a chance to learn about the banking industry.
What benefits and perks does City Bank offer to its employees?
City Bank typically offers a competitive salary and benefits package to its employees, which may include health insurance, retirement plans, performance bonuses, professional development opportunities, and more.
Is City Bank an equal opportunity employer?
Yes, City Bank is committed to providing equal employment opportunities to all qualified individuals regardless of race, gender, religion, or other protected characteristics. They prioritize diversity and inclusion in their workforce.
Does City Bank have a corporate culture or values that employees are expected to uphold?
Yes, City Bank often has a set of core values and a corporate culture that emphasizes professionalism, integrity, customer focus, and teamwork. These values are typically part of the bank's mission and are expected to be upheld by all employees.
Where can I find updates on job openings and City Bank's hiring process?
You can regularly check City Bank's official website and their social media channels for updates on job openings and hiring processes. Additionally, you can subscribe to their job alerts or newsletters for the latest information on career opportunities.
You will get further notices of City Bank Limited Management Trainee Job Circular 2023 and related at this website AllResultBD.com. so, visit here for getting more job circular.