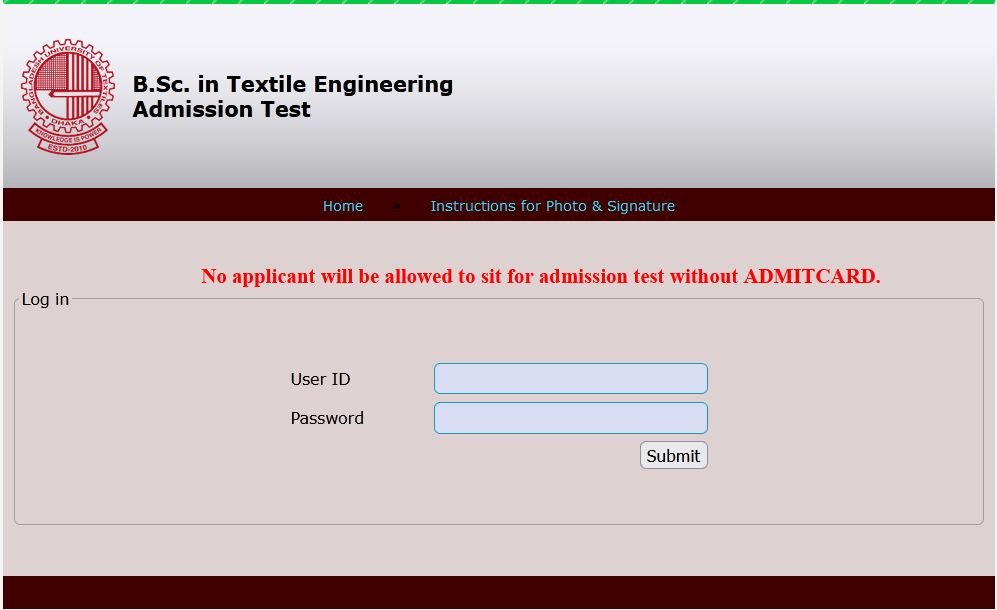 Bangladesh Textile University, Butex Admit Card 2022 has been published. It can be downloaded through the website but.teletalk.com.bd. Seat Plan PDF Download availabe now. Only eligible candidates can download the admission test admission form. Admission test date and seat plan will be mentioned in the admission form. Admission test will be held on 12 August 2022 from 9:30 am to 11:30 am. Candidates will be informed about the date of admission and admission test through SMS.
Millions of students apply against 600 seats. Then Students eagerly wait for primary selection result. Finally BUTEX Authority announces the Eligible Candidates List. Only initially selected candidates can participate in the written test. Eligible Candidates are provided SMS by Bangladesh University of Textiles to download Admit Card. So BUTEX Admit Card 2022 is available on but.teletalk.com.bd and also our website. So download admit card before deadline.
Bangladesh University of Textile Admission 2022 Summary
Application start: 5 April 2021
Application deadline: 8 May 2021
List of Eligible Candidates: 23 May 2021
Final application fee: 800tk
Admission website: butex.teletalk.com.bd
Admission test date: 12 August 2022
How to download BUTEX Admit Card?
Follow the instructions below to download Bangladesh Textile University Admission Test Admission Form 2021-22.
Visit the admission website but.teletalk.com.bd.
Login with user ID and password.
Download the PDF of the admit card and print the color.
Admit card will have the photo and signature of the candidate. Admission test roll number, center name, and admission test instructions will also be mentioned. Candidates must bring Admit card and an original copy of the HSC or equivalent exam registration card to the Exam center.
BUTEX Seat Plan 2022
Bangladesh University of Textiles has published detailed seat plan for admission test of A and B units. Admission test will be held on 12 November 2022. You will find detailed seating plan information on the BUTEX official website here. You can search your seat plan from below.
Distribution of BUTEX marks and Question Pattern
BUTEX admission test will be held according to the higher secondary level syllabus. There will be no MCQ-type questions. The test will be written. Questions will be in both Bengali and English versions. Admission tests will be held in Mathematics, Physics, Chemistry, and English. The total mark is 200. Subject-wise marks distribution is given below.
Mathematics – 60
Physics-60
Chemistry – 60
English-20
List of calculators
No programmable calculator can be used in the admission test. Also, watches, pens, mobiles, or instruments with electrical SIM/devices cannot be used. However, a simple scientific calculator can be used. The list of calculators can be found on the website.
Bangladesh University of Textiles Terms & Conditions
Bangladesh University of Textiles Authority has mentioned some terms and conditions for the candidates to participate in the written test. You must know these before entering the exam center. The rules are presented below.
Admit Card bring in the examination room.
Without admit card candidate can not attend in the exam.
Candidates must wear a mask.
In addition Students keep social distance.
Must be present at the center 30 minutes before the start of the test.
Mobile device is not allowed in the exam center.
Students must abide by all rules and regulations.
The BUTEX authority may change the test date at any time.
BUTEX Admission Test Result 2022
BUTEX exam is knocking at the door. I think all of candidates are prepare yourself for examination. So your preparation should be very good. We will give you some Short Suggestion for the written test of Bangladesh University of Textiles Admission Test. Hope you find the test common. Finally, if you haven't downloaded the Admit Card yet, download it as soon as possible.