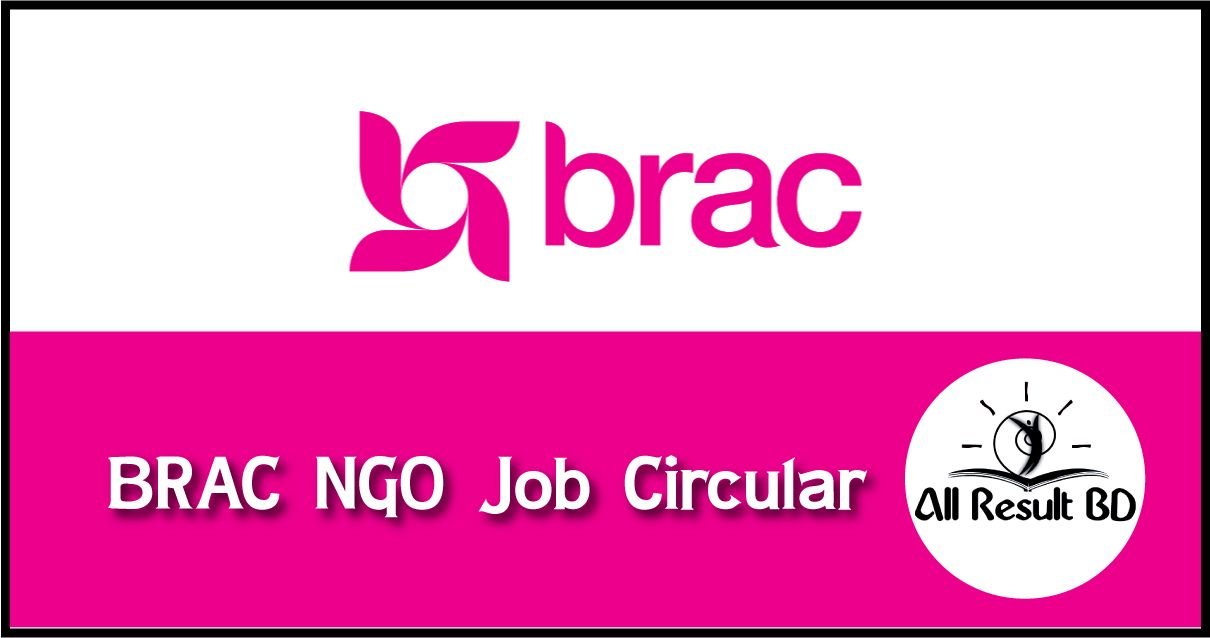 BRAC NGO Job Circular 2022. BRAC Management Trainee Job Circular 2022 has announced recent. BRAC Management Trainee Recruitment Circular 2022 is for Management Trainee officer Post.
BRAC's vision is a world free from all forms of exploitation and discrimination where everyone has the opportunity to realize their potential. The organization was founded in Bangladesh in 1972 and acts as a Catalyst, creating opportunities for people to transform their lives. BRAC believes in integrity,  inclusiveness, effectiveness, and innovation in all areas of work. BRAC uses an integrated model to change systems of inequity, through social development programmes, humanitarian response, social enterprises, socially responsible investments and a university. It operates in conflict-prone and post-disaster settings in 11 countries across Asia and Africa.
BRAC is a global leader in developing cost-effective, evidence-based programmes, and has been ranked the #1 NGO in the world for the last four years consecutively by NGO Advisor.
BRAC NGO Job Circular 2022
BRAC NGO Job Circular 2022. BRAC invites for Apply for Management trainees Officer (MTO) in Brac Micro-finance with the objective to develop Potentials For Mid level management in Operations. Interested and qualified Candidates are requested to apply for the post. Application Deadline is 3rd July 2022.
Management trainees are recruited to develop potentials for mid-level management in operations. On successful completion of one year probation period, they will be responsible for managing financial portfolio during three tiers of teams & it will symbolize BRAC Microfinance at the regional level to organize with stakeholders from internal functions, government institutes and other microfinance institutions. In approximately four years including probation period of gaining experience in field offices good performers will move to BRAC International.
Application Start: 18th June 2022
Application End: 10th March 2022
BRAC Job Circular 2022
Educational Requirement: Candidates must have Masters degree From any Discipline (Finance Preferred) with Minimum CGPA 3.00 on Scale 4.00) or CGPA 3.50 on scale 5.00 or 1st division or class.
Experience: Minimum one year of experience is preferred field.
Age: Maximum 30 years
Salary: TK 30,000 per month
Job Location: Anywhere In Bangladesh
Condition: Successful Candidates have to serve 1 year probation period, then they will be responsible for managing financial portfolio during three tiers of teams.
careers.brac.net ot Apply
Applying Process: Applicants can apply through online via bdjobs.com or by applicant's CV or resume send to mail at resume @brac.net. Applicants have to mention the position name in subject.
BRAC is the world's leading development organization that dedicated to improving poverty and allowing the poor. BRAC Microfinance is a critical part of BRAC's holistic development model and has 17,000 full-time staff increase across more than 2200 branches all over Bangladesh. Now it serves more than 5 million clients with savings and credit services and.

We will publish all the important news about educational and professional. So, visit AllResultBD.com to find more about BRAC NGO Job Circular 2022 and related.