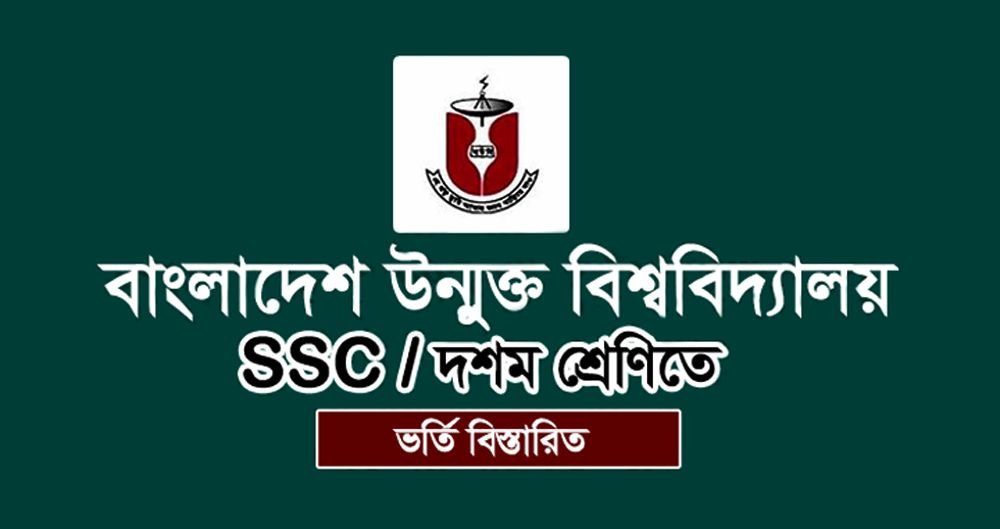 Bangladesh Open University SSC Admission 2023 Circular bou.edu.bd. Bangladesh Open University SSC Admission Circular 2022-2023 Download. Bangladesh Open University (BOU) SSC Admission Circular 2023 has published.
Open school is one of the largest six schools of the BOU with respect to the number of student enrolments. Any person has the chance to admitted irrespective of age, gender, and profession in any program of the school. At present, BOU is offering Secondary School Certificate Program.
Bangladesh Open University SSC Admission

Bangladesh Open University (BOU) invited application for Secondary School Certificate (SSC) 1st year admission. Interested candidate can collect admission application form for SSC program will be available from 18th March 2014 in local study centers. Students have to submit the application form within 5th June 2014. Application form fee is TK 50. Students can be download application form from Bangladesh Open University (BOU) official website at www.bou.edu.bd & through submission of application. Candidates have to attach TK 50 bank receipt with application form.
Bangladesh Open University SSC Admission 2023
Admission application Period: 15th December 2022 to 15th January 2023
Class begin: 10th March 2023
SSC Registration Fee: TK 100
Course Fee: TK 200 (Per course TK 400)
Calendar Fee: TK 25
Candidates must complete JSC/JDC/Equivalent Exam. Each study Center can capture 400 students in admission. At the time of admission, students need to present all education papers attached copy. Original certificate will be returned. It's an expanse learning method.  Students can get SSC preparation to stay at home.
Download Admission notice
How to Apply for BOU SSC Admission by Online
Application form is not accepted by courier. Bangladesh Open University SSC Admission 2023 Circular published by www.bou.edu.bd. Candidate will get more important information about Bangladesh Open University SSC Admission Circular 2023 from our website.
Go to the http://osaps.bou.edu.bd website. Fill the application with legal information. Then you have to submit the Application Fee by bKash/Rocket /Surecash. If everything is ok, then you will receive a Transaction ID in your given mobile number. You will get an SMS payment successful in your given mobile or e-mail. Then print the application using the User ID and Password. Within seven days, your Admission will be done if you submit Including educational qualification certificates, photographs and application forms to your registered study centre.
BOU SSC Admission Fee:
Online application fee / online admission form: 100.
Registration fee: 150.
Course fee (only 525 takas per course): 3675.
ICT (Compulsory) Practical Fee: 100
Academic Calendar Fee: 50.
Digital / Plastic ID Card Fee: 200.
Exam Fee (50 Taka Per Course): 350.
1st Year Mark sheet Fee: 70.
Total Admission Fee 4,695 (minimum). Practical Course (without ICT) Additional 200 BDT must be submitted.
If you interested to continue your study, then you can apply. Only Friday the class will be organized in their certified schools. There are only classes on Friday every week. So, complete your SSC pass in a simple way. The Admission Process isn't so hard. You can Apply for Bangladesh Open University BOU SSC Admission in two methods – Online and Offline. In the SSC program conducted by BOU, will be able to get admission in the online and offline process.