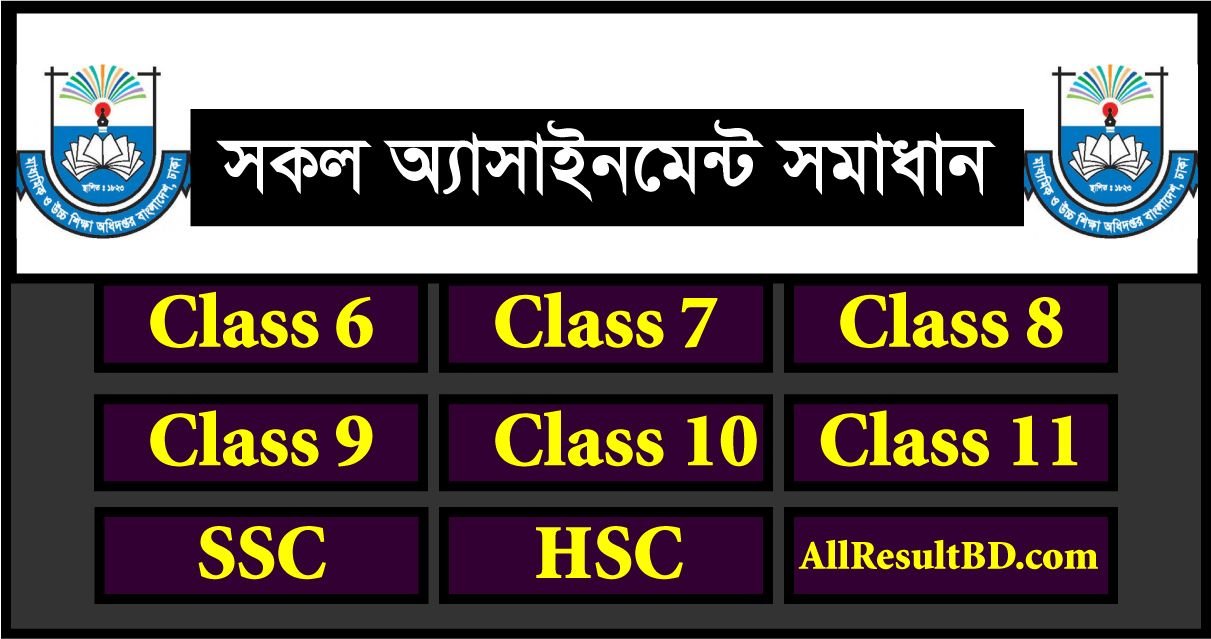 Due to this epidemic situation worldwide, the education system has changed radically. Students are doing online classes regularly. The Education Board has declared assignment 2022 for all the students so that their academic studies can go on without any impediment. All the compulsory subjects of class six to twelve have an assignment that is mandatory for submission.
All the students of the National Curriculum of Bangladesh have to submit all these assignments within the due date. The Education board of Bangladesh has proclaimed a notice every week regarding the assignment 2022 submission.
All Week Class 6 Assignment 2022
Class six eleventh-week of assignment 2022 has been published. English and ICT (Information and Communication Technology) assignment answer is here to help you. These assignments questions and notices were published by the Directorate of Secondary and Higher Education DSHE on 11 August 2022.
All the answers to class six assignments are available here. You can prepare your answers by using our guidelines and suggestions.
All Week Class 7 Assignment 2022
Students of class seven also have to prepare assignments on English and ICT subjects. They have to submit two assignments on English and ICT. English assignment topic is "Duty of Parents and Teachers for a Child" and the ICT assignment topic is "Significant Role of Information Technology on People, Society and Work."
All the assignments of class 7 are available here. Class 7 assignment 2022 for 11th week on all subjects is vital for the students. Students can solve the assignment answer with our help.
All Week Class 8 Assignment 2022
Class 8 eleventh week assignment 2022 is on English and ICT also like the other classes. English assignment is on Unit-3. The chapter name is Hygiene and Health. The assignment topic is to make a poster to stop the coronavirus disease, COVID-19 with a list of ten protective measures.
You will get all the updates of class 8 assignment every week on our website here.
All Week Class 9 Assignment 2022
Class nine eleventh week assignments are on Bangladesh and Global Studies subject and another assignment on Math. There are many assignment answers on our website. Not only 11th week assignment 2022 but also all the answers of all classes can be found here. To know more about class 9 assignment, you can click on the link here.
Class nine BGS (Bangladesh and Global Studies) assignment is on the sixth chapter of the BGS book. The Math assignment is also on the sixth chapter of the math textbook of class 9. You will be able to find all the assignment answers here.
Class 10 Assignment (SSC assignment 2022)
It is a quite tough time for secondary and higher secondary students. Worldwide COVID situation is concerning their academic activity. That is why the Ministry of Education Board has taken many steps for the continuation of their study. Assignment giving is one of the steps. Students of class 10 have various assignments on various subjects like Physics, Math, Geography, etc. You will get all the class 10 assignment and assignment answers on this website.
All Week SSC Assignment 2021
SSC candidates will be able to submit their assignments on time. Here we will provide you with all the SSC assignment 2022 questions and answers. SSC 5th week assignment has been published. The Education Board has released the PDF file of the assignment on Science, Humanities and Business Studies group differently. Here are all the assignment 2022 questions and answers of all the weeks.
HSC Assignment 2022 (HSC 1st Year) 
The HSC Assignment 2022 has already out there. These are the solution for HSC 2022 examination. A short syllabus is given by the education board to finish the course on time. Assignments of different weeks for the HSC first-year students are published by the Directorate of Secondary and Higher Secondary Education (DSHE).
Students must prepare the assignment answer by using their textbooks. Each assignment is focused on a specific chapter. The student should follow the chapter properly and answer all the questions by using their reasoning capabilities. Teachers will evaluate each assignment by using a Rubrics assessment. They will give the numbers according to the standard of the answer script. Each assignment is based on specific criteria. According to different subjects students need to follow the guidelines given by their course teacher.
HSC Assignment 2021 (HSC 2nd Year)
Students of HSC 2nd year have to submit assignments answers. There are assignments on the 1st, 2nd, 3rd, and 4th weeks. HSC candidates have different subjects according to their group. There are three compulsory subjects in each group. These are Science, Humanities and Business Studies.
All the assignment of 2022 has already been published in the education board website dshe.gov.bd. There are seven compulsory subjects and group-based subject for each assignment.
Final Word
The notice regarding the assignment 2022 submission was published on 11th August 2022. You will get the assignment submission notice every week. Students can download the PDF file for the assignment questions. Here we will provide you with the answers. Hope this article helps students to solve all the assignments accurately.