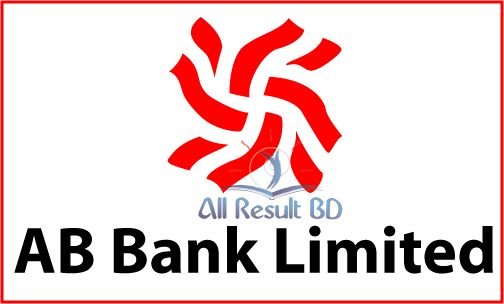 AB Bank Management Trainee Officer Job circular 2016. AB Bank is looking for potential fresh post graduates to join its Management Team as a management Trainee Officers (MTO) in Core Banking cadre (CBC) for immediate employment.
AB Bank Management Trainee Officer Job circular
AB Bank is the first private sector commercial bank of Bangladesh, which was known as Arab Bangladesh Bank when it was established in 1982. The name was changed to AB Bank Limited in 2007. Bonding generation for over decades, the bank is proud to be serving around more than four hundred thousands clients through network of branches, with SME centers across the country
The Bank has a branch in Mumbai, India, a wholly owned subsidiary in Hong Kong in the name of AB International Finance Limited, as Exchange House in the UK named AB Exchanged (UK) Limited, maintains a representative office in London, UK and Myanmar, AB has also an equity participation in the first Sharia based Bank of Sri Lanka called "Amana Bank Limited". The Bank's Investment Banking arm includes two subsidiaries, AB investment Limited (ABIL) and AB Securities Limited (ABSL).
AB Bank offers full range of corporate SME, Retail banking, and Sharia based Islamic Banking Services. Bank's electronic business is enriched with Visa Debit cards, MasterCard Credit Cards, SMS banking, Branch POS and Internet Banking with 24/7 call center support. The bank operates more than 268 VISA and Master Card branded ATMs countrywide. AB Bank Management Trainee Officer Job circular 2016 download from below.
AB Bank Management Trainee Officer Job circular Policy
Management Trainee Officer (MTO) is the first log of the Executive's Job 'Core banking Cadre (CBC)' who will receive opportunities to move to senior Management levels with gaining of experience in banking and professional competences over the years. They will also have the opportunity to move to different business portfolios within the bank and to different places.
We define MTO's as high potential fresh post graduates who usually are quick learners and intellectually bright with the capability to meet targets and produce results. They are expected to demonstrate leadership qualities to progress in future to Senior management positions.
Management Trainees will pass through a planned training period of 02 (two) years from the date of entry when they will be exposed to (a) General banking (b) Credit portfolios and (c) Foreign exchange portfolios,besides training & develop0ment through in-house and external programed to make the MTO's competent to be able to mmet challenges in the banking and financial sector. Our nominated experts will guide them, coach them and train them to shape-up their operational expertise, knowledge behavioral competencies.
Management Trainee placement In Substantive Job
On success completion of 02 (two) years training period, Management Trainees will be confirmed and promoted to the position of "Principal Officer" in the Core banking Cadre.
Application last date: 26 May 2016
Salary and Benefits
Attractive competitive consolidated salary package during the training period is offered.
AB Bank Management Trainee Officer Job circular Selection Process
Screening and shorting of candidates who meet qualifying requirements.
Candidates appear for a competitive written test.
Competency based face to face interview.
Medical test.
Final shorting, selection and offer.
Job Requirements
MBA, MBM, Masters in Commerce, Masters in Science, and masters in Social Science with GPA not less than 3.0 (on a scale of 4) from any recognized local (UCG Approved) or foreign university.
In addition to the required CGPA at post-graduation level, candidates must have at least two first division/classes or equivalent CGPA in their academic feat in public examinations, but no 3rd division. Class or equivalent CGPA at any level is acceptable.
Candidates age over 30 years on 30th April 2016 are not eligible to apply.
Candidates must be good in communication having profeciency in spoken English.
Computer Knowledge: Must have a minimum knowledge on MS Office Suite.
The applicants must produce original/professional certificates and mark sheet at the time of final selection.
General Advice for the applicants
Only candidates having self confidence with passion to build career in banking who satisfy the job requirements are invited to apply.
Complete CV along with a scanned recent passport size protograph should reash us using the website: www.abbl.com/career on the before 26th may 2016.
The candidates are requested to provide a contact number and address to their CV.
Only shortlisted candidates will be invited for the written test.
Candidates with incomplete academic qualification or non-compliance of any of the above conditions/ requirements will disqualify for short listing.
Candidates finally selected for employment ad MTO Must be willing to work any where in Bangladesh.
Please note, canvassing in any form will disqualify a candidate. If you have question about AB Bank Management Trainee Officer Job circular 2016 then comment below or message us through Facebook.
AB Bank Job circular 2016