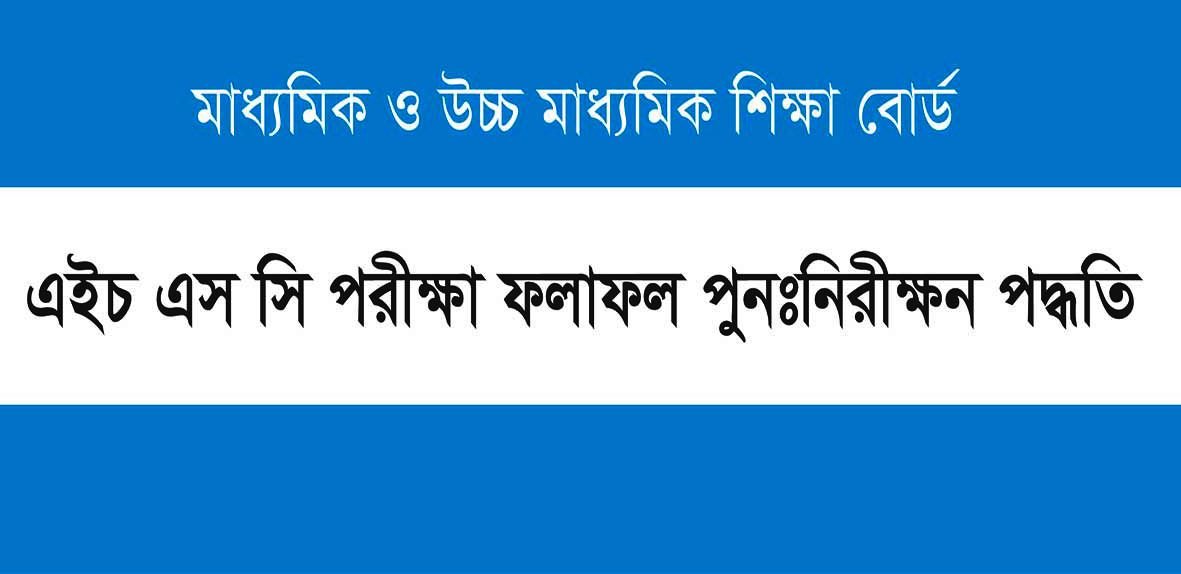 HSC result review notice has been announced on Secondary Education Board website. Some of the students does not obtain expected result in their exam as they desire. So that they can apply HSC Result Review 2023. It's known as Re-Scrutiny application of Result and also called "Khata Challenge". HSC Result Rescrutiny is a common phenomenon of a year. Every year HSC Exam held, Publish Result and many students find their results faulty. As they think that the result have some wrong information, they apply for Rescrutiny.
Those students who do not get the expected results can apply for Board Challenge or Result Re-Scrutiny Application 2023. Every year thousands of students are applying for Result challenge. Like other years you can apply for this. Already Education board announced board challenge application notice in their website. Point to be noted this application time is so short. Maybe you can apply for this within 6 days. Follow the below instruction for HSC Re-Scrutiny Result 2022.
HSC Re-scrutiny Application Process
Now question is " Does Rescrutiny work in student's favor?", The answer is very easy . Rescrutiny always works in students' favor. If teacher find that you will get more mark then they add that marks but they never deduct marks from the result that is published even though you get less mark. This is a Board Instruction to The Teachers for Rescrutiny.
Then, You may ask whether Rescrutiny works. I will say yes. As I have seen one of my very close friend got GPA 5 in Chemistry after Rescrutiny . Before Rescrutiny it was only 3.50.
Important dates and schedule
Application Starting Date:  09 February 2023

Last Date:  15 February 2023

Application Fee: 300 Taka

How to apply for HSC Rescrutiny 2023 ?
If you are Interested to apply for HSC Rescrutiny Result 2023 have to apply through SMS.
Firstly Students need TeleTalk SIM to apply HSC Rescrutiny result 2023 Khata Challenge Process.
Then go to your mobile message option and Type: RSC<give space> first 3 letters of your Board name<give space >HSC Roll number <Give space >subject code then send it to 16222 number.
As for example: RSC RAJ 339530 101 and Then send to 16222
For more than one subject, use comma ' , ' after one subject code
For an example: RSC RAJ 253563 101, 107 Then send it to 16222
After sending message like this, you will receive a feedback message with a PIN number and there will be mentioned how much money you need to apply .For each subject TK 150 will be deducted. As for example, for Bangle 1st paper you need Tk 150 and Bangle 2nd paper need Tk150, and total TK 300 for both. Then you have to send a further message. For this type:
RSC< Give space>YES< Give space>PIN number< Give space>your contact number (any mobile operator)
As for example: RSC YES 12345 0191********
If the PIN number given is 2357. You have to save your PIN number and Tracking number you receive.
HSC Rechecking result 2023
HSC Rescrutiny Result 2022 Dhaka Board
HSC Rescrutiny Result 2022 Rajshahi Board
HSC Rescrutiny Result 2022 Sylhet Board
HSC Rescrutiny Result 2022 Chittagong Board 
HSC Rescrutiny Result 2022 Barisal Board
 HSC Rescrutiny Result 2022 Jessore Board
HSC Rescrutiny Result 2022 Comilla Board
HSC Rescrutiny Result 2022 Dinajpur Board
HSC Rescrutiny Result 2022 Madrasha Education Board
You have to do nothing more for HSC Rescrutiny Result 2023. Just Visit our site and stay alert. We will publish HSC Rescrutiny Result 2023 and Alim Recheck Result 2023 when the result will publish.