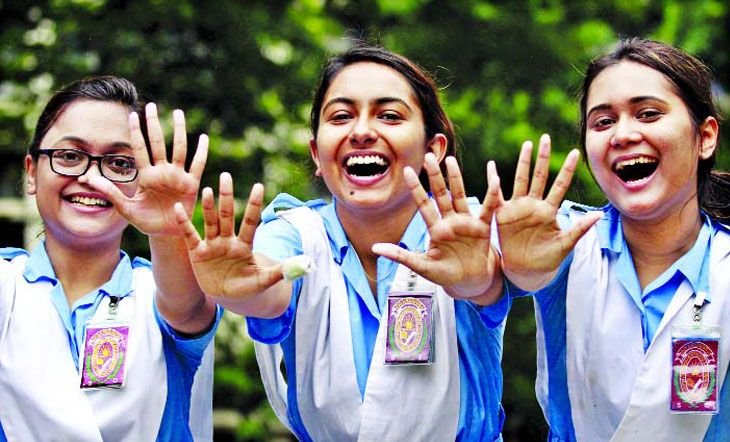 SSC Exam Result 2018 has been publishing just now. You will get SSC Result 2018 by our website at AllResultBD.com. You can also get it by SMS too. SSC Result for the academic year 2018 has announced by the Prime Minister of Bangladesh Sheikh Hasina. Education Minister Nurul Islam Nahid hand over the result to Prime Minister at morning. At this time different education boards chairman are present.
SSC Exam Result 2018 BD

At 1 pm by a press conference Education Minister Nurul Islam Nahid will discuss about the result. at 2 pm students can get their result.
This year passing percentage is 77.77%. CGPA 5 get 1 Lakh, 10 Thousands & 629 Hundreds students. But last year in 2017, passing percentage was 80.35%. & CGPA 5 got 1 Lakh, 4 Thousands & 761 Hundreds students.
Accordingly, this year passing percentage is decreasing. 2.58% students are not qualified in 2018 SSC Result compared to last year.
From 1st February (Thursday) 2018 SSC or similar exams (written) were beginning & that exams were end on 24th February (Saturday) 2018. Practical exams were seized from 25th February (Sunday) 2018 to 4th March (Sunday) 2018.
In 10 education board, total 20 Lakhs, 26 Thousands & 761 Hundreds examinees were participating in SSC Exam 2018. But 14 Lakh, 43 Thousands & 382 Hundreds examinees are qualified in SSC Exam 2018.
Education Minister Nurul Islam Nahid informed that, in 8 general education board 79.40%, in Maddrasa board 70.89% & in vocational education board 71.96% examinees are pass in this year 2018.
Over the past few years various public exams' questions were leaked before exam. This question was leaked at the morning of exam day or before night of exam. It was spread out by the media very quickly. Like before this year also SSC question was leaked.
Alternative link: SSC results 2018
Bangladesh government took some steps to stop this corruption. But they failed to stop this.
দ্রুত SSC ফলাফল পেতে আমাদের গ্রুপে জয়েন করুন
গ্রুপ লিঙ্কঃ https://www.facebook.com/groups/resultbd/
SMS Format:
Interested person can make known SSC Exam Result 2018 by sending mobile SMS from any operator.
SSC/DAKHIL <space> 1st 3 letters of education board <space> SSC Roll Number <space> 2018 send it to 16222.
Example: SSC DHA 123456 2018 & send to 16222.
SSC result Board Challenge System
Review the Result:
From only Teletalk mobile SMS, student can apply for recheck SSC Exam Result 2018 on 7th May (Monday) 2018 to 13th May (Sunday) 2018.
SMS system:
RSC <space> 1st 3 letters of education board<space>SSC Roll Number<space>Subject Code send it to 16222.
Example: RSC DHA 123456 111 & send to 16222.
For return SMS how much money will be cut as fee, applicant will know by a PIN Number (Personal Identification Number).
If agree, applicant send another SMS. SMS layout is given below:-
RSC <space> YES<space> PIN Number <space> Mobile Number (for communication) and send to 16222.
Example: RSC YES 123456789 01*********** & send 16222.
BDT. 125 will be cut down for every subject & paper. Those subjects have 2 papers, so that time BDT. 250 will be cutting as fee. Applicant can apply more than 1 subject in 1 SMS. In that case, applicant will have to be added a "koma" after 1 subject code.
We will publish all information about SSC Result 2018. So keep visiting in our website at AllResultBD.com. if you have any question about SSC Exam Result 2018 then comment belloow or message us through our Facebook Page.