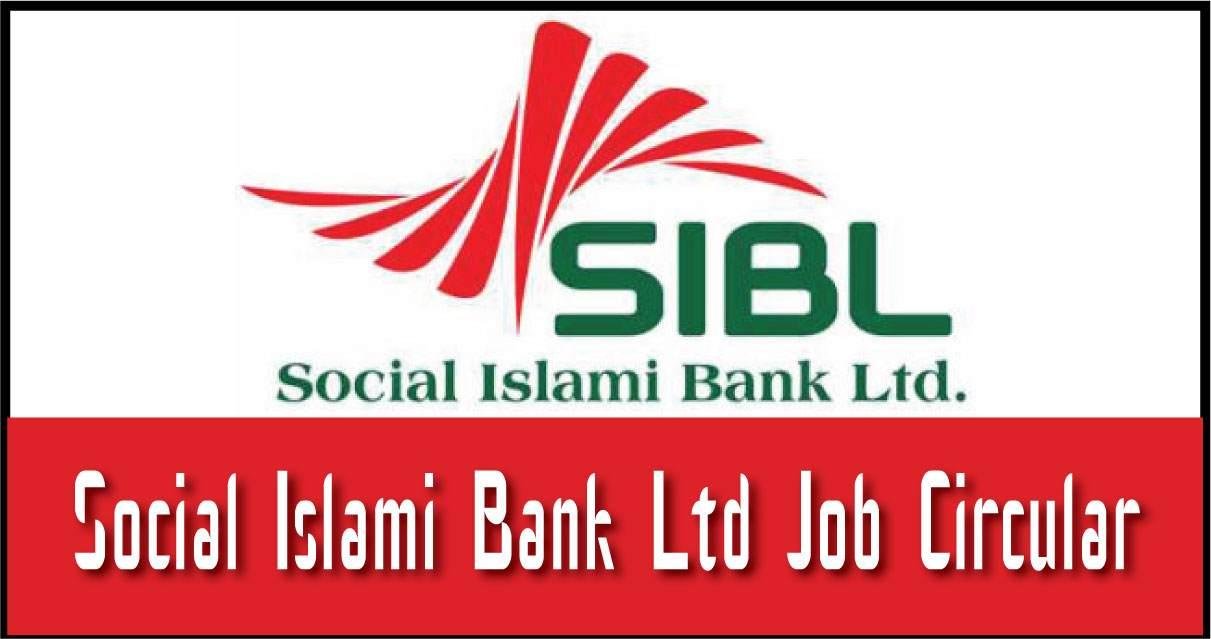 Social Islami Bank Ltd Job Circular Probationary Officer 2017 www.siblbd.com. Social Islami bank job circular 2017 published. Social Islam' Bank Limited (SIBL), a leading Islamic Shariah based Bank, as a part of its growth and concurrent consolidation program, with a highly dynamic professional management team, is looking for self-motivated, aspiring and committed potential individuals who are willing to start career in bank as Probationary Officer.
Social Islami bank Ltd job circular 2017
Interested candidates can apply on Social Islami Bank Ltd job Circular 2017 for the post Probationary officer or Trainee Officer . Social Islami Bank authority invites a job request from Bangladeshi citizens for the post of Probationary Trainee Officer. So if anybody willingness to build bright career in Social Islami Bank Ltd, She/he can apply for this post. Download job circular from Social Bank Ltd website as well as our website.
Social Islami Bank Bangladesh
The SOCIAL ISLAMI BANK LTD short from SIBL, which it top bank in Bangladesh. It's a 2nd generation bank, in service since 22 November, 1995 based on Shariah Principles. SIBL has now 86 branches all over the Bangladesh. SIBL mission is to remove poverty within 21st century and make this bank model for others.
The bank has taken a rehabilitated drive aiming at combine its business in more focused areas covering SME and Agro-finance with importance on searching for alternative delivery channel under which SMS banking systems and mobile based remittance payment system.  The SIBL has already introduced Internet banking services and launched some new products to strengthen its business.
SOCIAL ISLAMI BANK LTD is a pioneer in introducing online banking among all the Islami Banks of Bangladesh with banking software, which will allow the bank to perform as any branch real time banking service to clients. Recently, Social Islami Bank Ltd journey towards constant excellence has changed its brand logo.
Social Islami Bank career
Siblbd Job Description:
Non-fulfillment of the criterion shall disqualify the application. Only short-listed applicants will be called for written exam. The applicants who will not be capable for the post of Probationary Officer after written exam and Viva-voce, will offer for Trainee Officer from merit list.
Every successful candidate shall have to give undertaking, he/she will serve the Siblbd at least 05 years.
Educational eligibility:
Masters in Bank Management from BIBM or BBA/MBA from any recognized University with minimum CGPA-3.00 out of 4.00 Or Masters in Economics/ International Relations/English/ Finance Banking/Management/ Public Administration/Accounting/ Mathematics/Marketing/ Statistics/ Development Studies with minimum 2nd Class/CGPA 2.25 out of 4.00.
Every candidate has to minimum total academic grade points 10 including at least two 1st Division / 1st Class. (i) 1st Division/Class, CGPA 3.00 and above in any exams = 3 points, (ii) 2nd Division/Class, CGPA 2.25 to 2.99 in Graduation and Post Graduation level and 2.00 to 2.99 in SSC and HSC exam = 2 points.
No 3rd Division/3rd Class/CGPA under 2.25 in Graduation and Post Graduation level and under 2.00 in SSC and HSC exam eligible to apply. Applicants Age not over 30 years as on 31.01.2017.
Every candidate have to Computer knowledge in MS-Word and Excel is must.
Other competencies
Candidates having foreign degree must submit equivalency certificate at the time of application.
Only short-listed candidates will be called for written test.
Selected candidates should have the mentality to work in any part of Bangladesh.
Non-fulfillment of the criteria/any type of persuasion during the recruitment process shall disqualify the candidature.
Siblbd Salary and other Benefits:
Probationary Officers will have to undergo 01(one) year probation period. Consolidated pay of Tk. 40,000/- will be paid to them per month during the probation period. On successful completion of 01 year probation period Probationary Officer will be designated as Senior Officer and Trainee Officer as Officer in the offered scale of pay with other admissible benefits.
Social Islami Bank Job Circular 2017 Download
How to Apply Social Islami Bank Ltd Job Circular: 
Interested candidates are requested to visit Sibl official webiste www.siblbd.com in order to apply online by furnish their resume with a recent scanned passport size photograph (maximum 30 Kb) using the online submission form. After submitting all the necessary papres the applicants must take a printout of the Submission Confirmation Letter. The Submission proof Letter must be sent along with a photocopy of their latest academic certificate to the Senior Executive Vice President, Human Resources Division, SIBL, Corporate Office, City Center, 90/1 Motijheel C/A, Dhaka-1000 latest by 09.02.2017 positively.
Social Islami Bank Application Deadline: 09 February, 2017.
Selected candidate shall have to give undertaking that he/she will serve the Bank for at least 05 (five) years.
So, If you thing that you are eligible of the SIBL job requirement, and willing to build a career of banking sector you will apply Social Islami Bank Ltd Job Circular for the post of Probationary officer.