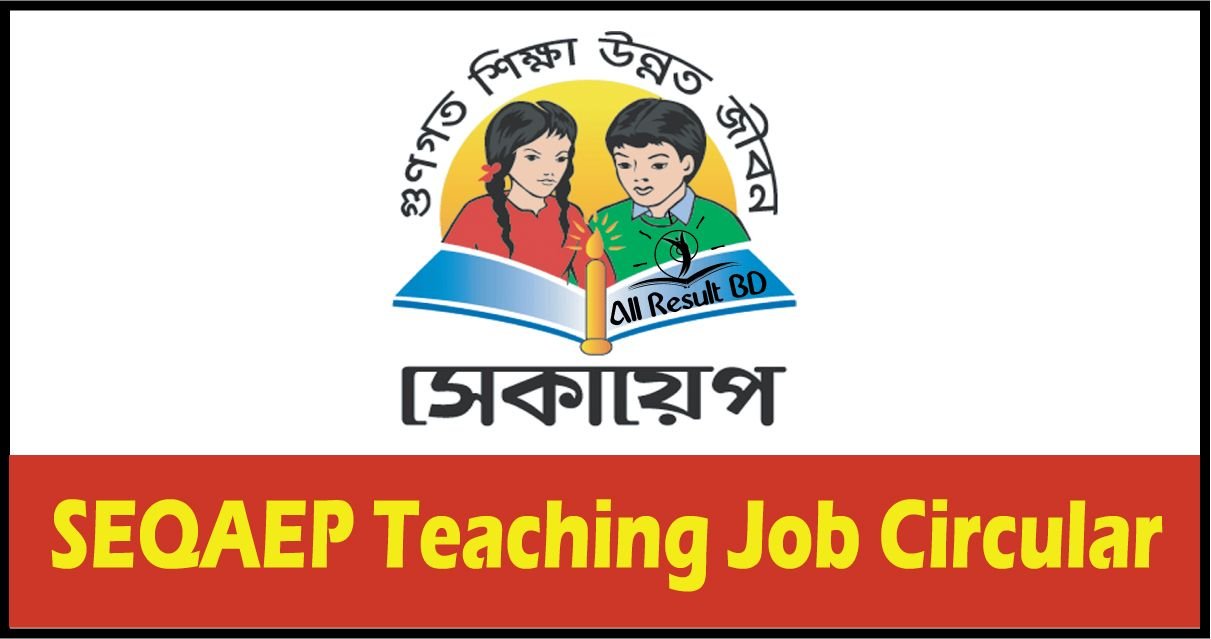 SEQAEP Teaching Job Circular 2016 in Bangladesh Additional Class Teachers. Would you dream to be a model teacher? Are you interested to take teaching profession for career building? Do you take it as a challenge to work at rural areas anywhere in Bangladesh?
SEQAEP Teaching Job Circular 2016
The Secondary Education Quality and Access Enhancement Project under the Ministry of Education and funded by the World Bank announces vacancies for 1500 Additional Class Teachers (ACTs) in English Language, Mathematics and Science Subjects (Physics, Chemistry and Biology) up to December 2017.
The ACTs vacant positions are available in 1000 targeted secondary educational institutions throughout the country. This opportunity will provide you to support and working with the students at rural areas in order to ensure the quality of education and improve the teaching-learning process. The positions will be purely temporary with a possibility to be MPO listed or recruited as regular Subject Teacher.
Application online submission Last Date: 21th July 2016.
Hard copy submission deadline: 30th July 2016.
SEQAEP Teaching Job Circular Minimum requirement to apply:
ACT for English – Honours in English/Bachelor Degree (pass) covering 300 marks or equivalent credit hr. in English;
ACT for Mathematics – Honours in Mathematics/Bachelor Degree (pass) covering 300 marks or equivalent credit hr. in Maths;
ACT for Science Subjects – Honours in Science/Bachelor Degree (pass) covering 300 marks in either of the (Physics, Chemistry and Biology) Subjects;
Less than 50 marks or CGPA 3 in Scale 5 and 2.5 in Scale 4 holders in graduation level and respective subject need not to apply.
Existing MPO Listed teacher need not to apply.
Interested Retired Teachers may encourage applying.
Candidates must be a citizen of Bangladesh.
Attractive honorarium packages:
Applicants with 1st Class/equivalent at graduation level will receive Tk. 25,000.00 per month;
Applicants with 2nd Class/equivalent at graduation level will receive Tk. 22,000.00 per month.
Job Responsibilities:
a) ACT will take regular classes as do regular/ MPO teacher of the institution;
b) Additional Class Teachers will take minimum 16 Additional Class in a month;
c) Each Additional Class is approximately one hour which will be held before school hour, weekly holidays and during vacations;
d) Identify weak students, form LRS and Peer Learning Group.
How to Apply SEQAEP Teaching Job circular?
Applicant's should sent hard copy of the application to the project Project Director, SEQAEP, Shikkha Bhaban, 2nd block, 2nd floor, 16 Abdul Gani Road, Dhaka-1000.
Application form is available in the SEQAEP Website : www.seqaep.gov.bd/jobs
Applicant's hard copy should include: (i) online print copy; (ii) attested copies of all academic certificates and mark sheet; (iii) two recent passport-size photographs; (iv) attested copy of nationality certificate or and (vi) National ID card.
Name of post and subject should be mentioned at top of the application envelope.
A short-listed applicant will be selected by the project on the basis of upazila and merit.Enlisted ACT will sign contract with the respective SMC/MMC of the deployed institution. The honorarium of the Additional Class Teacher will be paid by the project as per contract with SMC/MMC.
Priority to applicants: For the selection and deployment of the candidates, preference will be given for deployment of ACTs in their own upazila, neibouring upazila and district.
The list of selected upazila for Additional Class program is enclosed here.
Azmiriganj-Habiganj, Aditmari-Lalmonirhat, Atrai-Naogaon,  Banskhali-Chittagong, Barguna-S-Barguna, Belaichari-Rangamati, Bhedarganj-Shariatpur, Bhuapur-Tangail, Chatmohar-Pabna, Chowhali-Serajganj, Charfesson-Bhola, Daulatpur-Kushtia, Dhunat-Bogra, Dhamrai-Dhaka,  Doulatpur-Manikganj, Fulgazi-Feni
Gangni-Meherpur, Gazaria-Munshiganj, Goalanda-Rajbari, Godagari-Rajshahi, Gowainghat-Sylhet, Gurudaspur-Natore, Gangachhara-Rangpur, Haimchar-Chandpur, Hatiya-Noakhali, Hizla-Barisal, Haluaghat-Mymensingh, Harinakunda-Jhenaidah, Haripur-Thakurgaon,  Islampur-Jamalpur, Jaldhaka-Nilphamari, Jibannagar-Chuadanga, Kaliakoir-Gazipur, Kasiani-Gopalganj, Kalapara-Patuakhali, Kalaroa-Satkhira,
Keshabpur-Jessore, Khaliajuri-Netrokona, Khanshama-Dinajpur,Khetlal-Joypurhat, Laxmichari-Khagrachari, Madhukhali-Faridpur, Mithamoin-Kishoreganj, Mohammadpur-Magura, Nakla-Sherpur, Narail-S-Narail, Nazirpur-Perojpur, Raipura-Narshingdi, Nasirnagar-B.Baria,  Rajapu, Jhalokathi, Rajarhat-Kurigram, Rajnagar-Moulvibazar, Ramgati-Laxmipur, Rupsa-Khulna, Saghat, Gaibandha, Shibchar-Madaripur, Shibgonj-Nawabganj, Sharankhola-Bagerhat,  Sonargaon-Narayanganj, Sulla-Sunamganj, Teknaf-Coxs Bazar, Tetulia-Panchagarh, Thanchi-Bandarban,Titas-Comilla
Women and alternatively advantaged candidates are encouraged to apply. For details of SEQAEP Teaching Job Circular 2016, application format and procedures to apply please visit http://www.seqaep.gov.bd/jobs. Only short-listed deserving candidates will be contacted. Any kind of persuasion and personal contact to influence at any stage of the recruitment process will be treated as disqualification to compete for the positions. If you are a deserving candidate please apply.
  SEQAEP Job Application Form 2016