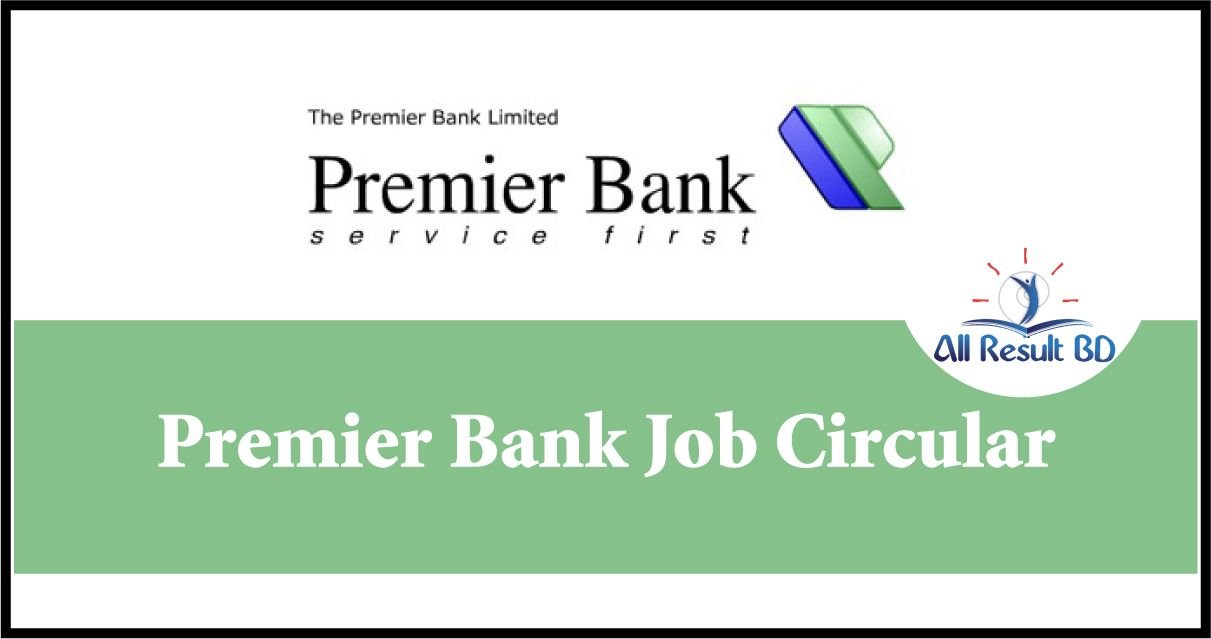 Premier Bank Limited Job Circular 2024. Premier Bank Limited Management Trainee Officer Job Circular 2024 has been announced. Next 17th February 2024 will be the ending date of Premier Bank Limited MTO Job Circular 2024.
Interested candidates may fill up the online form at Premier Bank Ltd official website at www.premierbankltd.com.
Premier Bank Job Circular 2024
The Premier Bank Limited, one of the popular developing banks in the country. Premier Bank Limited has the outstanding working location and commercial traditions. This bank wants some brilliant, youthful and active persons (male & female) those will be confident to make Fast Track career in the bank & whose will attract to obtain challenges.


The Premier Bank Ltd. Is one of the most progressive banks in the century with an excellent working environment and corporate culture, is looking for talented, young, energetic individual aspiring to valid fast track career in the bank and interested to take challenges as a proud member of the premier bank family joining in the position of management trainee officer.
Educational Requirement: Since a reputed university interested candidates have to complete MBA/MBM/EMBA/Masters in, Finance, Banking, Accounting, Management, Marketing, Human Resources Management, Economics, Mathematics, Computer Science, Statistics and other Business Studies.
Results:
In Class/division System: interested candidates have to get all first class/division in educational record.
In CGPA System: interested candidates have to get at least CGPA 3.00 out of CGPA 4.00 in graduations & at least CGPA 4.00 out of CGPA 5.00 in SSC & HSC or equivalent Exam.
Limitation of Age: age not more than 30(thirty) years since on February 31, 2024.
Occupation Site: Several branch/office of the bank anyplace in or out of Bangladesh.
Salary Scale: Now it does not mention.
Last Time of Application: 17th February 2024.
Other skills:
Have to able of working with MS (micro soft) word.
Have to outstanding communication ability.
Economic investigation skills and systematic thinking capability will be pleasure as improvement.
Premier Bank Management Trainee Officer Job Circular
Note:
Selected participator will be appointed as a Management Trainee Officer (MTO).
Chosen participator will be appointed for 1 year & they will be on probation period.
They will be engaged as a senior officer behind successful time of probation period 1 year.
The Chosen officer will be appointed in several branch/office of the bank anyplace in or out of Bangladesh.
The authority of the bank has the right to allow or deny any application with no turning over any cause.
Arguments in any form will ban of a contestant.
Application Process: concerned applicants have to apply in Premier Bank Limited MTO Job Circular 2024 by online. They have to apply in Bank's website at www.premlerbankltd.com.
Human Resources Division:
Head Office Dhaka: Iqbal Center (13th Floor), 42 Kemal Ataturk Avenue, Banani, Dhaka-1213, Bangladesh. Phone Number: 88029820844-8. If you need any information about Premier Bank Limited MTO Job Circular 2024 & as well as other job circular or educational information, then you can visit our website at AllResultBD.com.