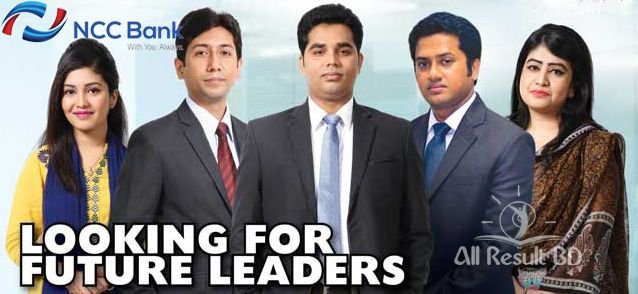 NCC Bank Management Trainee Officer Circular 2015. Having set a benchmark in private sector banking in Bangladesh, national Credit Commerce (NCC) Bank Limited has shaped standards and created a unique identify   of its own. Powered by state of the art technology and driven by a team of highly motivated and dynamic individuals, NCC bank Limited has become the leader in private banking in Bangladesh having its strong business network with 104 online branches across the country and acquired commendable reputation by providing sincere and personalized banking services to its customers in a responsive and technology based environment.
NCC Bank MTO Job Circular 2015
NCC bank is rebranding itself as a futuristic and dynamic commercial bank with tremendous growth potential continuing to provide innovative appointment as Management Trainee Officer (MTO) as a part of Bank's corporate strategy and Human Resources capital need as well.
Application last Date: 30th July 2015
Application Fee: Tk. 300/-
Required Qualification & Competences:
MBA/ MBM/ Masters with 04 (four) year Honors in Finance/ Banking / Accounting/ Management/ Marketing/ Economics/ law/ Agri, Business/ English/ Statistics/ MIS/ HRM/ IB/ IR/ Mathematics/ Public Administration/ Computer Science/ EEE/ from any Public University or from AIUB, BIBM, BRAC, Daffodil International University (DIU), EU, EWU, IUB, IUBT, IIUC, IIUT, NSU, ULAB.
The aspiring candidates should have minimum GPA -4.00 in the scale of 5.00 and CGPA 3.00 in the scale of 4.00. In tradition system of academic result, the candidates should have at least 03(three) 1st division/ Class in the exam, but no 3rd class (i.e 1st Division in both SSC & HSC and one 1st class in Bachelor or masters). Candidates passed O' & A' Level should have minimum GPA- 3.00 in the scale of 4.00 (average of best 6 subjects in 'O' Level and three subjects in A' level)
Should have enthusiasm, self- motivation, entrepreneurial sprit, excellent communication and interpersonal skill along with high level of integrity to develop career in a highly competitive and challenging environment.
Candidates must be Computer literate with operational knowledge of MS Office, MS Excel, Spread Sheet and Power Point Presentation
Age not over 30 years (minimum 32 years for the children of Freedom Fighters) as on 30.07.2015
Terms of Application:
The selected candidates will have to sign in a service bond for 04 (four) years from the date of joining
Job Location: Anywhere In Bangladesh
Compensation Package:
The selected candidates shall be on probation for 01 (one) year. During probation period, MTOs will be entitled to monthly consolidated salary of BDT 36,000/-, Upon successful and satisfactory completion of the period of probation, the MTOs will be absorbed as Senior Officer of the Bank with a monthly gross remuneration of BDT 51,000 with all other admissible benefits.
NCC Bank Recruitment Selection Procedure:
Eligible & shortlisted candidates will first ampere in a written examination
Applicants securing qualifying marks in the written examination will be required to undergo the subsequence stage of selection process witch includes IT test, presentation & Viva-voce.
The final selection will be made on the basis of merit taking written test, IT test, presentation and Viva-voce into consideration
Step by step results will be published by bank's website
How to apply NCC Bank Ltd job Circular 2015
The intending and eligible applicants may apply through www.nccbank.com.bd Or clicking "Apply Now" button from below by 30th July 2015 (no hard copy or e-mail application will be accepted). A scaned copy of post –graduation certificate (maximum 300kb) along with a recently passport size color photograph (maximum 30kb) should be uploaded at the designated spot of the online application from accordingly. Applicants should deposit Tk. 300/- – (Taka three hundreds only) as application processing fee (Non refundable) favoring "NCC Bank ltd, A/C # 0002-021003722" at any of the branches of the NCC Bank Limited mentioning Name, Applicant ID & cell Number on the deposit slip.
If you need any information about NCC Bank Management Trainee Officer Circular 2015, you can message us or comments below. We will reply you very soon. Besides you can Check all bank Circular 2015 from our website and apply as your interest.