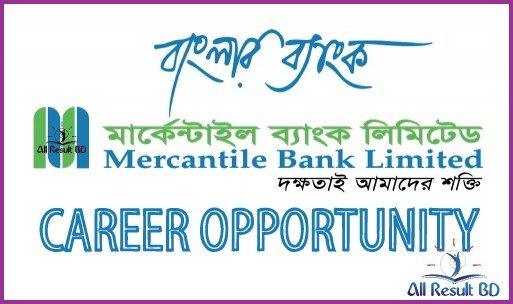 Mercantile Bank Management Trainee Officer Job Circular 2015. Mercantile Bank BD Job Circular 2015 has announced recent. Interested candidates can apply easily. If you think, you are the right person to face the challenge and want to join winning the team and then send your resume in "ONLINE" for the post of "Management Trainee Officer".
Mercantile Bank BD Job Circular 2015
Mercantile Bank Management Trainee Officer Job Circular 2015. Mercantile Bank has offered to join as Management Trainee Officer. Mercantile Bank management are encouraged to apply provide they meet the requisite qualifications.
Application deadline is 30th April 2015.
Marcentile Bank Limited is a progressive private commercial Bank in Bangladesh. It is with a vision to be a leading financial institution in the country, be set to enlist young, talented and energetic graduate. They will must demonstrate leadership skill and align themselves as future leaders of the organization with the mission or vision of the Bank.
Mercantile Bank Job Required Qualifications:
Post Graduate or 4 years integrate Honours degree in any discipline, rather in MBA/BBA/MBM/Economics/Finance & Banking/Accounting/Management/Marketing/HRM/ English /Mathematics/Statistics/Engineering/Computer Science from any repute public or private university of Bangladesh and Abroad.
Apply with at least CGPA 3.00 with 1st class or divisions.
No 3rd class or division will be accepted in any examination.
CGPA for SSC & HSC will calculate as-
CSPA 3.00+ : 1st Division
CGPA 2.00 to < 3.00 : 2nd Division
CGPA For Graduation & Post Graduation will calculate-
CCGPA 3.00+ & CGPA 4.00 : 1st class out of 4.00 & 5.00 correspondingly
CGPA 2.50 to < 3.00 & 3.50 to 4.00 : 2nd class out of 4.00 & 5.00 also
Computer literacy:
Good knowledge in operation system such as Microsoft XP, Microsoft VISTA etc.
Office Automatic such- MS Word, MS Excel & MS Power Point, internet browsing etc.
Applicants must be Bangladesh citizen.
Applicants' age will not over 30 years within 30th December 2015.
Facilities and Conditions:
The Management Trainee Office will entitle to consolidated monthly remuneration of TK 40,000 for first one year of probation period.
Successful Management Trainee Officers will attract in the regular cadet according to the Bank's internal policies that may change time to time.
Selected applicants for appointment will require executing a 'Surety Bond' to serve the bank for a minimum period of 4 years from joining date.
The bank reserves the right to accept or reject any application without assigning any reason whatsoever.
Application Process:
Eligible and interested candidates are requested to apply "Online" with scanned recent passport size photograph (max size 50kb) through "Career Section" in Mercantile Bank official website at www.mblbd.com. Apply within last date of 30th April 2015.
You will get all information of job circular from our website. So, visit regular AllResultBD.com to get more and update news about Mercantile Bank Management Trainee Officer Job Circular 2015.