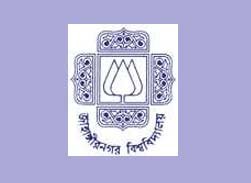 Jahangirnagar University Admission Test Question Paper Leak. Question Paper Leak at JU Admission Test on 1st March 2015. The question papers of Jahangirnagar University admission test for Honours 1st year students under academic session 2015-2016 were leaked and four admission seekers led by a Daffodil University student were arrested for their involvement in this imitation.
Jahangirnagar University Admission Test Question
There are four admission seekers led by a Daffodil University student were arrested for their involvement in this forgery An Archaeology Department student involved in the leak of Accounting and Information System Department's question paper said Jahangirnagar University authority.
JU Proctor Professor Md Muzibur Rahman told "Md Shaheb Ali who is the first year student of Archaeology Department and also volunteer of JU Bangladesh National Cadet Core is connected with the question leak." Also said that a big gang was behind the incidence and Jahangirnagar University authorities were trying to find out them.
Associate Prof Md Golam Rabbani of History Department caught one Md Noman from 217 No exam hall at new arts faculty building even as the latter was receiving answers of set 1 of Accounting Department admission test question into his Cell phone from another cell number from Source.
Afterward, Jahangirnagar University proctorial team and security members under arrested others with the help Noman. Other prisoner was Md Shahnewaz & Irab Rakat from Chuadanga district, Md Hridoy from Barisal district & Md Raihan Ali is a Pharmacy Department student at Daffodil University.
The alleged Raihan Ali student of Daffodil University told, "I made a deal of Tk 2.5 lak for per set of answer script with the detained admission seekers while Shaheb Ali of Archaeology Department under 42nd batch sent the answers through his mobile SMS 15 minutes after the exam started."
Shaheb was working for the admission test as a BNCC volunteer and they supposed that the university teachers and officials might be occupied in the question leak.   The admission seekers and their guardians along with many university teachers and students expressed concerns over the question paper leak. They demanded postponement of the Accounting Department's admission test.
History Department lecturer Golam Rabbani told, "I have heard the answers were completely similar to the question papers and JU authorities should suspend the exam and its result immediately and arrange a fresh admission test for this department."
On the other hand, proctor Prof Md Muzibur Rahman said the university authorities would decide whether the admission test would be hanging or not but he played his part as a proctor suitably and all prisoners would be dispense to Ashulia police station after beginning interview and we are hopeful that we would find out the whole team.
if you have any question about Jahangirnagar University Admission Test Question Paper then comment below or message us through facebook.