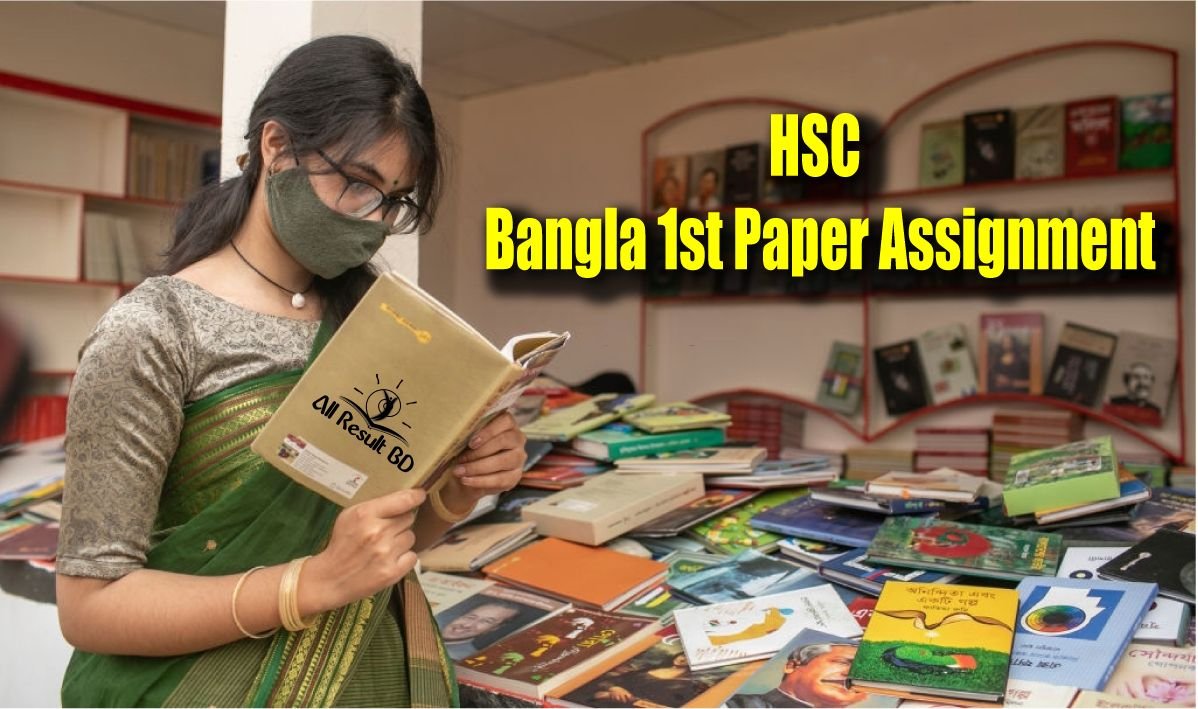 1st week class HSC Bangla assignment solution 2022. Class 11 Bangla 1st paper assignment answer 2022 is available in this post. Recently, the assignment for the first week of class HSC has published on the official website of the Directorate of Secondary and Higher Education (www.dshe.gov.bd). And the solution of the assignment is published on our website allresultbd.com. So let's download the assignment solution.
Class 11 Bangla Assignment Answer 2021
In the 1st  week, the assignment topic has been taken from the prose part of the Bangla subject of class HSC. The name of the prose is "Ebarer Sangram, Muktir Sangram". The prose is related to the liberation war of Bangladesh. The liberation war took place in 1971. Countless people of Bangladesh were killed in this nine-month-long liberation war.
Check also: HSC Assignment 2022 all subjects
Students who have a good idea about the history of Bangladesh can easily do the assignment solution. But students who do not have a good idea about the history of Bangladesh will not be able to do the assignment solution easily.
But you have no reason to worry. Because our experienced people have solved this assignment. So let's see the assignment question & solution.
HSC Bangla Assignment Question & Solution
below is the Class 11 Bangla assignment along with the assignment solution.
1st week HSC Bangla 1st Assignment answer
অ্যাসাইনমেন্ট : ১. 'অপরিচিতা' গল্প এবং বাস্তব দৃ্টান্তের ভিত্তিতে নারীর এগিয়ে চলার পথে সহায়ক ভূমিকা চিহিতকরণ
শিখনফল/বিষয়বন্ত
* নারীশিক্ষা ও নারীর ক্ষমতায়নের তাৎপর্য ব্যাখ্যা করতে পারবে ।
* সুযোগ ও সহায়তা প্রদানের মাধ্যমে নারী শিক্ষা ও ক্ষমতায়নে ইতিবাচক মনোভাব প্রদর্শন করবে।
Class 11 Bangla Assignment 2021
read more: Alim Assignment 2022 Question & Answer (1st Week)
Good to Know
1) Introduction – the first thing to do while writing an assignment on any topic is to write down some introduction on the subject. It's not right that a lot of students suddenly start writing the main answer to the assignment. Because the introduction is a very important part of assignment.
2) body part – This part is the most significant part of the assignment. Because here you have to write down the detailed content of the topic. It's better to write down a little more in this part.
3) Conclusion – After writing the main part of the assignment, students have to write down a conclusion. Because this allows you to present your opinions on the topic. And it's important.
At the end of all, we'd like to tell all the students to write down the assignment clearly and neatly. Because clear writing Class 11 Bangla Assignment Answer will help to induce good results. If handwriting is bad it's not a problem. Because good handwriting is less important than clean writing. So students shouldn't leave any unnecessary marks on the HSC Bangla 1st Paper Assignment while writing the assignment.