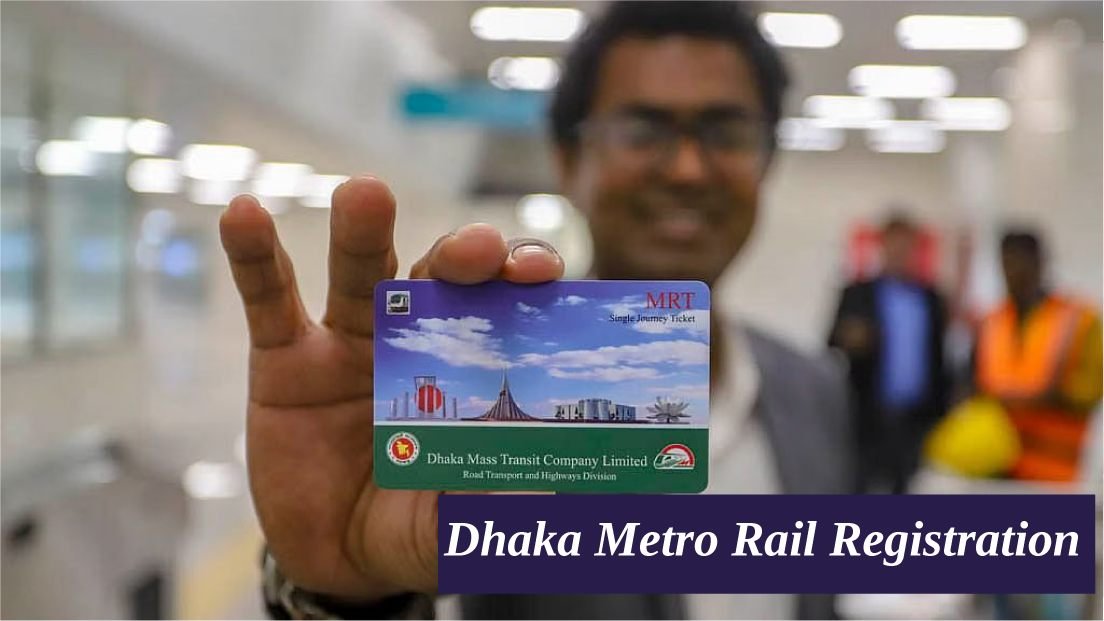 Dhaka metro rail registration is a new term for us but it is also very essential. Metro rail is really a blessing for a densely populated city like Dhaka. Cityzen of Dhaka city is so excited about the opening of the Metro rail on 28th December. Alongside excitement, people are curious too to know the process of the ticket-buying system and the full registration process. As it is a new term for all of us in Bangladesh, it might be a bit complicated at first time, but all the confusion will be clear at the end of this article.
Dhaka Metro Rail Registration
The authorities of Dhaka Metro Rail have announced that people can purchase a long-term card to travel on the metro rail. It will be very much useful to the regular passengers as they need not buy tickets from the line regularly.
How to Create an Account at Dhaka Metro Rail
Registration of Dhaka Metro Rail will last for 10 years if anyone fulfills the process properly. Metro Rail authorities will launch an online form very soon to register regular passengers. You may need a NID card and other verified papers document and submit the scan copies to get a long-term pass. It will charge 200 BDT per registered passenger for the first time. When you purchase your ticket via registered pass, you will get a 10% discount on every ticket price. This card is rechargeable. People can recharge the card to pay the ticket price without going to any counter on every trip on Metro Rail.
From now, you can buy tickets for the metro rail from the counter of the stations. We will update the full process of the registration here when the authorities of Dhaka Metro Rail launch the online form. You do not have to take the hassle of the ticket line and other stuff if you fulfill the online form with legal documents.
Dhaka Metro Rail Station List
It will be very helpful for you if you know where the stations of Dhaka Metro Rail service are. This is the way you will know where you have to stand and wait for the metro rail. There will be 16 stations where Metro rail will stop in the root of Uttara and Kamalapur.
Check : Dhaka Metro Rail Station List and Map Details
Here is the list,
Uttara North
Uttara Centre
Uttara South
Pallabi
Mirpur 11
Mirpur 10
Kazipara
Shewrapara
Agargaon
BijoySarani
Farmget
Kawran Bazar
Shahbagh
Dhaka University
Bangladesh Secretariat
Motijheel
Kamalapur
How to buy metro rail tickets
In the beginning, metro rail will be operated for four hours from 8:00am to 12:00pm daily. Tickets, which will be the type of a card, can be purchased at Uttara and Agargaon stations. There will be two types of cards; one is permanent card and another is single journey card.
Cards will be available at the metro rail stations in the beginning and the authorities concerned have taken initiative to appoint several firms to sell cards outside the stations.
The price of a 10-year permanent card is Tk 200 and it will require enough recharge to avail the service.
One can register for a permanent card with details including, name, father and mother's names, national identity (ID) number or passport number, mobile number and email.
N.B: No registration will be required for a single journey card. A passenger can avail a card at the station before the journey and will have to submit before leaving the train.
Dhaka metro rail ticket price
Generally, the Metro rail authorities decide the price based on distance as 5 taka for every Kilometer and 20 taka is the lowest price wherever you want to go. We are going to put the price list of different stations of metro rail here,
| | | |
| --- | --- | --- |
| Starting Station | Arrival Station | Ticket Price (BDT) |
| Uttara North | Uttara South | 20 |
| Uttara | Pallabi/Mirpur 11 | 30 |
| Pallabi | Mirpur 11/10/Kazipara | 20 |
| Mirpur 10 | Farmget | 30 |
| Mirpur 10 | Karwan Bazar | 40 |
| Uttara | Agargaon | 60 |
| Uttara | Motijheel | 100 |
Check here: Dhaka Metro Rail Bangladesh Ticket Price (Details)
Last Words
Metro Rail of Dhaka is a blessing for the citizens of Dhaka city. We want to put all the details here so that you can take maximum advantage of Dhaka Metro Rail. Hopefully it will be helpful for you.