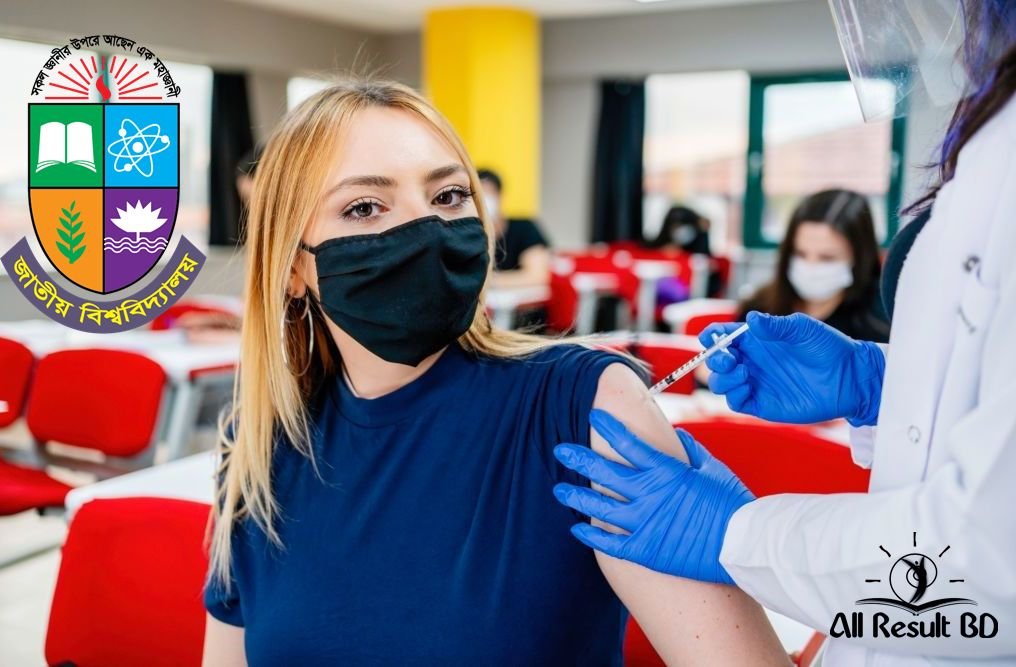 NU Corona Vaccine Registration App (For Students) 103.113 NU Covid. We all know that due to the coronavirus pandemic, our education sector has been affected mostly. Schools, colleges, universities, and other educational institutions are remaining closed for a long time breaking all the histories. Our government is trying to control the pandemic by providing vaccines to people of all levels. Now NU students, teachers, and staff will get vaccines and the authority has launched the NU COVID vaccine registration app for that.
According to the previous announcement on the last 8th of July, the authority has started to collect information of all the National University students, teachers, and staff. They are collecting this information because our government wants all the students, teachers, and staff to come under vaccination within the very shortest period of time possible. The higher officials have plans to provide vaccines to all step by step. In this article, you will know everything about this.
NU Corona Vaccine Registration (For Students)
NU corona vaccine registration for students has been started from 8th of July 2022 and the registration process will continue till 19th of July 2022. Students who are from National University and want to be vaccinated can register for the vaccine and they will get the vaccine at a certain time. There is no doubt that this is a great initiative by the government as the authority is trying to open all the educational institutions as soon as possible.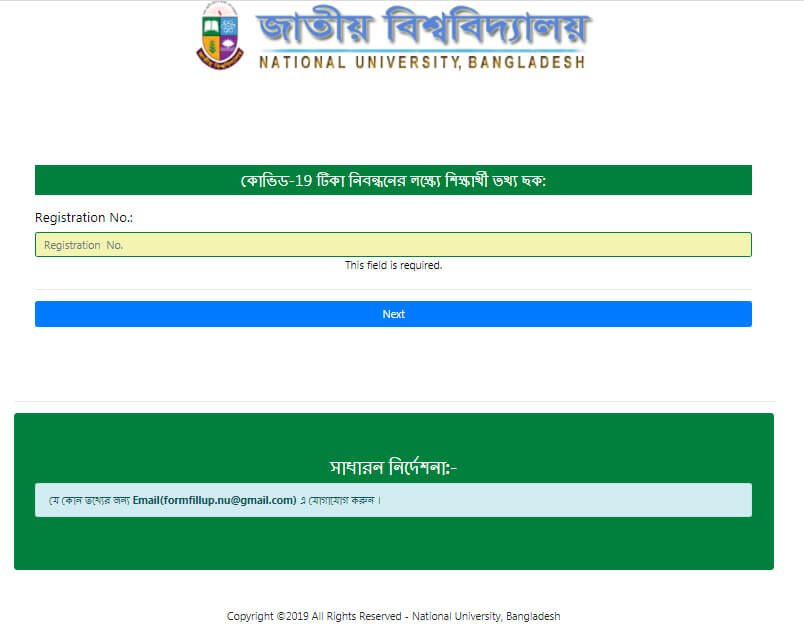 Corona Vaccine Registration Date
NU Covid Vaccine Registration start: 8th July 2021
NU Covid Vaccine Registration Last Date: 19th July
http//103.113.200.29/studentcovidinfo
If you want to complete your COVID vaccine registration process by following the link- http//103.113.200.29/student_covidinfo, you have to complete the steps mentioned below:
First of all, you need to visit the link and open the website.
Then, you have to enter your registration number from your registration card.
Now, you need to type your NID number, mobile number, and other required information.
After all these, you need to click on submit button for your application submission.
Finally, you have to download and print the acknowledgment paper.
NU Vaccine Registration
NU vaccine registration is going on online. No matter a student is a regular student or an irregular student, everyone can apply for the registration through the official website online. The teachers and staff of the National University have also arrangements for vaccine registration. No matter you follow the official website or NU COVID vaccine registration app to complete your registration; you need to follow some steps and instructions.
To properly complete the registration process, students need some documents. These documents are:
National Identity Card Number (NID)
Registration Number
Mobile Number
Student Name and other details such as Date of Birth
College or Institution Name, etc.
You all have to keep in mind that you cannot complete your vaccine registration if you do not have a NID number. In case you do not have a NID number, you will get a notice from the authority mentioning all the details you need to do later.
NU Student COVID Registration
We hope that you have already understood what you need to do regarding your NU student COVID registration and other processes. Since the matter is very serious, you should not take it for granted. You should prepare yourself for taking the vaccine and keep yourself safe from the threat of this pandemic. Though there are many rumors regarding the COVID vaccines, NU students should not get confused by those rumors. You should visit the official website or the NU COVID vaccine registration app for authentic information and completing registration.
How To Get Coronavirus Vaccine After Covid Registration On NU Website?
We know that almost all the universities have collected information from their students for the NU covid vaccine. In the same way, the National University is currently collecting information from the students of all the educational institutions associated with them. National University or College authorities will not vaccinate any student after registration of NU Covid-19 vaccine. Because the coronavirus vaccine is officially given through the Surokkha website or app. So all NU students will have to re-register for the Covid vaccine using their address through the "Surokkha" website or app.
When Will NU Students Get The Covid Vaccine?
National University authorities are collecting student information (mobile number and national identity card number) through the Covid-19 registration process. This activity will continue till July 12. The National University authorities will then submit the information of all these students to the Surokkha Portal. All students at the National University will then be able to make a final application for the Covid vaccine.
How Will NU Students Apply For The Covid Vaccine?
A few days ago, the Surokkha website added the option for university students to apply for vaccination. NU students will be able to apply for the covid vaccine after the initial information is submitted to the Surokkha portal. Will have to wait for that long.
Where To Get The NU Coronavirus Vaccine?
The good news for students is that students can choose the center of their choice to get vaccinated. When applying for the coronavirus vaccine, you will be asked for some personal information such as mobile number, health information, occupation, current address, and vaccination center. In this case, everyone can get the vaccine from their nearest community hospital. You do not have to go to college or university to get vaccinated.
 Final Words
We have provided all the information regarding your COVID vaccine registration after collecting the information from authentic and reliable sources. Either you can complete your vaccine registration by following the official link we have given above or by visiting the NU COVID vaccine registration app. And please do not worry! The registration process is very easy.