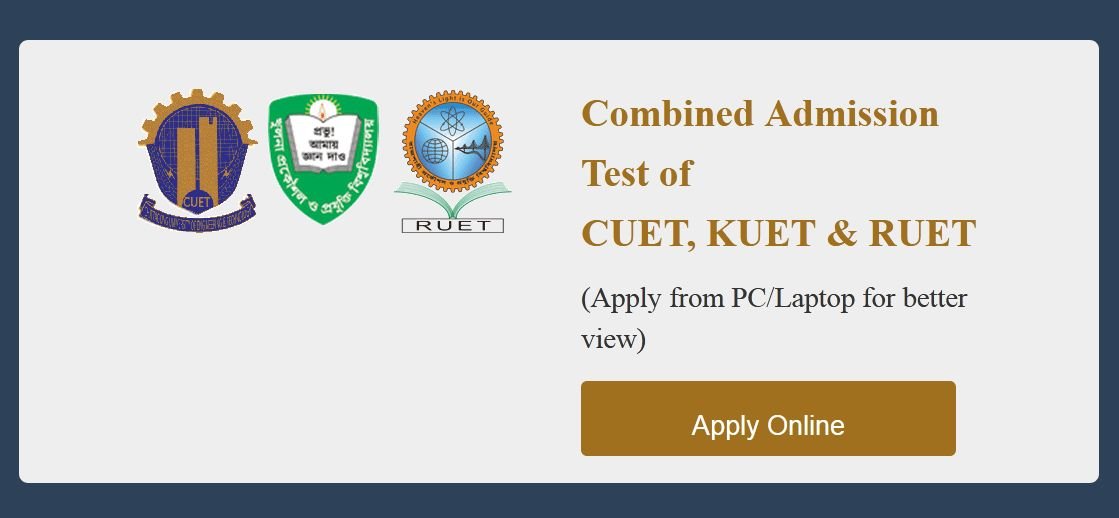 Engineering Guccho Admission 2023 application by admissionckruet.ac.bd. The Admission Committee is published the three engineering university- CUET, KUET, RUET Admission notice and circular on admissionckruet.ac.bd.
In the academic session of 2022-23, Three Engineering university are joining over to participate in the uniform or combine admission Test Except for BUET. BUET is taking the admission test like their previous year admission Test.
Students who want to apply in these three engineering universities can find here all the necessary details, available seats faculty and department, Application form and admission test information from admissionckruet ac bd official website.
About Engineering Guccho Admission 2023

Three engineering universities have joined together to form a cluster to hold the uniform admission test or combine admission test in the academic year of 2022-23.
The short term for CKRUET is CUET, KUET and RUET (Three Engineering University). There is two groups available to get admission in these universities which is Group A and Group B.
আগামী ১৭ জুন ২০২৩ অনুষ্ঠিত হবে প্রকৌশল গুচ্ছের ভর্তি পরীক্ষা। আবেদন শুরু ১০ মে ২০২৩।
CUET KUET RUET Admission Result 2023 PDF
Engineering University Admission Roadmap
| | | |
| --- | --- | --- |
| Events | : Date | |
| Admission Opening | : 10th May, 2023 | |
| Deadline | : 19th May, 2023 | |
| Publication Date of Eligible List | : 4th June 2023 | |
| Admit Card Download | : 3rd June 2023 onwards | |
| Admission Test | : 17th June 2023 | |
| Admission Result | : 30th June 2023 | |
Cuet Kuet Ruet Admission 2023
The engineering admission committee is published the 3 engineering university admission circular online. It includes all the information of Admission schedule, How to apply, Instructions for International student, Admit card download instruction, Admission Test, Selection method for admission test and publication of admission test result.
CUET, KUET & RUET Admission Circular 2023
Application for admission in Three Engineering University is invited through Official website (ruet.ac.bd) and admission circular is published on different news-media. RUET Undergraduate program admission form is available online.
Eligibility
Bangladeshi Citizen
SSC Passing Year: 2022/2023
SSC GPA: 4.00
HSC Passing Year: 2022
HSC GPA: 5.00
Total Grade Point in HSC at Mathematics, Physics, Chemistry and English- 20.00
Engineering Universities Total Seats
| | | |
| --- | --- | --- |
| University List | : | Total Seats |
| Chittagong University of Engineering and Technology (CUET) | : | 901 |
| Rajshahi University of Engineering and Technology (RUET) | : | 1065 |
| Khulna University of Engineering and Technology (KUET) | : | 1235 |
admissionckruet.ac.bd (Apply Now)
Students seeking admission in CUET KUET RUET in the academic Year of 2021-22 have to apply online with all the required information in the admission website- admissionckruet.ac.bd.
Required Information for the admission: 
SSC/Equivalent and HSC/Equivalent Roll Number, Registration Number, passing Year, Education Board.
Passport Size Photograph. [JPEG Format, Studio Quality, Size- Less than 100 KB]
Engineering University form Fill up Instruction:
Tap on Apply Here.
Input Roll number, Board and Passing Year in the Respective Boxes.
Type Mobile Number, Address and other information.
Now, review the information and submit the application.
Application Fees Payment Method
After Submitting the application form online, the applicant will get a bill number. That said with that bill number applicants have to pay the application fees using DBBL Rocket.
Note that the application will be kept pending until the payment of the application fees. The Application form will not be completed without the associated fees.The Application fees for Group A is TK 900 and Group B is TK 1000.
After making the payment, Applicant  needs to confirm the payment by log in the RUET Admission system by using the HSC roll, registration  number, and passing year.
Payment Method of DBBL: 
Step 1: Dial *322#
Step 2: Select Bill Pay Option
Step 3: Select Self Option [Applicable for Self Account], Other Option [Applicable for Agent/Other Accounts]
Step 4: Enter Payer Mobile Number [Applicable for Only Agent/Other Account]
 Step 5: Press 0 to Select other option.
Step 6: Enter Biller ID-
Step 7: Enter Bill Number- Input the Applicant Bill Number given from the online application.
Step 8: Enter Amount- Input the associates fees of your Unit.
Step 9: Now, Input the DBBL Rocket Account PIN Number.
Step 10: Applicant will get a Payment Confirmation SMS with a Transaction ID (TxnID).
Cuet Kuet Ruet Admission Prospectus
Checking Application Complete Status: 
After completing the payment, If anyone want to know the status of their application they can. Just head over to the admission website admissionckruet.ac.bd, tap on application status, input necessary information and click on submit.
It will show all the application information with name, applied information and more.